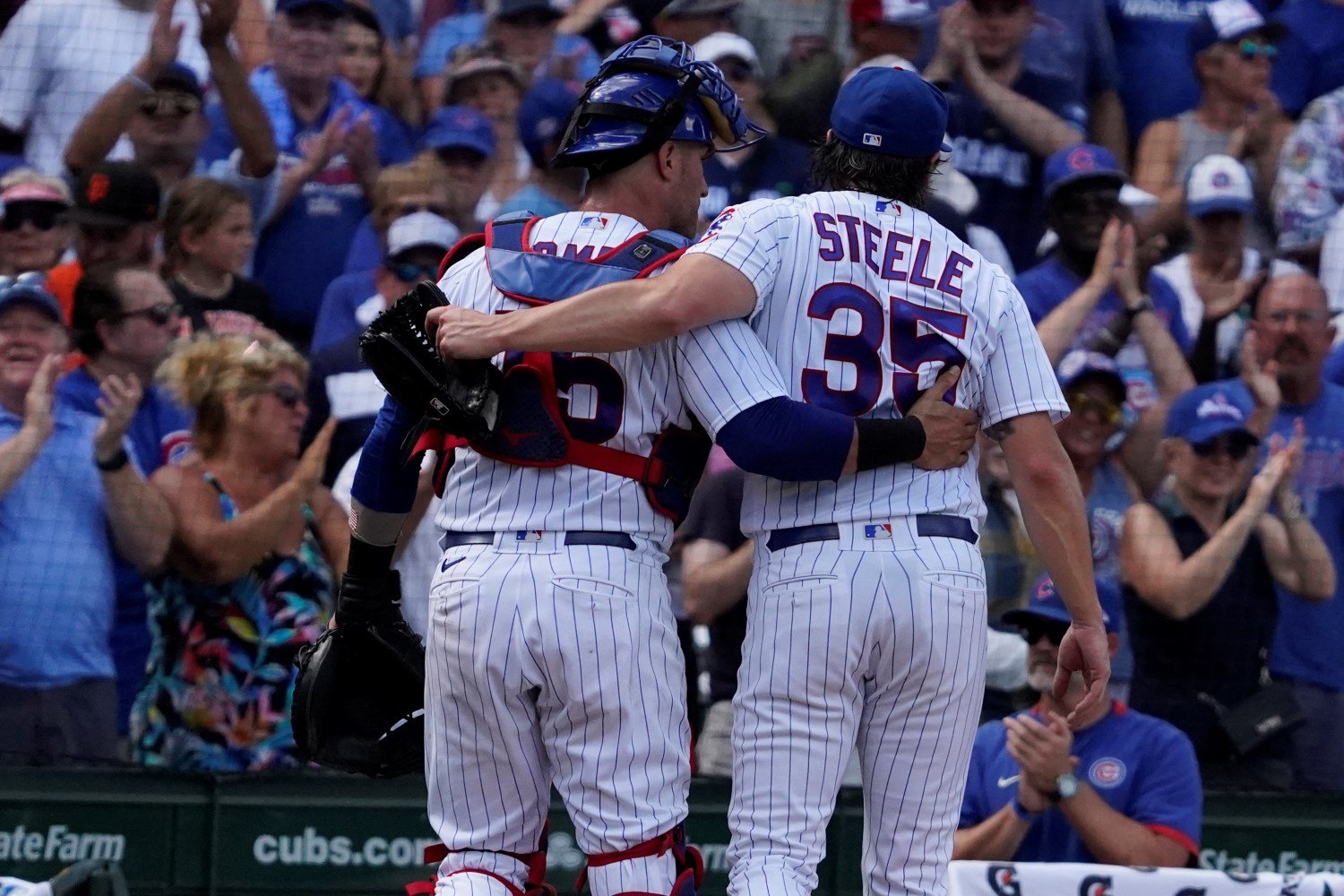 Image courtesy of © David Banks-USA TODAY Sports
It's strange to think of Justin Steele as a pitcher dependent on deception and command. He's not as young as we tend to imagine, but he's sufficiently new on the scene to feel like a young arm. He hits 95 miles per hour, occasionally, and his cutter sits just south of 92 on average. His secondary weapon is a slider. For as long as there have been radar guns, guys who can throw 95 have been power pitchers, and the slider has been the breaking ball of choice for power pitchers.
The game has changed, though--perhaps even more radically than we can conceptualize as we watch each season slowly unfold. Steele's heat, which is under 92 miles per hour 57.3 percent of the time, is as tepid (based on pure velocity) as that of Kyle Hendricks was a decade ago, when the young twirler was sitting right around 90 miles per hour.
Average Fastball Velocity Among Pitchers Who Threw 200+ Fastballs, 2008-23, Selected Seasons
| | | | | |
| --- | --- | --- | --- | --- |
| Season | 25th %ile FB Vel. | 50th %ile FB Vel. | 75th %ile FB Vel. | |
| 2008 | 89.6 | 91.3 | 93.1 | 98.2 |
| 2013 | 90.7 | 92.4 | 94 | 100 |
| 2018 | 91.3 | 93 | 94.7 | 100.5 |
| 2023 | 92.5 | 94.1 | 95.7 | 101.7 |
The proliferation of guys who throw triple-digit fastballs has been well-covered, but it's harder to notice that what was a healthily above-average fastball 10 years ago is now almost precisely the median one. Needing to hump up a bit to touch 93, which is Steele's situation, used to mark a pitcher as roughly average. Now, it makes them solidly below-average, and they need to do something else very well in order to be a useful pitcher.
Obviously, Steele has now put the question of his utility well out of reach, and is closer to being the best pitcher in baseball than he is to being a fifth starter. That transformation has been extraordinary, particularly in light of his inability to overwhelm people with sheer stuff. Steele has come to grips with the fact that movement and command are the keys to his success, and as a result, he's remade himself on the fly.
Little has really changed in Steele's game this year, from a macro perspective. He's slashed his walk rate, which is notable, but it's tempting to view that as merely an improvement, rather than the result of a conscious and substantial adjustment. He's still mostly throwing two pitches: a cutter (which some algorithms persist in calling a four-seam fastball, but which is very much a true cutter) and a slider. He's hitting the zone more with both of them than he has in the past, but again, one could fool oneself into seeing that as a factor of improved mechanics or repetition of his delivery.
That's not it. Rather, Steele has made some major and multi-layered tweaks to the way he attacks hitters, including slightly reshaping that fastball. By embracing the cutting action of it (and giving up on the idea that it's a cut-ride four-seamer, taking the ride out of it in a steady progression), he's consistently hit the inner half of the plate (to right-handed batters) with the pitch more and more often--especially the upper part of the strike zone to that side.
Doing that, alone, is valuable. It's hard to overstate how much hitters hate when a pitcher can locate anything hard to their glove side (inside to opposite-handed batters, away from same-handed ones) and above the belt. Jacob deGrom throws so hard that his fastball would be good no matter how it moved or where he put it, but the reason that he's unhittable (when he's healthy) is that he can command his heat to that portion of the strike zone. It's very tough for hitters to see and square up.
Steele has taken it further than that, though. To see how, let's start by breaking down his approach into the one he uses against right-handed hitters, and the one he employs against lefties, and by comparing those approaches in 2022 with the same in 2023.
Against righties, Steele spent 2022 trying to work from up and away (with that fastball, still acting more like a four-seamer then) to low and in (with the slider). 
In 2023, while he's become even more dependent on that fastball, he's allowed its natural cut to become its defining characteristig. He's inside more often, and the slider works in a more purely vertical contrast with the cutter.
Notice that Steele hasn't missed above the zone or away from righties nearly as often this year, nor as badly. Naturally, he's missed more often inside against them, and down, but fewer of his misses have been with the fastball (or cutter, as we know it to really be), and those balls that miss in and down on righties have to pass through the hitting zone in the eyes of the hitter. For precisely that reason, he's getting more swings, and especially more chases, this year.
Against lefties, Steele can be a very different, somewhat more traditional pitcher. Instead of having to work fearlessly inside without the margin for error afforded by great velocity, he can live on the outer half. Last year, though, he was imprecise in his efforts to do so. He worked, in a mirrored version of that same way as to righties, from up and in to low and away, without much intentional variation.
This year, he's been much more of an equal-opportunity visitor of the outer edge, working up and away with the cutter more comfortably, and inviting lefties to see that pitch out over the plate and chase it even off the edge.
The flattening out of his fastball into a true cutter, and his mental adjustment to use it that way in relationship to his slider (even if he prefers to still call it a four-seamer, at least in public), has made Steele much tougher to handle. because his mistakes are less likely than ever to be in hittable areas of the zone. Worse yet (for his overmatched opponents), Steele can so brilliantly locate when he gets into this mental groove that he does have access to the outer third of the plate against righties. He just doesn't go there until he has the batter thoroughly set up.
Here's a heat map of where Steele has pitched to righties before the count reaches two strikes this year.
Inside, inside, inside, is the drill. The two distinct loci of greatest frequency (the larger, redder one up high where he throws the cutter, and the smaller one down low where the sliders go) show how good his command is on that side of the plate.
Now, look at where Steele gets his whiffs against righties.
He just violates the cues a hitter uses to attack every other pitcher they see in a given week. He comes inside when they look away, and he goes away when they look inside. His ball has unusual movement, and he's worked to ensure that that movement is well-disguised. The ball comes out of his hand with fairly well-mirrored spin, and then seam-shifted wake effects steer the cutter into a deceptively flat arc and give the slider more sweep and less depth than would be expected. Their movement is, really, converging, but the effect so confounds the hitter that they might as well be diverging sharply. He actually releases his cutter a touch lower and a touch further toward first base than his slider. This is new, and the latter fact is decidedly not normal. Even if a hitter can spot a slight difference in his release point, therefore, they're likely to wind up baffled. 
Steele's command and control aren't as fine as those of Greg Maddux or Cliff Lee, for whom cutters were a way of overmatching hitters they could not overpower. His repertoire doesn't have the depth or the versatility of a pitcher like Roy Halladay, who could both sink and cut the fastball in addition to some nasty secondary stuff. Still, while he's operating at this high a level, Steele is that caliber of pitcher. With Monday's outing, he put himself at the front of any conversation about this year's NL Cy Young Award. That's a testament to his talent, his mentality, and the open-mindedness that allowed him to change from a strikeout maven with an upside curtailed by control problems into a strike thrower who knows how to get outs against all types of hitters, even late in games and under playoff pressure.