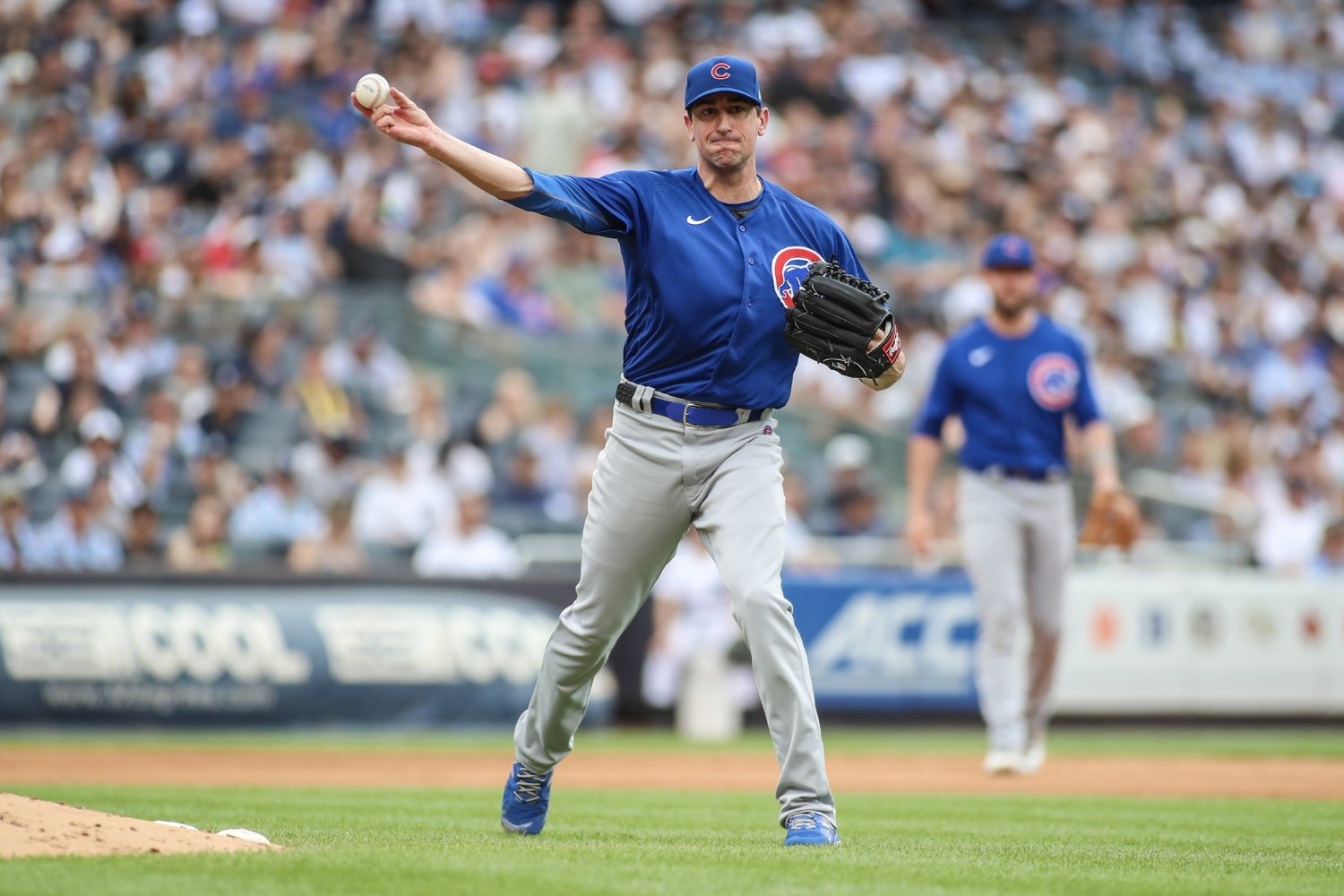 Image courtesy of © Wendell Cruz-USA TODAY Sports
After Marcus Stroman opted out of his deal Saturday, the Cubs had an easy call on Kyle Hendricks's $16-million club option Sunday. It's still possible for the team to sign him to an extension that would lower his annual average salary and make it easier for the team to stay below whichever threshold of the competitive-balance tax they deem important, but that's no longer necessary, thanks to the $23.7 million the team saves thanks to Stroman leaving town. 
The Cubs also picked up a $6-million option on Yan Gomes Sunday, securing the services of the man who projects to be their starting catcher again in 2024. That decision was even easier than the Hendricks one, and didn't depend on Stroman, but it underscores the fact that the team is already gaining some clarity on the offseason ahead. In Hendricks, they lock up a third veteran starter, along with Justin Steele and Jameson Taillon. Add Jordan Wicks, Javier Assad, Hayden Wesneski, Ben Brown, and Cade Horton to that mix, and there's ample depth in the team's projected rotation. They now have more money to spend, and the fact that what they need is a genuine top-of-the-rotation arm is nearly inarguable. 
Gomes's return, too, further settles a fairly settled group. He joins Nico Hoerner, Dansby Swanson, Ian Happ, and Seiya Suzuki as fully locked-in members of the 2024 lineup. That still leaves four spots open, but both outfield corners and both middle-infield positions (plus catcher) are set. It's clear that the team needs two more good hitters, at least. It's clear at what positions those players need to show up: center field, the infield corners, and designated hitter. Gomes also acts as a stabilizing force and a buttress for the pitching staff, which figures to be more in transition this winter than the lineup.
During the long, slow decline that followed the 2016 championship run, the Cubs' biggest problem was an inability to gain clarity on what they needed to do. Their core was too versatile, in one way of looking at it. They had too many good options, combined with too strict a mandate to win now. It compromised Joe Maddon and the rest of the coaching staff in their efforts to develop talent at the big-league level, and it made it harder for the front office to build the best possible team from one season to the next. Those were good problems to have, compared to a shortfall of talent, which is why the 2017-20 Cubs were all better (by winning percentage) than the 2023 team.
However, this team now has a foundation on which to build, and they know what they need and how to execute the plan in a way they didn't half a decade ago. Bringing back Hendricks and Gomes helps set the stage for an offseason that will reshape this roster for the long term, and it highlights the good position they're in to do that well. It's important, now, that ownership invest heavily and the front office act aggressively over the next few months.