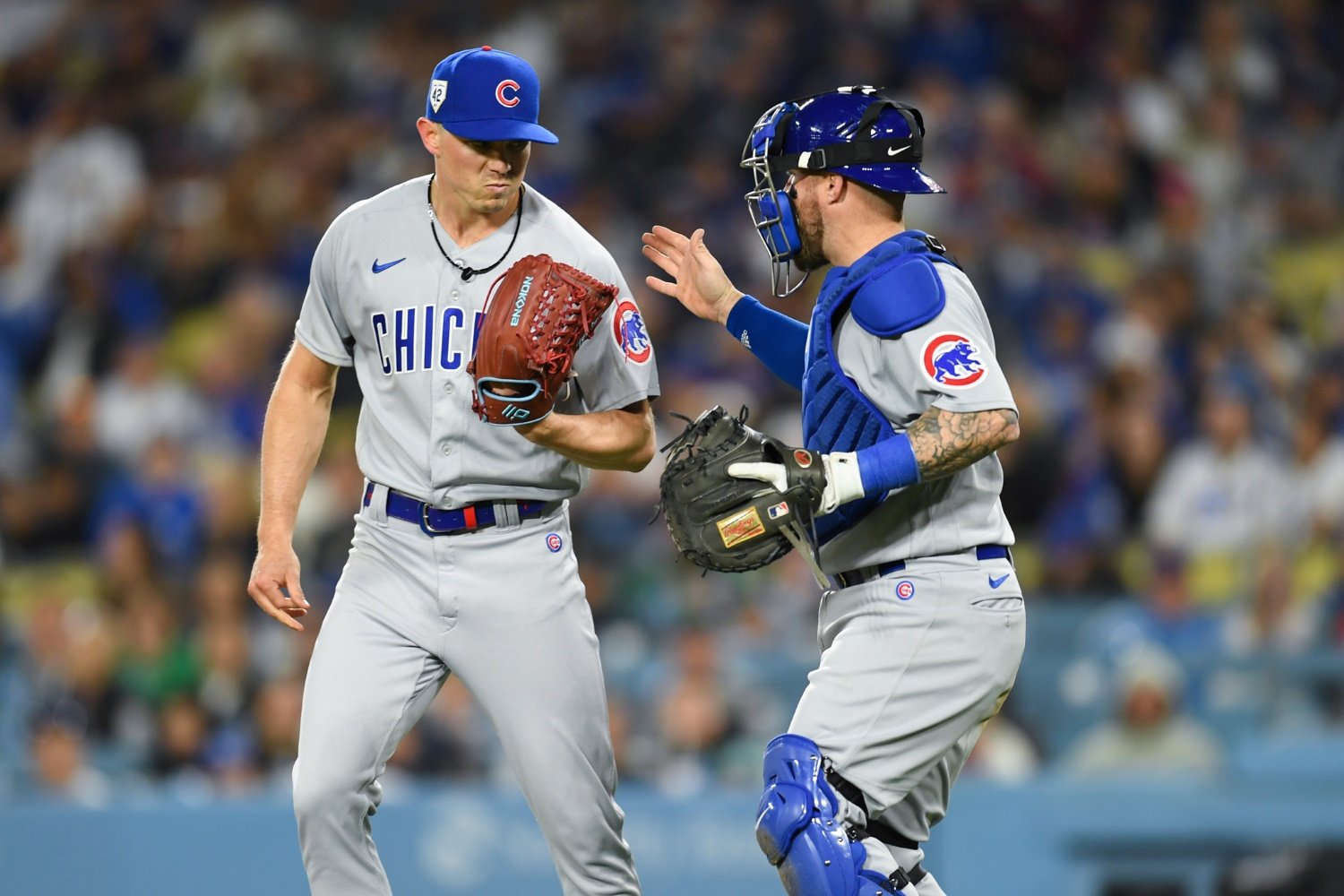 Image courtesy of © Jonathan Hui-USA TODAY Sports
The Cubs entered this season with as little clarity about roles in the bullpen as they have had at any time in recent memory. There was no obvious closer, though it was fairly clear that Michael Fulmer would get the first chance to secure that job. There were multiple guys whose utility lied in their ability to go multiple innings, and none who fit neatly into traditional setup roles. Three weeks into the season, some of those fluid situations have crystallized, but others only seem more confused.
Fulmer has pitched his way out of the closer gig, but no one seems to have pitched their way into it yet. Brad Boxberger might well get the next look, if the Cubs start playing some games that call for a traditional, hierarchical bullpen progression, but it's been a while since they had such a game. Mark Leiter Jr. is emerging as a potentially solid setup man, with a splitter that neutralizes lefties and a deep pitch mix. Brandon Hughes is back, which gives the team a true lefty worthy of high-leverage usage.
The best pitcher in the Chicago pen, though, has been Keegan Thompson--but that's not the way David Ross has used him at all. Thompson's mysteriously diminished velocity this spring might have led the team to proceed cautiously with him out of the gate. That would explain why he came into the fifth inning of a game the Cubs trailed, in Cincinnati on April 3. 
After that, though, he did seem to settle into a higher-leverage role. He came in with a four-run lead against the Rangers on April 7, which is relatively comfortable, but then he pitched the 10th inning of a game against the Mariners, and he worked two scoreless innings against the Dodgers on April 15. He was, after that game, sporting a 1.08 ERA and holding opponents to an .074 batting average. 
Since then, though, Thompson's only two appearances have been a two-inning stint in a game in Oakland that the Cubs already led by four; and the two-inning outing with the team already trailing Sunday. Those are low-leverage appearances. There's no getting around that fact. Each of his last three appearances has been on at least three days' rest, and Thompson was passed over for Leiter in the game immediately before both his outing in Los Angeles and the one in Oakland, when the leverage was much higher.
One issue there would seem to be that Thompson, unlike Leiter, doesn't have an exceptionally good weapon to use against left-handed batters. Still, if one had said that Ross would be slotting Leiter into a higher place on the bullpen depth chart than Thompson's before the season began, we would all wonder what had happened. Certainly, if we were told that that had happened despite Thompson having great surface-level numbers and had recovered his lost velocity, we would be flummoxed.
It's possible the team is quietly protecting Thompson, and is unwilling to use him on one or two days' rest after a multi-inning appearance. That he's throwing hard again might just be a product of not being asked to pitch all that often. They might even be treating him as a reliever in rotation, the same way we're used to thinking of starters: a guaranteed two-plus innings every fourth day, but limited wiggle room to use him more often. They have enough similar guys (Adbert Alzolay, most notably) to try something like that, if they want, the better to keep their high-leverage short relievers fresh.
That's not how it feels, though. It feels like Ross is chasing wins, sometimes. This has been a habit of his throughout his three-plus seasons as the team's manager. Maddon was an optimist in his clubhouse communication, but he only very rarely (if, ahem, sometimes in very notable circumstances) allowed that aspect of his personality to govern him when he was pulling levers within a game. Ross doesn't have that firewall. He believes his team can come back even when it's down by a couple of runs in the late innings, and he deploys his bullpen accordingly. 
Last year, Mychal Givens, Chris Martin, Scott Effross, and Hughes made a total of 177 appearances for the Cubs. Of those, 59 came when the team was trailing. One hundred eight of those 177 came when the Leverage Index of the contest was either low or middling, meaning none of those four were reserved for high-leverage appearances to the extent that many such relievers are. Ross doesn't give up on games, and that can be a good thing. It has probably contributed to the team's knack for comeback wins over the last few years. However, it also has a cost, and that cost rises when there's a lack of certainty about who should be pitching in the most important moments in the first place.
This will be a trend worth watching over the next week or two. It's unlikely that Thompson takes over as a true closer, but he could slide into more of an "even or ahead" role if the relief corps continues to do basically what it has done so far. We need to see whether he's barred from returning on fewer than three days of rest after a longish outing, because that would affect his utility and our understanding of Ross's decisions.
We also need to see whether Ross can continue to encourage and facilitate that resiliency from his team without wearing out his most trusted relievers. His tendencies might be why the team seems to have consciously constructed a very flat bullpen this year, without natural stratifications or anyone the skipper might not trust at all. Hopefully, a month from now, the team will have a couple of relievers who more consistently and clearly dominate opponents, and that will make things easier for both the manager and the fans. In the meantime, Thompson needs to be given a greater chance to really impact the team's win probability than his recent usage has yielded.