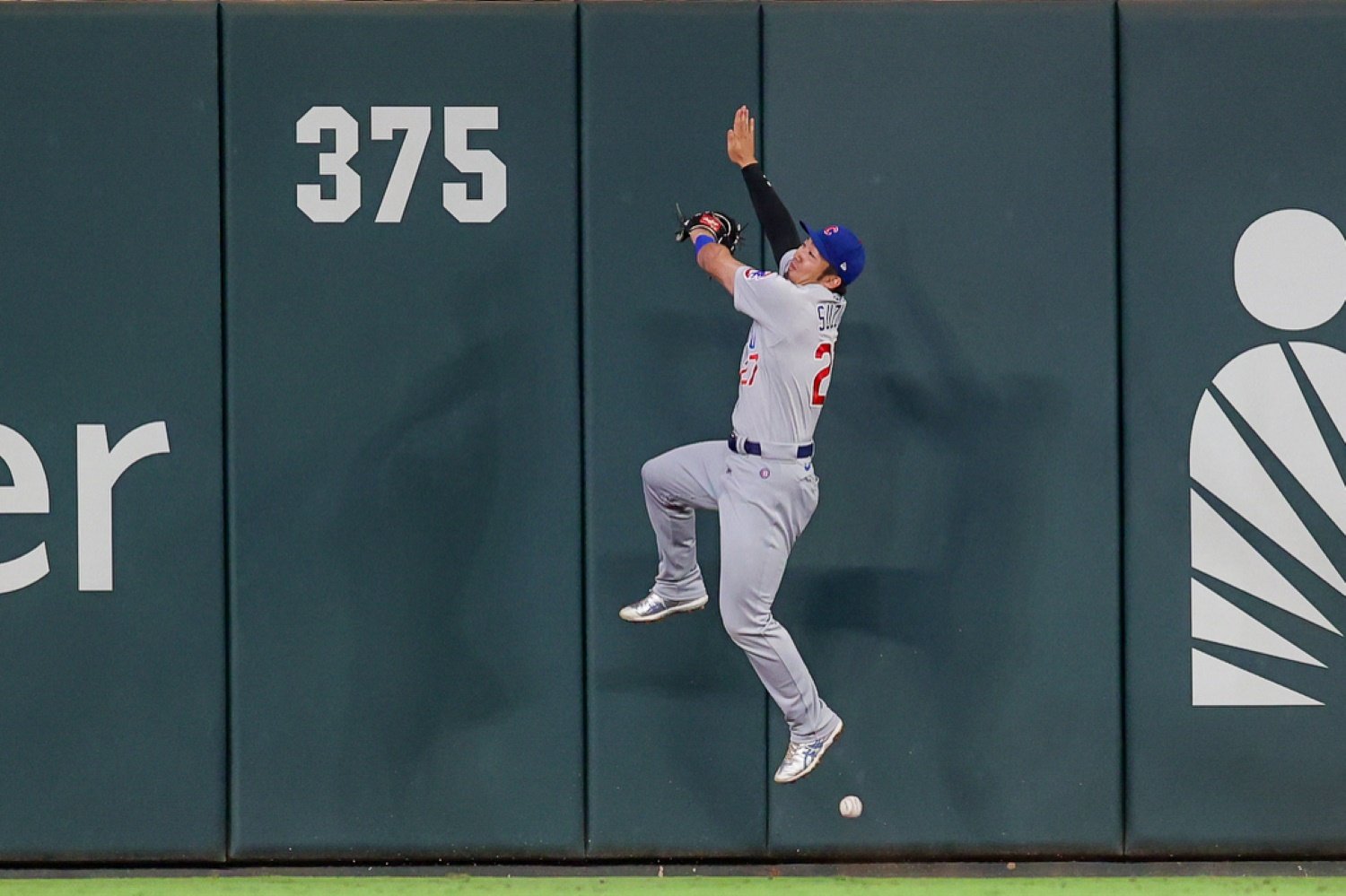 Image courtesy of © Brett Davis-USA TODAY Sports
The old baseball truism that defense and speed don't slump is wrong. It's just wrong. Players go on defensive hot and cold streaks, the same way they do at bat or on the mound. The chances are just so much more sparse, and most measurements of each individual play in the field so much more crude, that it's harder to spot them. 
For the Cubs, though, several key defenders have had bad Septembers, and it's added up to their downfall. Dansby Swanson has, infamously, made a handful of errors since late August, roughly doubling his total for the whole season over the final six weeks. He's also been a step slow on a couple of ground balls to his left recently, and while those don't get counted against his fielding percentage, they're potential chances he missed.
Nico Hoerner, who paired with Swanson to make such an impenetrable and dynamic middle infield for most of this season, has been a bit slow, too, and specifically, there have been three plays over the last two weeks on which it was clear he was trying to do too much. On one ground ball up the middle during Justin Steele's disappointing start against the Pirates, Hoerner was thinking double play on a ball on which he only had a chance to get one out. As a result, he didn't even keep the ball on the infield, let alone get any outs, and two runners got an unearned 90 feet.
Ian Happ's struggles in left field have been well-documented. In Thursday night's backbreaking loss, it was another ball that Happ got to but could not catch that opened the door for Atlanta to widen their lead and knock Marcus Stroman out of the game early. Seiya Suzuki has been great for much of the season, but at the moment, his error in right field Tuesday night is the defining moment of his Cubs tenure and the most vivid symbol of this Cubs season. He's had a couple other catchable balls that eluded him recently, too, often costing the team extra bases and forcing the pitchers to get extra outs.
We could keep going. Mike Tauchman, never a defensive whiz in center field, looks heavy-legged out there, and isn't getting to anything. He failed to charge a line drive early on Thursday night and (while he had no chance to catch the single in the air) cost himself any chance of throwing out a runner at the plate. These little things add up. Let's widen the lens, though, and talk about the team's results.
Here are the Cubs' opponents' average exit velocity, launch angle, and batting average on balls in play by month:
| | | | |
| --- | --- | --- | --- |
| Month | EV | LA | BABIP |
| April | 87.4 | 12.9 | 0.282 |
| May | 88.4 | 13 | 0.313 |
| June | 88.7 | 14.7 | 0.264 |
| July | 88.4 | 10 | 0.291 |
| August | 88.7 | 12.8 | 0.288 |
| September | 88.5 | 10 | 0.307 |
There might be teams who can win while allowing a BABIP north of .305 over a long stretch. Those teams would need to have a very high team strikeout rate for their pitchers, or be an especially thunderous club offensively. The Cubs aren't that style of team, and when their defense cracks, their whole team gives way, as if a dam burst. As you can see, it's not as though the pitchers suddenly began giving up rockets. The defense just hasn't caught the ball and made the crucial play often enough. It's no coincidence that the Cubs' two losing months this year (so far) are May and September.
This does not excuse all other areas and aspects of the team. The club's situational hitting has also abandoned them, and the pitching staff's weariness is showing up in the form of some extra walks at bad times. A narratively satisfying team collapse usually involves one part of a club letting down the others; this is more of a soft decline by the whole team at once. The defense stands out, but only because it was so good for so much of the season, and because the organization's hopes for a playoff berth leaned so heavily on that unit.
1