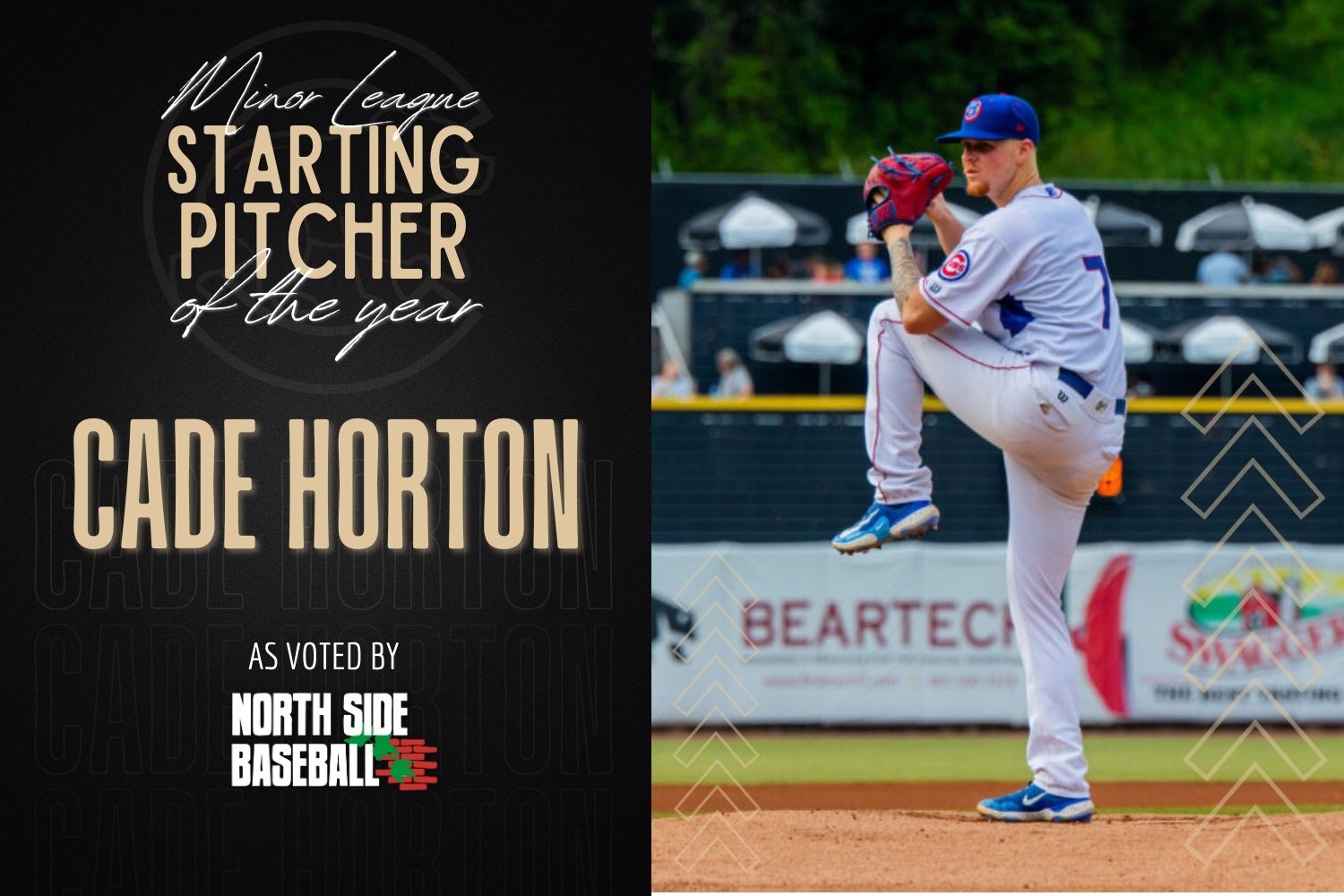 The Cubs have done a lot of work since their infamous 2019 draft in overhauling their organizational pitching infrastructure, introducing the Pitch Lab during the pandemic and hiring luminaries of the pitching world like Carter Hawkins for prominent positions (General Manager in Hawkins' case). The Cubs' labor has begun to finally bear fruit, with a number of standout pitching performances across the organization. While the major league team saw breakouts from the likes of Justin Steele and Javier Assad, the farm system saw similar developments from some of its top arms. Below are the top vote-getters in the inaugural North Side Baseball end-of-season award ceremony for the Cubs Minor League Starting Pitcher of the Year.
Before getting into the top three, here are a couple of others that received votes. The level indicated next to each player's name is where they finished the 2023 season, and all stats shown are only those accrued in the minor leagues this year. 
Honorable Mentions
RHP Brandon Birdsell, 23 (Tennessee Smokies)
24 G, 24 GS, 107.1 IP, 90 H, 32 BB, 97 K, 2.77 ERA, 1.14 WHIP, 2.7 BB/9, 8,1 K/9 
The Cubs' selection of Birdsell in the fifth round of the 2022 draft is proving to be fortuitous as the right-hander had a terrific debut season that ended in Double-A. He's moving fast through the system, and a late 2024 debut in the bullpen is possible if he comes out of the gates next year on fire. For now, assume he'll do most of his work at Triple-A next season, with an eye on one of the backend spots in the 2025 rotation and beyond. 
RHP Ben Brown, 24 (Iowa Cubs)
26 G, 19 GS, 92.2 IP, 73 H, 57 BB, 130 K, 4.27 ERA, 1.40 WHIP, 5.5 BB/9, 12.6 K/9
Brown's steady diet of fastballs and curveballs destroyed Double-A at the beginning of the season. He struck out nearly everyone in sight and earned a quick promotion to Iowa. He struggled with command at the highest level of the minors though, and an injury derailed the latter half of his summer. He'll come into 2024 spring training with an eye on the fifth spot in the rotation, and he should be one the favorites barring a blockbuster move by the Cubs this offseason. A long-term move to the bullpen is still in play if Brown can't hone his command, but his results since coming to the Cubs from the Phillies have been good enough to justify continuing to invest in his development as a starter. 
Cubs Minor League Starting Pitcher of the Year
Here are the top three vote-getters for Cubs Minor League Starting Pitcher of the Year.

3. LHP Jackson Ferris, 19 (Myrtle Beach Pelicans)
18 G, 18 GS, 56 IP, 35 H, 33 BB, 77 K, 3.38 ERA, 1.21 WHIP, 5.3 BB/9, 12.4 K/9
The Cubs drafted Ferris in the second-round of the 2022 draft and went well over-slot to sign him after going under-slot to sign their first-round pick, Cade Horton (spoiler alert: more on him in a bit). Those two rewarded the Cubs' decision-making process, as Horton rapidly rose through the system and Ferris was terrific in his first full season in pro baseball. 
Ferris is a tall, lanky lefty with plenty of room to fill out, and in time the Cubs should help him quiet what has long been a rather complicated delivery. He has three plus-pitches, and much like fellow lefty Jordan Wicks before him, has an advanced feel for his changeup that allows him to be productive against both righties and lefties. 
While the numbers show that the command absolutely needs work, especially as Ferris climbs the ranks and faces hitters with better plate discipline, the most promising part of his season was his ability to work around the free passes he allowed. That kind of "pitch-ability" is invaluable for a starter, and he should be able to keep his lofty strikeout numbers up with his stature and pitch mix. If he can keep the hit-suppression talent he showcased this year as part of his profile, there's no reason Ferris can't be a mid-rotation starter in the majors. 
There's a lot of development left to go for the teenager, but right now the best estimates are an early 2026 debut for Ferris. Before then, don't be surprised if he bursts onto the scene as the organization's top pitching prospect once Horton graduates. 
2. LHP Jordan Wicks, 24 (Chicago Cubs):
20 G, 20 GS, 91.1 IP, 75 H, 32 BB, 99 K, 3.55 ERA, 1.17 WHIP, 3.2 BB/9, 9.8 K/9
It's important to keep in mind that the numbers here only reflect what Wicks did in Triple-A this year, and do not include the impressive performance he had with the Cubs in September. That cup of coffee did, however, reinforce the notion that Wicks can be a capable third or fourth starter in the majors, which should give the Cubs some peace of mind as they navigate a pitcher-heavy free agent class this winter. 
Wicks' numbers in the minors alone were still good enough to earn this second-place distinction, as he tied with Ferris in the overall total number of votes received from North Side Baseball contributors. If you watched any of his starts when he was with the Cubs, you know that he flashes two plus-pitches: his sinker and, of course, his dominant changeup. He possesses some of the better command in the system as reflected by his walk totals, and Wicks does an excellent job in remaining consistent from start to start. The biggest questions surrounding Wicks right now include his ability to pitch deep into games (he averaged 4.5 innings per start in the minors this year) and whether or not he can avoid the dreaded "blow-up" inning that has plagued much of his time while in the minor leagues. 
It'll be an important offseason for Wicks, as he will come into Spring Training next year with an inside track on the fifth spot in the rotation (assuming Justin Steele, Marcus Stroman, Jameson Taillon, and Kyle Hendricks are the top four). Some may fear that his situation is eerily similar to that of Hayden Wesneski's, who likewise performed well at the end of a season before his disastrous performance in the rotation at the beginning of this year. It'll be fascinating to watch how the Cubs approach Wicks' development differently - it's possible he'll start next season as a long-man in the bullpen, like Javier Assad did this year. 
1. RHP Cade Horton, 22 (Tennessee Smokies)
21 G, 21 GS, 88.1 IP, 61 H, 27 BB, 117 K, 2.65 ERA, 1.00 WHIP, 2.8 BB/9, 11.9 K/9
What a season from the Cubs' top pitching prospect. I'll admit that I didn't love the original pick of Horton at seventh overall when so many talented position player prospects were sitting right there for the Cubs (namely, catcher Kevin Parada, now a top prospect in the Mets' system), but I'm thrilled that Horton has more than proved me wrong. His power-slider is among the best singular pitches in all of Minor League Baseball, and his feel and command of his top three pitches (the slider, and his fastball and changeup) are light years ahead of where they should be for a guy who threw so few innings in college. 
Some may balk at Horton's lack of innings this year, though those worries are unfounded. Horton only converted to full-time pitching in his senior year at Oklahoma University - this was by far the most amount of innings he's thrown across a single season. The Cubs also are overly cautious with their starting pitching prospects (see: Jordan Wicks above), often keeping them at two times through the order to limit injury risk and help focus each starter's plan of attack. Horton is healthy and able, and he should blow past 100 innings next season if all goes according to plan. 
The former Sooner rose rapidly in his first full season with the Cubs, and a debut in 2024 is now more likely than not. Perhaps the most important thing about Horton, besides the limited mileage on his arm, is that he poses little-to-no reliever risk. In a system that is constantly converting guys with dominant stuff into bullpen arms because of a lack of command, Horton's control of the strike zone should make him an annual fixture atop the rotation at Wrigley Field for years to come. 
Congratulations to Cade Horton on being the first North Side Baseball Minor League Starting Pitcher of the Year! Each of the starters written about today deserves to be recognized and discussed. How do you feel about the selection of Horton, and how would you rank the top starting pitchers in the Cubs organization? 
1