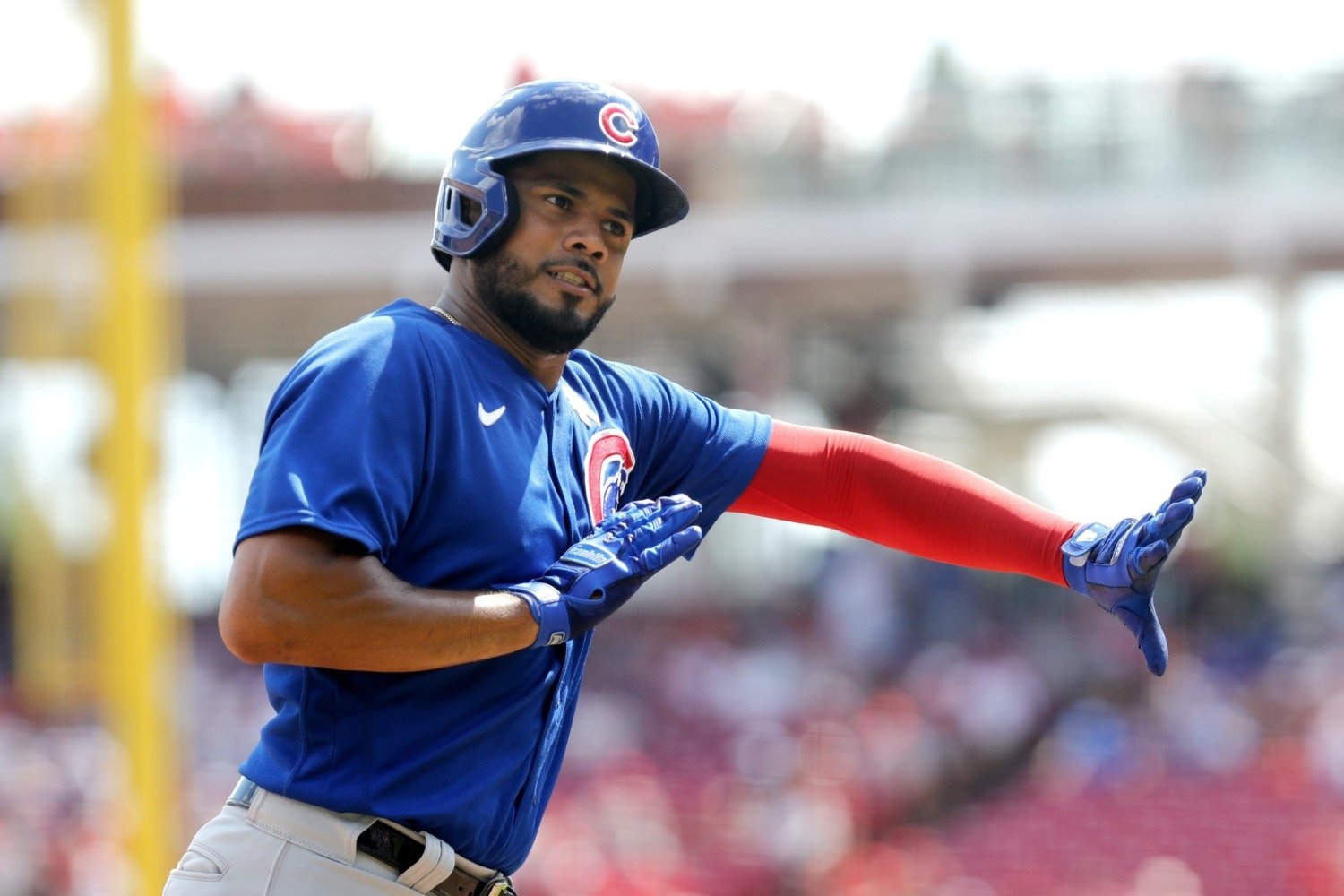 Image courtesy of © David Kohl-USA TODAY Sports
When the Chicago Cubs made their big trade-deadline move by acquiring Jeimer Candelario from the Washington Nationals for a couple of prospects, I thought it would be a great opportunity for Candelario to have an early audition with the team before his impending free agency. By bringing him into the fold a few months early, you can reap the rewards of having his bat in the lineup down the stretch, and get a feel for how he would mesh in the clubhouse. 
Of course, to this point, the results have not been quite as expected. While Candelario's overall wRC+ with the Cubs was above-average at 106, this was skewed by a very hot first week. His absence from the lineup was felt in early September, as he spent time on the injured list with a back injury. He posted just 0.2 WAR for the Cubs in 41 games. From August 7 to the end of the season, his batting line was a meager .172/.258/.362.
So what happened? Prior to becoming a Cub, Candelario was in the midst of a career year. His .258/.342/.481 line was only bested by the one he posted in the abbreviated 2020 season. He was hitting for power, taking his walks, and laying off of pitches outside of the strike zone–the thing he failed to do in his rough 2022 season, which ultimately led to his release by the Tigers. 
The thing about Candelario as a hitter is that there isn't really one skill that he has consistently done at an elite level. He can hit the ball hard, but he doesn't do it consistently or spectacularly enough to be an exit-velocity darling. He gets on base, but not quite like Juan Soto. He strikes out a bit more than most would prefer, but not as often as Christopher Morel or Patrick Wisdom. Put all of that into a pot, mix it up a bit, and the result is a hitter with a career 102 wRC+. 
His batted-ball profile doesn't jump off the page, either. For his career, 26.2 percent of his batted balls have been line drives, 41.1 percent have been ground balls, and 32.6 percent have been fly balls. In 2023, 20 percent of batted balls in baseball were line drives, 42.5 percent were ground balls, and 37.5 percent were fly balls. As with most other things, he is right about average. 
Reasonably, we can split Candelario's time with the Cubs into three phases: the honeymoon (August 1-6), the pre-injury (August 7-September 10), and the post-injury (September 27-October 1). The honeymoon phase did the heavy lifting as far as his batting line was concerned (314 wRC+), the pre-injury phase brought that batting line back down to earth (62 wRC+), and the post-injury maintained his roughly league-average production (91 wRC+). 
Given that the pre-injury phase is the biggest sample size we have, it's the one most likely to leave a sour taste in the mouth of Cubs fans. And it has. If the Cubs were to bring Candelario back, how much should that period factor into his contract? Who is the real Jeimer Candelario?
Going back up a few paragraphs, recall that Candelario has put 41.1 percent of his balls in play on the ground for his career. During his pre-injury phase with the Cubs, he hit 54.4 percent of his balls on the ground, according to FanGraphs. The league as a whole recorded a 35 wRC+ on ground balls in 2023–hence, his drop in production. 
I think that this has two possible explanations: 
Candelario was hurt for much of that period of time, resulting in him pulling off of the baseball and pounding it into the ground much more often. 

The Cubs thought they could tap into more of Candelario's power by having him pull more fly balls, and it backfired. In his pre-injury phase, 41.7 percent of Candelario's fly balls were pulled. He has only pulled more than 30 percent of his fly balls once in his career, and that was way back in 2018, when he did it 30.8 percent of the time, per FanGraphs. 
To put a bow on all of this, while Candelario's reunion with the Cubs didn't go quite as either side had hoped, the numbers tell us that there is a likely explanation for it. He has enough of a history of being an average hitter with upside that I feel confident in saying that if he can get healthy over the offseason and return to the approach he has had his whole career, he will return to being that guy in 2024. 
I am a bit surprised that there has been so little chatter around Candelario and the Cubs this offseason. When the trade was made, we heard so much about how happy he was to be a Cub again, and how happy the Cubs were to have him back. He probably won't consistently be the three-win player he has been in the past, but to me, he is a pretty good bet to be a league-average hitter (or better) going forward–not to mention, he has defensive value at two positions the Cubs need to fill. He certainly isn't going to completely change anyone's lineup, but he can add quality depth, and he would be a nice consolation prize for anyone who misses out on the big targets this offseason.