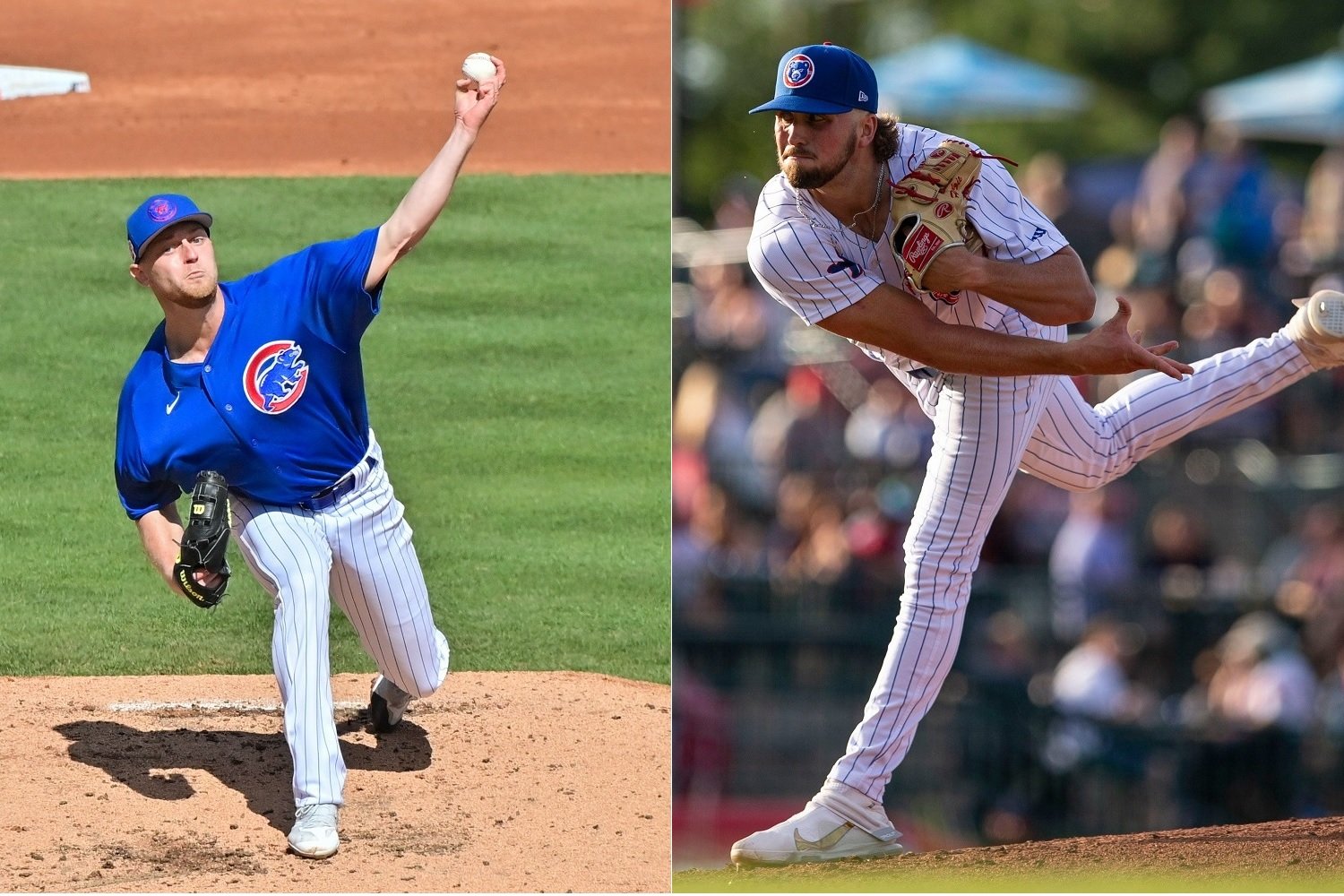 Image courtesy of Matt Kartozian (photo of LHP Horn), Chloe Trofatter (photo of RHP Hodge)
Last week, the Cubs added smooth-fielding shortstop Luis Vazquez to their 40-man roster, not only keeping him from the Rule 5 draft, but also keeping him from free agency. On Monday afternoon, the Cubs added three pitchers to their 40-man roster as well. 
40-man roster spots are critically important to an organization. Obviously to be able to call up a player, he needs to be on the 40-man roster. Adding these players means that they will not be eligible for the Rule 5 draft. Being on the 40-man roster means that another 40-man decision doesn't need to be made to call a player to the big leagues. 
It isn't an exact science. If it was, then no one would be selected in the Rule 5 draft. The Cubs added three players, but that leaves several other players eligible for the Rule 5 draft. Will they lose any?
Let's start with the players that the Cubs added: 
RHP Michael Arias
On Tuesday, Arias will turn 22 years old. Originally, Arias was signed as a shortstop by the Toronto Blue Jays in July of 2018. At the end of May in 2020 (when it was announced that there would be no minor-league season), the Blue Jays released him. 
In January of 2021, the Cubs signed the shortstop. However, they moved him to the mound that year. As a 19-year-old in the DSL, he went 4-1 with a 3.09 ERA. In 2022, he pitched in eight games in the Arizona Complex League. He went 0-3 with a 4.85 ERA in 13 innings. He had 18 strikeouts, but he also had 16 walks and a couple of hit batters. He had five strikeouts and six walks over four innings for Myrtle Beach late in the season. 
Arias being added to the 40-man roster is all about projection, all about upside. A look at his 2023 numbers isn't going to inspire. Between Myrtle Beach and South Bend, he went a combined 1-10 with a 4.09 ERA. In 81 1/3 innings, he still walked 51 batters (a huge improvement) but he had 110 strikes.  
Instead, it is important to see Arias's youth, and his lack of time and experience as a pitcher. He is blessed with a big arm and an upper-90s fastball. However, he's also got a two-seam fastball that dips and dives and is a high quality pitch too. And, the wiry right-hander from the Dominican also has the makings of a sharp slider. 
He has only been pitching for three years. He has just 121 2/3 total innings worked in those three seasons. He was able to reach 81 1/3 innings this year, which is impressive, and next year maybe he can get to 100-120 innings. Or, his stuff will continue to improve and dominate and the Cubs could use him as a force out of the bullpen by the season's second half. 
RHP Porter Hodge
Hodge really wasn't a huge prospect coming out of high school in Salt Lake City. But the Cubs selected him with their 13th round pick in 2019. He pitched in five games and totaled eight innings that summer. And then like most minor leaguers, he didn't pitch in 2020. 
He broke out in 2022 when he split the season between both levels of A-ball. At Myrtle Beach, he went 4-2 with a 3.00 ERA in 17 starts. In 69 innings, he had 90 strikeouts, but 39 walks. He moved up to High-A South Bench for eight more games. He went 3-3 with a 2.01 ERA. In 40 1/3 innings, he had 51 strikeouts to 16 walks. Overall, that's 141 strikeouts in 109 1/3 innings. 
That brings us to 2023, and despite limited time in the Midwest League, Hodge jumped up to Double-A Tennessee and saw mixed results. Overall, he pitched in 35 games and made 12 starts. In 80 2/3 innings, he had 103 strikeouts but 49 walks. He went 6-7 with a 5.13 ERA. 
Like Arias, the 22-year-old Hodge has stuff. While Arias is barely 6-0 tall and maybe 160 pounds, Hodge stands 6-4 and weighs in right around 230 pounds. He has been able to get himself into much better shape. He has a fastball in the mid-90s. He also has a really good slider (when it's on) that almost acts more like a slurve. Out of the bullpen, he can be successful with those two pitches, but if there is any hope of him starting, he will have to improve his slow curveball and slow down his changeup. 
LHP Bailey Horn
The White Sox used their fifth round draft pick in 2020 to draft the southpaw from Auburn University. In four starts before Covid ended that season, he went 3-1 with a 2.08 ERA and had 27 strikeouts to just five walks in 17 1/3 innings. He made his pro debut at Low-A Kannapolis. He moved up to High-A Winston-Salem but after just 11 innings there, he was traded from the south side to the North Side at the trade deadline. The Cubs sent reliever Ryan Tepera to the White Sox and got Horn in return. 
In 2022, he started at South Bend but after five games and ten shutout innings (with 16 strikeouts), but moved up to Double-A Tennessee where he had 58 strikeouts (but 27 walks) in 41 2/3 innings. He pitched in the Arizona Fall League a year ago. 
He began this season by striking out 19 batters in nine innings (over six games) for Tennessee, but he was quickly promoted to Triple-A Iowa. He worked in 39 games out of the bullpen and went 7-2 with a 4.58 ERA. In 53 innings, he walked 29 but struck out 59 batters. 
Horn has a low-to-mid 90s fastball that tails in on a left-hander. He has a very good curveball and continues to work on adding a slider as well. With that, he could be very intriguing out of the Cubs bullpen. He does have the ability to miss bats, so if he can throw strikes, he could be a long-term piece. 
Of course, adding these players to the 40-man roster means that there are a lot of Cubs minor leaguers who remain eligible for the upcoming Rule 5 draft. 
Look back at @Matt Trueblood's article from yesterday to see which other players he recommended.