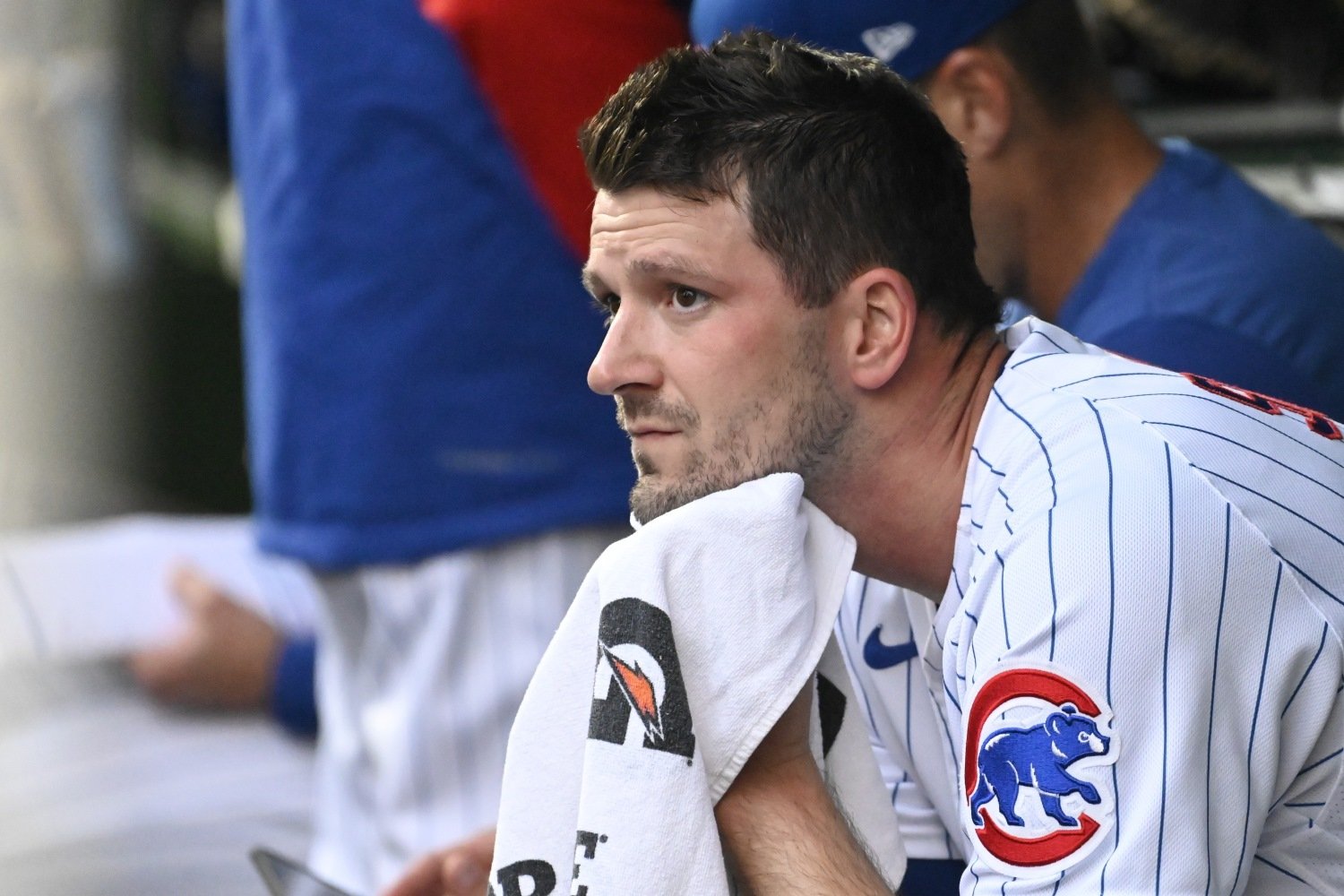 Image courtesy of © Matt Marton-USA TODAY Sports
With two outs and the bases loaded in the top of the fifth inning Saturday, Drew Smyly started his showdown against the Cardinals' Jordan Walker with two straight cutters on the inside part of the plate. Walker fouled off both pitches, and just like that, Smyly was ahead in the count 0-2. 
With Walker having seen a couple of pitches on the inside part of the plate, Smyly executed a perfect curveball in the dirt and on the outside part of the plate. Walker swung and missed, ending the Cardinals' scoring threat, and keeping the Cubs within two runs, in a game they would eventually win 8-6.
For a team that needs every win they can possibly get to keep their very small playoff hopes alive, this was a very important strikeout. What is also very important is for the Cubs to get Drew Smyly back to the player he was for the first two months of this season. 
Through his first 10 starts of the season, Smyly was one of the most valuable pitchers in baseball. His 1.3 WAR on Fangraphs was 19th, and his 2.60 ERA was 12th among qualified pitchers. The Cubs were 7-3 in those games.
In his 10 appearances since, Smyly has a 7.08 ERA, which is sixth-worst among pitchers with at least 40 innings pitched in that time frame. His -0.3 WAR is third-worst. The Cubs are 3-7 in those games. His 3.62 FIP and 4.31 xFIP in his first 10 starts suggested some regression was coming, but I don't think anyone expected it to be this extreme.
What was the significance of his at-bat against Jordan Walker? In Smyly's first 10 appearances, when he was successful, he was mostly a two-pitch pitcher. Per FanGraphs, he threw his fastball 42.4 percent of the time, his curveball 49.2 percent of the time, and his cutter 8.3 percent of the time. 
Since then, he has almost doubled his cutter usage, throwing it 15.1 percent of the time, with his fastball being thrown 39.4 percent of the time and his curveball 45.5 percent of the time. If we want to get even more recent than that, his cutter usage is up to 20.3 percent in his past six outings.
If throwing the cutter less often worked for him earlier this season, why the progressive change in pitch usage? Smyly's putaway pitch, his curveball, is not getting the results that it did to start the season, or even the results that it did last season. From last season through Smyly's 10th appearance this year, his curveball was worth 0.88 runs/100 pitches, according to FanGraphs. For reference, that would have made it the 10th-best curveball in all of baseball in that time frame, had he thrown enough innings to qualify.
Since then? It has been worth -2.52 runs/100 pitches, making it one of the least effective curveballs in baseball. For a pitcher like Smyly, this is a huge issue. He has never generated a ton of value with his other pitches, mostly using them to set up his curveball. If his curveball isn't effective, he just doesn't have any other pitch that can consistently get guys out. 
The good news, if there is any, is that Stuff+, an all-encompassing pitch modeling stat that takes velocity, spin rate, spin axis, movement, and release point into account, doesn't see a huge difference with the curveball from his first 10 appearances to the second 10 appearances. 
My best guess is that, since Smyly was basically a two-pitch pitcher for the first half of his season, hitters started sitting on the curveball. Smyly is in the midst of making an adjustment back to throwing the cutter more often. 
The results haven't been there yet, but in order for the Cubs to keep clawing back into the playoff race, Smyly is going to have to at least start performing like a league-average pitcher. With Jameson Taillon still struggling to find his groove, they are essentially starting 40 percent of their games in a hole, just because of who is pitching for them. Perhaps Taillon is now emerging from that funk; Smyly needs to follow him toward the light at the end of that tunnel.
1