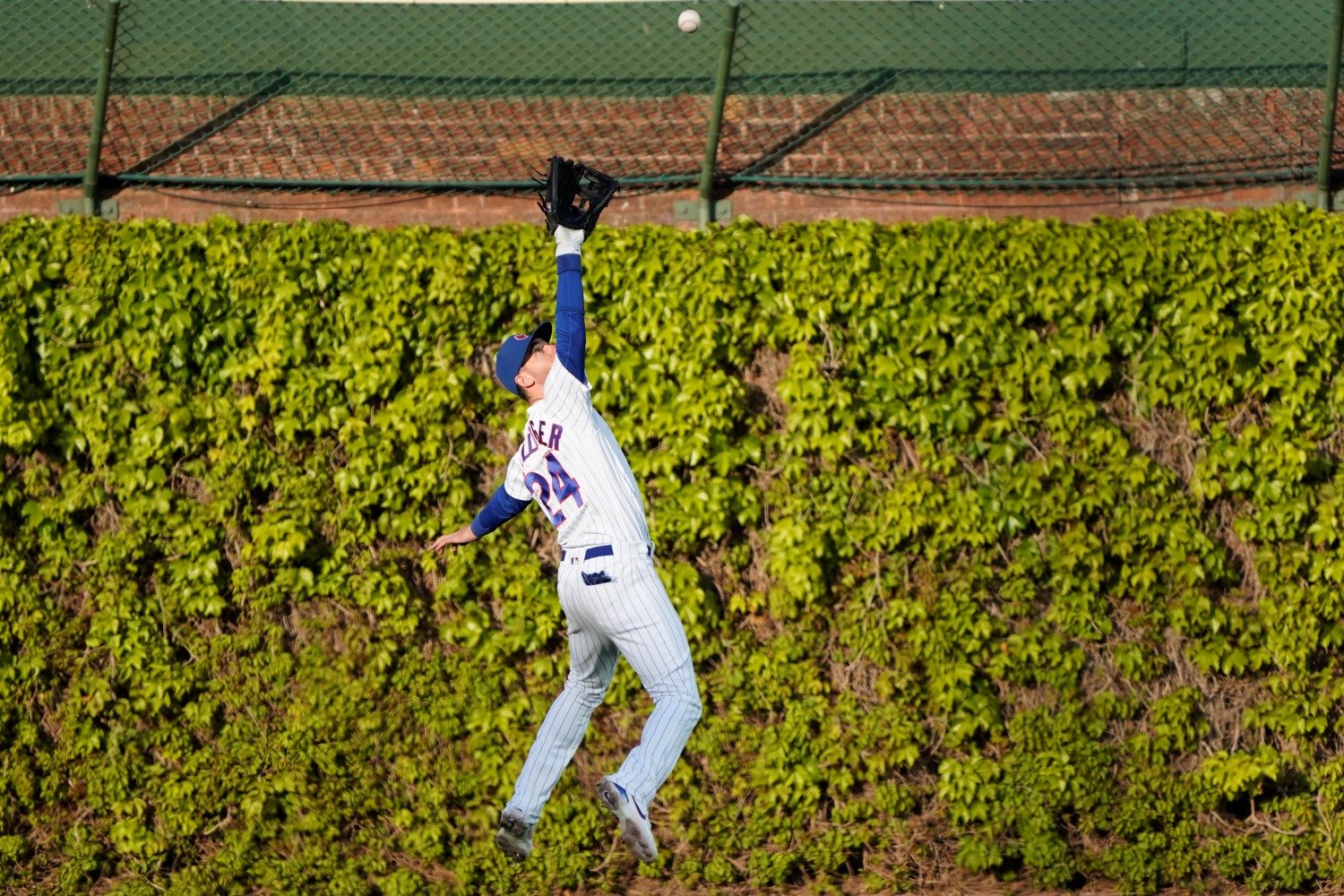 Image courtesy of © David Banks-USA TODAY Sports
Back in March 2021, I wrote a nonsense piece in which I attempted to quantify aesthetically pleasing baseball swings, with an absurd headline and everything. (I'm calling it nonsense, but I completely believed in what I wrote, and still do, two years later.) Therein, I discussed the best swings in baseball and examined whether there was any correlation to performance. Somewhat obviously, Cody Bellinger's sweet swing made the list. I discussed the elongated path to the ball, his zone coverage, and the smooth violence in his contact. Of course, it's been a minute since we've seen that Cody Bellinger. 
The last two seasons were unkind to the Cubs' new center fielder. A former NL Rookie of the Year, NLCS MVP, NL MVP, Gold Glover, and Silver Slugger being available on the free-agent market after getting non-tendered by the squad that drafted him tells you everything you need to know. After dislocating his shoulder in the 2020 postseason, he hadn't been able to regain any semblance of form in the subsequent years. 
The Cubs, in dire need of stability in center, signed Bellinger to a one-year, $17.5-million pact. The hope was that he'd have something to offer on both sides of the ball. After all, for a team that was going all-in on defense – signaled by their catching tandem and pursuit of Dansby Swanson above other shortstop candidates – the defense for Bellinger had never faltered. If the bat could just occasionally come along with it, well, that would almost, weirdly, be a bonus. 
To this point, it looks like the Cubs are getting quite a bit of both. 
The defense has been spectacular. Bellinger's Outs Above Average of 2 is the second-most among all outfielders, and matches his two Defensive Runs Saved. That part is not up for debate, and was really never going to be. "Upper-tier defensive outfielder still really good at catching baseballs" isn't a particularly grabby headline, anyway. 
What has been most impressive about Bellinger, though, has been his approach on the offensive side of the ledger. No, he's not quite back to MVP form. In case you're wondering what that looks like, you're talking about a 161 wRC+, .324 ISO, 0.88 K/BB ratio, and a 7.8 fWAR. The timeline slowed down so much in 2020 that it feels like a decade since we saw that version of the player. But the one that we've seen thus far on the North Side has been more than competent. He has actually just been quite good. 
The following is a sampling of numbers from Bellinger in 2021, 2022, and through Tuesday, May 9th of 2023:
| | | | | | | | |
| --- | --- | --- | --- | --- | --- | --- | --- |
|   | PA | AVG | OBP | ISO | K% | BB% | wRC+ |
| 2021 | 350 | 0.165 | 0.24 | 0.137 | 26.9 | 8.9 | 47 |
| 2022 | 550 | 0.21 | 0.265 | 0.179 | 27.3 | 6.9 | 83 |
| 2023 | 145 | 0.291 | 0.366 | 0.252 | 18.6 | 9.7 | 143 |
We're still operating with a small sample, but the output is encouraging in itself. He's cut the strikeout percentage, and is showcasing far more power than he did in either of the last two seasons. Those two developments are noteworthy for anybody. A player striking out less and hitting for more power are both things you definitely want in your lineup. As a result, after two seasons of being among the worst hitters in baseball, Bellinger has found himself back at the popular table in the wRC+ game. 
Just to dig a little deeper, here's some other stuff: 
| | | | | | |
| --- | --- | --- | --- | --- | --- |
|   | Swing% | Contact% | Whiff% | Barrel% | HardHit% |
| 2021 | 51.3 | 72.3 | 14.2 | 7.1 | 30.8 |
| 2022 | 49.8 | 76 | 12 | 8.3 | 34.7 |
| 2023 | 48.3 | 79.9 | 9.7 | 8.3 | 33.3 |
These underlying figures do seem to support at least some of what the output looks like. The Swing% hasn't changed drastically in any direction, whether in or out of the zone, but more balls in play is working well in conjunction with the absence of the shift. For more swing rate context, the 2021 season was Bellinger's highest swing rate of his career, by a fairly wide margin. You'd love to see him get back to being as choosy as he was back in 2019. Not that he'll return to his ways of violent contact on swing rate alone (if at all), but the patience coming back into the fold at least a bit bodes well.
Speaking of violent contact, there actually has not been a lot to speak of from Bellinger thus far. While his contact rates are up – and so is the power – Bellinger is not exactly mashing the baseball. In fact, he's not hitting it particularly hard at all. His hard-hit rate is a tick lower than it was last season, and his barrel rate remains identical. Baseball Savant has him 33rd percentile in average exit velocity and 32nd in HardHit%. Oof. 
But it's not as if Bellinger has ridden a spree of soft contact to an untenable conquest of the BABIP monster. At .326, his BABIP isn't a super outlandish figure. And at .255, his expected batting average (xBA) is still far better than it was in either of the last two seasons. The absence of the shift is playing its part, given that Bellinger has a .392 wOBA in 2023 vs. wOBA figures of .239 & .283 in each of the last two years, respectively, when he was being shifted roughly 90 percent of the time. Weirdly, though, what is working heavily in Bellinger's favor is the flyball. 
Bellinger's flyball rate, at 47.5 percent, is nearly identical to each of the last two seasons (47.5 in 2021 & 47.2 in 2022). On that flyball contact, he's making hard contact at a 34-percent rate, ISOing .600, and has a 207 wRC+. His HR/FB rate, as a result, sits at 14.9 percent. That's easily his highest of the last three seasons. While we haven't seen Bellinger overhaul his swing quite like he has in previous years, there are likely some slight mechanical tweaks at play. I'll let someone far smarter than me analyze those at a later date; Jay Jaffe at FanGraphs has a nice piece on some of the flyball trends to tide you over for now.
Ultimately, while Jaffe does note in the piece that Bellinger showed signs of rounding back into some upper level of form in April of 2022, he's far ahead of where he was at this point last year. That's an essential thing for the Cubs. As currently constructed, their margin for error is virtually zero. They need the defense to play at its elite upside, but they also need some bats to come through (especially given some of the lineup choices we've seen; a separate issue entirely). Bellinger has the ability to be a catalyst in a way that many of us didn't expect. We may never see 2019 Cody Bellinger again, but this 2023 version is looking pretty good.
1