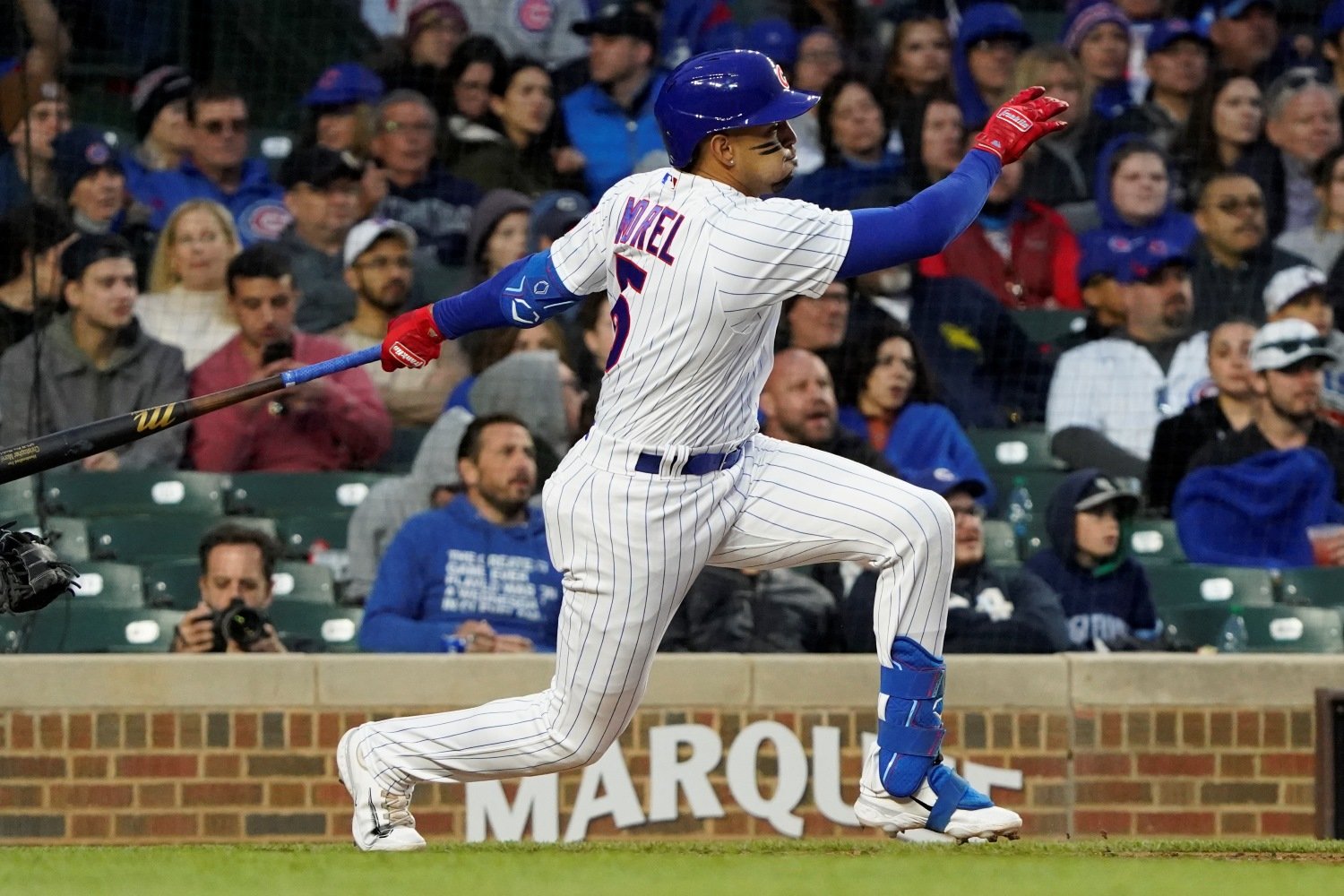 Image courtesy of © David Banks-USA TODAY Sports
Normally, when I preface a piece with that type of phrasing, it's not a harbinger of positivity. I can think of at least two occasions where this was the case (and weirdly, they both involved San Diego Padres first baseman Eric Hosmer). But in this case–when we're in a stretch where the Cubs aren't necessarily giving us Good and Fun things to discuss on a regular basis–Christopher Morel is, perhaps, more worthy of our attention than anyone else. After all, power is fun. Loud power is the type of thing you tune in for specifically. 
When the "Last" Great Cubs Team was at their peak, they had power in a few forms. But it was Javíer Báez that got you to turn the game on, Cubs fan or not. Báez's propensity for doing something incredible on the baseball field was matched only by his tendency to swing at a pitch thrown in the direction of the opposing dugout. When that ball went, though, it went. Of course, it's not the first time we've seen those names juxtaposed against one another.
It's an apt comparison. Through just over 50 plate appearances, Morel is striking out at a 36.5 percent clip. His Whiff rate sits a shade over 20 percent. He's chasing pitches outside the strike zone around 40 percent of the time. Who cares? He also has nine homers in a dozen games. And they weren't cheap. 
Try to keep your tongue in your mouth with the exit velocity, distance, and direction of each:
May 9: 106.6, 422 ft, Straightaway

May 12: 109.2, 429 ft, Oppo

May 14: 113.6, 461 ft, Pull

May 15: 102.7, 401 ft, Pull

May 17: 110.1, 402 ft, Straightaway

May 19: 98.0, 371 ft, Pull

May 20: 101.2, 406 ft, Straightaway

May 21: 103.3, 356 ft, Oppo

May 23: 108.2, 383, Pull
There's some variety there, in terms of distance and direction. The one consistency? Seemingly everything is absolutely mashed. It's no surprise that Morel is 91st-percentile in max exit velocity (that 113.6 nonsense above); has a hard-hit rate at exactly 50 percent; and is carrying an ISO over .600 (.612) through his first 50 plate appearances. In case you're wondering, Morel does lead the league in ISO among players with at least 50 PAs. Jake Burger is second, with .376. 
Before the Morel call-up, the Cubs were in the bottom half of the league in ISO, at a .153 mark. That sat them 17th in MLB and ninth in the National League. In the stretch since his promotion, they're fourth (.212). Overall, the Cubs now sit 12th in ISO (sixth in the NL), at .168. It's not all due to Morel, as Seiya Suzuki has started to find the power stroke a bit, but he's the most notable factor in that stretch of time.
There's one trend from this that I'm really excited about. The kid is feasting on the hard stuff. Six of Morel's nine homers have come against fastballs. He has a 70-percent hard-hit rate and an absurd Barrel rate of 35 percent against fastballs. His 57.7-percent swing rate is his highest against any of the three broad pitch categories, by a wide margin. It's a positive trend to be that aggressive against a specific pitch type, and to have the majority of your success come against that pitch type.
Of course, there's going to be an adjustment on the part of opposing pitchers. They'll see the chase rate and the 80-percent whiff rate against offspeed pitches and conduct themselves accordingly. So those Whiff & strikeout percentages aren't going down, and it will be an important challenge to Morel not to let them go up, instead. The power itself is certainly real. Don't forget, he had already hit 11 homers in 29 games in Iowa. Ideally, there will be an adjustment on Morel's part to help mitigate the impending one coming from opposing pitchers. But we're not there yet.
I hate to bring the Báez comparison back into this, just because there were so many things that Javy did–on both sides of the ball–that made you lose your mind. The skill set that Christopher Morel possesses, though, makes it a not-illogical one to maintain. You'll live with the strikeouts if you're getting this kind of power production on a team that very much can use it.