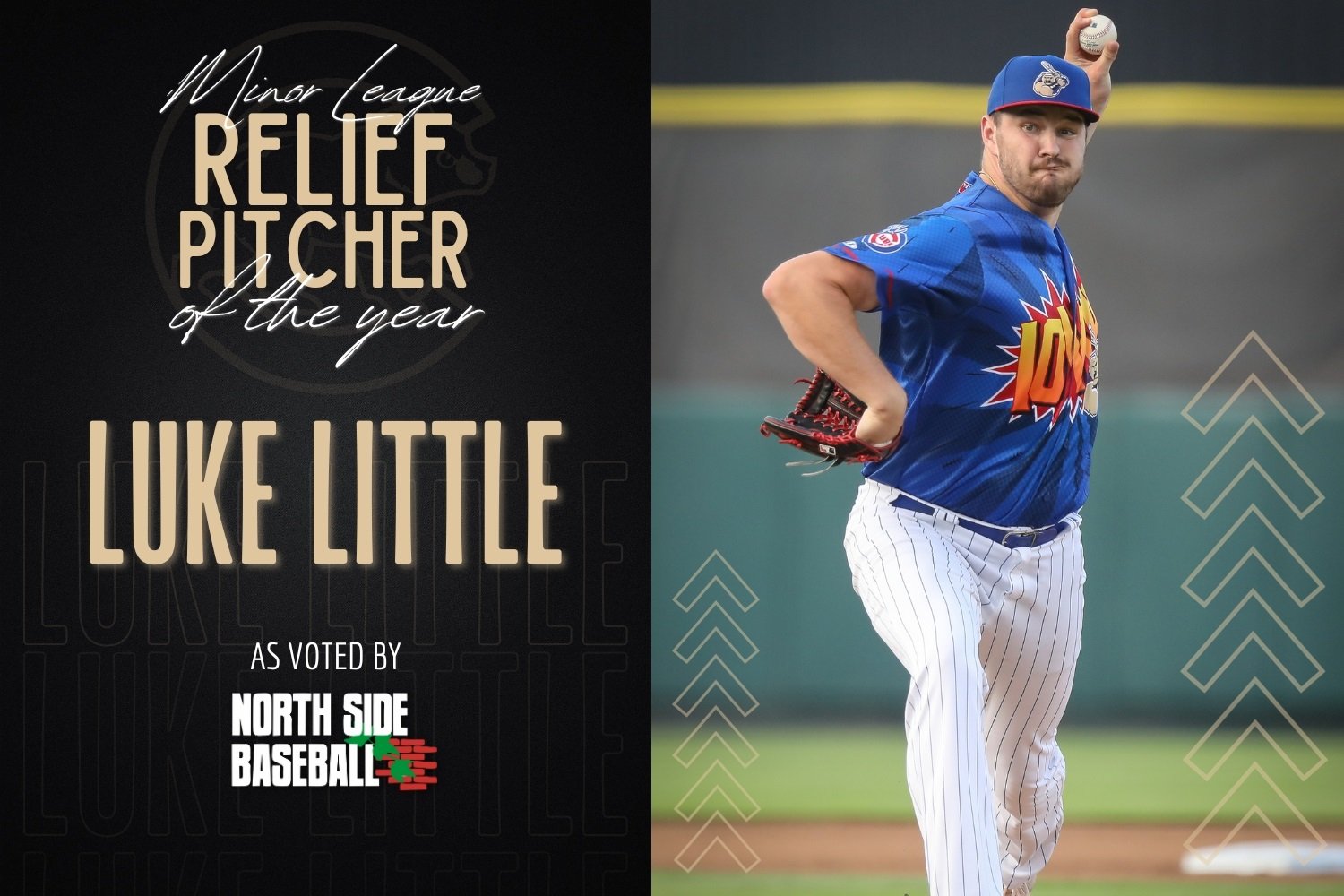 The Cubs have been among the leaders of the bullpen revolution that's taken over the baseball landscape during the last decade, often finding ways to put together highly efficient groups of relievers for relative pittances. Part of that process has been developing relief prospects internally; whether converting a starting pitcher with dominant stuff and lacking command (or a smaller pitch repertoire) or honing the elite velocities of true relief prospects, the Cubs have placed a premium on getting the most out of their in-house relievers. This year, thankfully, has been no different.
Below are the top vote-getters in the annual North Side Baseball end-of-season award ceremony for the Cubs Minor League Relief Pitcher of the Year. 
Before getting into the top three, here are a couple of others that received votes. The level indicated next to each player's name is where they finished the 2023 season, and all stats shown are only those accrued in the minor leagues this year.   
Honorable Mentions
RHP Frankie Scalzo, 23 (Tennessee Smokies): 39 G, 72.2 IP, 53 H, 25 BB, 73 K, 2.35 ERA, 1.07 WHIP, 3.1 BB/9, 9.0 K/9
I've written about Scalzo a few times this year, and the true relief prospect deserves his flowers for a breakout season. After giving up 25 walks in just 44 innings last year, he gave up the same number in more than 70 innings this season, reflecting on his hard work on improving his command and focusing his pitch mix. The Cubs have done an excellent job in recent years of bringing relievers through the system quickly, and Scalzo has the potential to be the next reliever to make it to Wrigley. He'll almost certainly start 2024 in Triple-A, with a mid-season (or injury-related) promotion on the horizon.
RHP Saul Gonzales, 23 (Myrtle Beach Pelicans): 15 G, 27 IP, 24 H, 6 BB, 29 K, 2.67 ERA, 1.11 WHIP, 2.0 BB/9, 9.7 K/9
The returning piece in the Mychal Givens trade at the 2022 deadline, Gonzales converted to full-time relief this year and looked good when healthy. Most importantly his strikeout rate stayed steady from last year (10.0 K/9 in 2022) while he slashed his walk rate in half (4.0 BB/9 in 2022), giving the large righty a foundation to build from. Given his age, he'll have to move through the system quickly next year to stay on the radar, though he could mirror Daniel Palencia's rapid rise after he too converted from starting to the bullpen.
RHP Chris Clarke, 25 (Iowa Cubs): 35 G, 11 GS, 75.1 IP, 87 H, 27 BB, 66 K, 4.90 ERA, 1.51 WHIP, 3.2 BB, 7.9 K/9
I'm not entirely sure if one of Clarke's family members snuck into our voting process or if someone really appreciated the right-hander serving as an opener eleven times during the season, but Clarke received a single vote on the tally (almost exactly like when Ryan Tepera got an accidental, single MVP vote back in 2020). Clarke's season wasn't anything to write home about, and he should continue to serve as organizational depth in 2024 should the Cubs elect to retain him.  
Others Receiving Votes 
None. This was a pretty cut-and-dry category for North Side Baseball contributors. 
Cubs Minor League Relief Pitcher of the Year
Here are the top three vote-getters for Cubs Minor League Relief Pitcher of the Year.

3. RHP Zac Leigh, 25 (Tennessee Smokies)
29 G, 3 Saves, 39.1 IP, 26 H, 17 BB, 58 K, 3.66 ERA, 1.09 WHIP, 3.9 BB/9, 13.3 K/9
I've been open about my favoritism of Leigh before, so it's reassuring to see others commend him for the season he had. Leigh's found nothing but success since being a 16th round pick in 2021, and he's generally been great since being promoted to Tennessee earlier this year. In 24 2/3 innings there this year through August, he had a 2.92 ERA and 34 strikeouts. Much like the big league bullpen, he ran a little out of gas towards the end of the year, though his season as a whole was promising.
Leigh has a mid-90s fastball that he can pump up to as much as 99, and he has a starter's pitch mix thanks to his time as a starter while at Texas State. The most promising development this year for him was the continuance of his massive strikeout rate, even as he improved his command (he had 16 walks in just 34 innings last year). Questions will persist about his ability to hold up over a full season as he has yet to reach 40 innings in any season in his time with the Cubs, though it should assuage some concerns that he nearly reached 90 innings pitched in his final season in college. 
Leigh has firmly put himself on the radar heading into his age-26 season next year, and he should begin 2024 as a candidate for Iowa's closer gig, while staring down a potential late season call-up to the big leagues if his run of success continues. 
2. RHP Daniel Palencia, 23 (Chicago Cubs)
18 G, 5 GS, 29 IP, 24 H, 16 BB, 36 K, 6.83 ERA, 1.38 WHIP, 5.0 BB/9, 11.2 K/9 
The stats for Palencia in the minors this year were rough - the only reason I can surmise he made it this high on the list is that voters accounted for his MLB success (4.45 ERA in 28 1/3 innings) while drawing up their final ballot. However, his numbers improved in the minors after he struggled badly out of the gate as a starting pitcher, which finally prompted the Cubs to transition him to the bullpen where his electric fastball plays up in shorter spurts. 
If you saw any of his appearances out of the big league 'pen this year, you know the book on Palencia: big-time fastball, flashes above-average breaking balls, can completely lose his command out of nowhere. That last point is a big reason why the Cubs moved him out of the rotation, as the hope was that he could more efficiently work around his problematic control in more limited exposure. The stuff is absolutely there to be a late-inning weapon, but Palencia is going to have to be able to string together consistently efficient outings to earn any trust from David Ross (or whomever may be managing the Cubs down the road). 
Since Palencia and Clarke probably took spots on this list that were arguably undeserved given their respective minor-league performances this year, I do want to shout out one more guy: Blake Whitney. The 27-year-old righty put up a 3.20 ERA in 70 innings as the Tennessee Smokies' de facto closer, and he should get one more chance next year to prove that he can pitch at that level at Triple-A. He's been too up-and-down to be on the prospect radar, though he is a name worth watching should the Cubs get desperate for bullpen help again next season.
1. LHP Luke Little, 23 (Chicago Cubs)
36 G, 63.2 IP, 40 H, 42 BB, 105 K, 2.12 ERA, 1.29 WHIP, 5.9 BB/9, 14.8K/9 
Like Palencia, we aren't including any major league stats here, though it's worth noting Little was every bit as dominant in the majors, giving up zero runs and striking out twelve in 6 2/3 innings. The massive lefty should be a fixture with the big league bullpen for a long time. 
As for the minor league season that Little had, the numbers speak for themselves. The command is problematic, though he's simply been impossible to hit. Little preposterously gave up zero home runs in over 65 innings last season, and he followed that up by surrendering only one in 70 total innings this year. The way he leverages his massive 6'8" frame is genuinely akin to Hall of Famer Randy Johnson, who was nicknamed the "Big Unit" for his imposing presence on the mound. Little relentlessly attacks hitters, completely unafraid of anyone who steps in the batter's box. If he ever hones his control of the strike zone, Little could put up a season like Zack Britton's legendary 2016 season, when the then-Orioles reliever posted a 0.54 ERA in 67 innings (and finished fourth in Cy Young voting). 
Little does pose as an interesting case study for the Palencia believers out there, as the lefty has little issue (no pun intended) working around the traffic he introduces on the base-paths. If he can teach Palencia how to keep the ball in the ballpark in perpetuity, the Cubs may have their own version of the Andrew Miller-Cody Allen dual closers they faced in the 2016 World Series. 
Congratulations to Luke Little on a terrific 2023 season. Each of these pitchers mentioned today deserve the recognition they've received and more. How do you feel about our selection of Little, and how would you rank them?