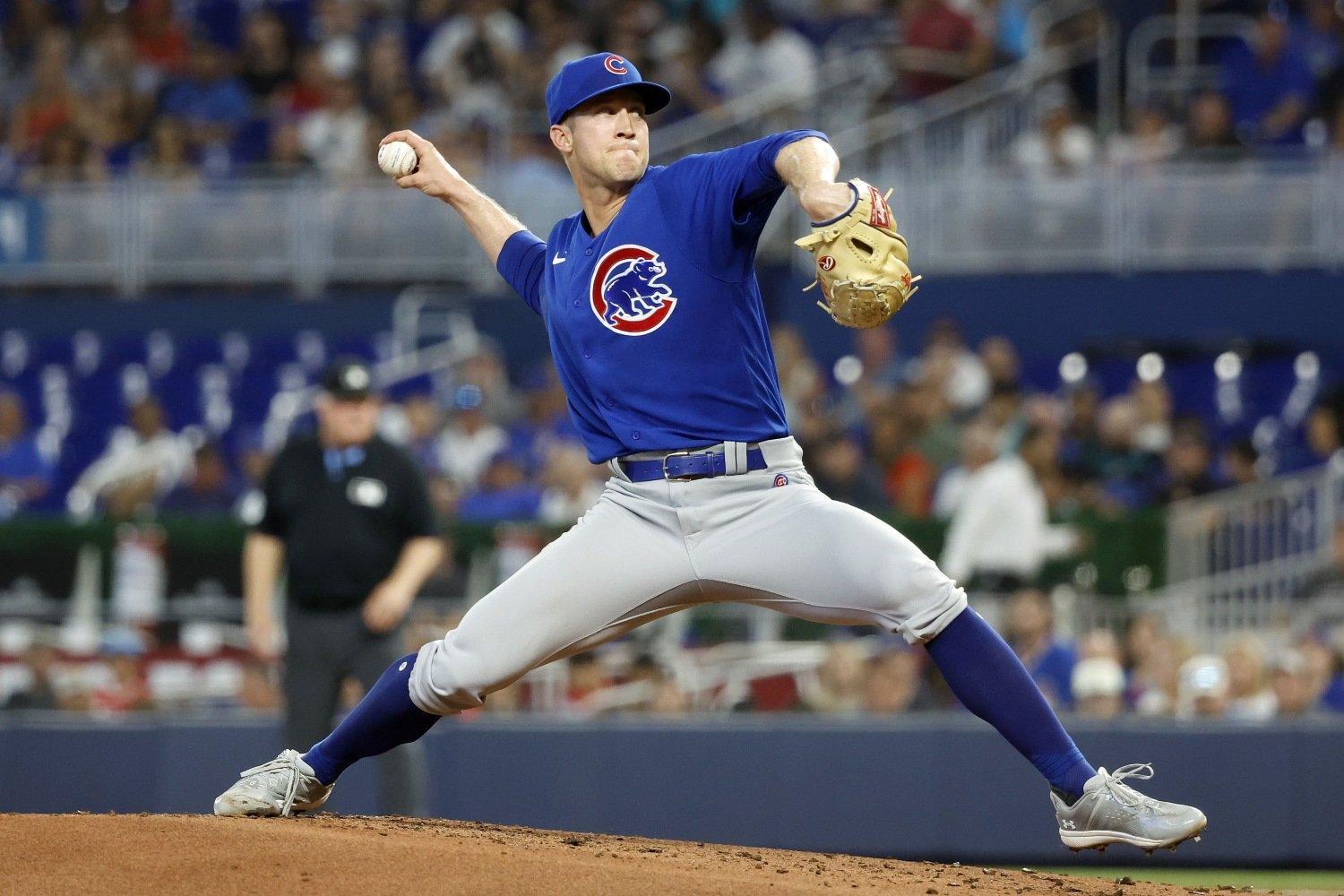 Image courtesy of © Rhona Wise-USA TODAY Sports
Look, once you reach MLB, there are many ways to be successful. No single statistic (other than runs allowed, and even that only over a very large sample) marks a player as either a credible big-leaguer or not. However, when trying to figure out which pitchers in the minor leagues have a serious chance to pitch well in the majors, there are some key indicators on which teams can and should rely. The easiest of these is swinging-strike rate. How often a pitcher misses bats, against hitters who haven't yet demonstrated that they have big-league talent at the plate, is a good barometer for how well that pitcher might hold up against the best competition in the world.
Of the 310 pitchers who have compiled at least 10 innings of work in Triple A this spring, Caleb Kilian ranks 300th in swinging-strike rate. Only 6.6 percent of the 198 pitches he's thrown for the Iowa Cubs have resulted in whiffs. Of the 10 guys worse than him, six are at least 27 years old, meaning it's unlikely that they have any future in MLB. Three play for the Rockies' affiliate in Albuquerque, at an even higher elevation than Denver, where breaking balls defy their names. 
It would be unfair to say, based solely on his lack of whiffs in a small sample, that Kilian will never be a viable big-league pitcher. It was also unfair, though, to thrust him into the crucible of a big-league test with so little recent success to lend him confidence or a guide. Most importantly, it was unfair to the team he joined–one that earnestly intends to compete for the playoffs this year. Kilian is not in any position to contribute to that goal. 
The team had ample time to plan for the game. They even skipped Kilian's last start with the I-Cubs, because they knew they would be recalling him and wanted his workload carefully managed before that time. Given that they had all that time and notice, this was an inexcusable error. They could, fairly easily, have manipulated things to give Javier Assad the spot start again. They could have called up Ben Brown, who just earned a promotion from Double-A Tennessee to Iowa anyway, and who has been dominant thus far this year. They just created a 40-man roster spot by designating Luis Torrens for assignment Friday, and could easily have given that place to either Riley Thompson or Roenis Elias (who has since departed the organization, opting to go pitch in Korea). Even having Keegan Thomspon start and get eight or nine outs to open a bullpen game would have made more sense.
The team does face a real 40-man roster crunch, in the medium term, and that surely informed their choice not to add Thompson or Elías yet. Even that crunch is of their own making, though. They have been too slow to give up on or move proactively with multiple players. As many teams throughout the league currently do, they value optionality and flexibility too highly. They wait too long to make decisive moves and evaluate players too slowly. That made starting Kilian superficially appealing, when it never should have been on the table. 
Even after Kilian allowed seven runs while recording only 10 outs, they nearly pulled out Saturday's game, but they fell short. On a road trip that needed to end no worse than 4-3, the Cubs have started 1-4. This trip seemed like a chance for the Cubs to prove their worthiness for a playoff challenge, by piling up wins and closing ground on the hot-starting Pirates and Brewers. Instead, it suddenly feels like a test of whether they really want this badly enough–not in the dugout or the clubhouse, but upstairs.
Kilian was an ugly mistake. Christopher Morel is running an OPS only a hair under 1.300 in Iowa, proving that he's too good for the level. Matt Mervis hit a double on a 98-mile-per-hour fastball Saturday and put up an exit velocity over 114 miles per hour on another double Sunday, the latest data points in his refutation to those who list a dozen reasons why his minor-league production won't translate to the Majors. The front office needs to take the roster seriously, and make the moves a team with serious ambitions would. Otherwise, they deserve the accusations of unseriousness that will soon come their way.
They get their next great chance to do that on Thursday, when they have no announced starting pitcher and the man lined up to receive the bump is Nick Neidert. Remember that list of 310 Triple-A chuckers? One of the 10 guys worse than Kilian at forcing whiffs this year is his Iowa teammate, Neidert. Even the Nationals, whose offense is exactly as advertised, can do damage against Nick Neidert. Brown, unlike Neidert, doesn't require the team to add him to the 40-man roster in order to join the squad. Brown, unlike Neidert, has gotten whiffs on over 19 percent of his pitches this year--although his were all thrown in Double A. It's unlikely that the Cubs could get more than nine outs from Brown in a start Thursday, but the healthy response to that is: so what? Better three innings of one-run ball than five innings of five-run ball.
If not Brown, the Cubs could recall Assad to make a short start on short rest, after he pitched 4 2/3 innings and threw 72 pitches Sunday (though only if they placed someone on the injured list in a corresponding move; Yan Gomes could be a candidate). They could also elect to use Michael Fulmer as a short-work starter, while calling up a short reliever like Tyler Duffey to give them an inning as part of a bullpen game. What they can't do, if they want the fans or the players in the clubhouse to take this season seriously, is send out another undeserving minor leaguer in an important big-league contest.