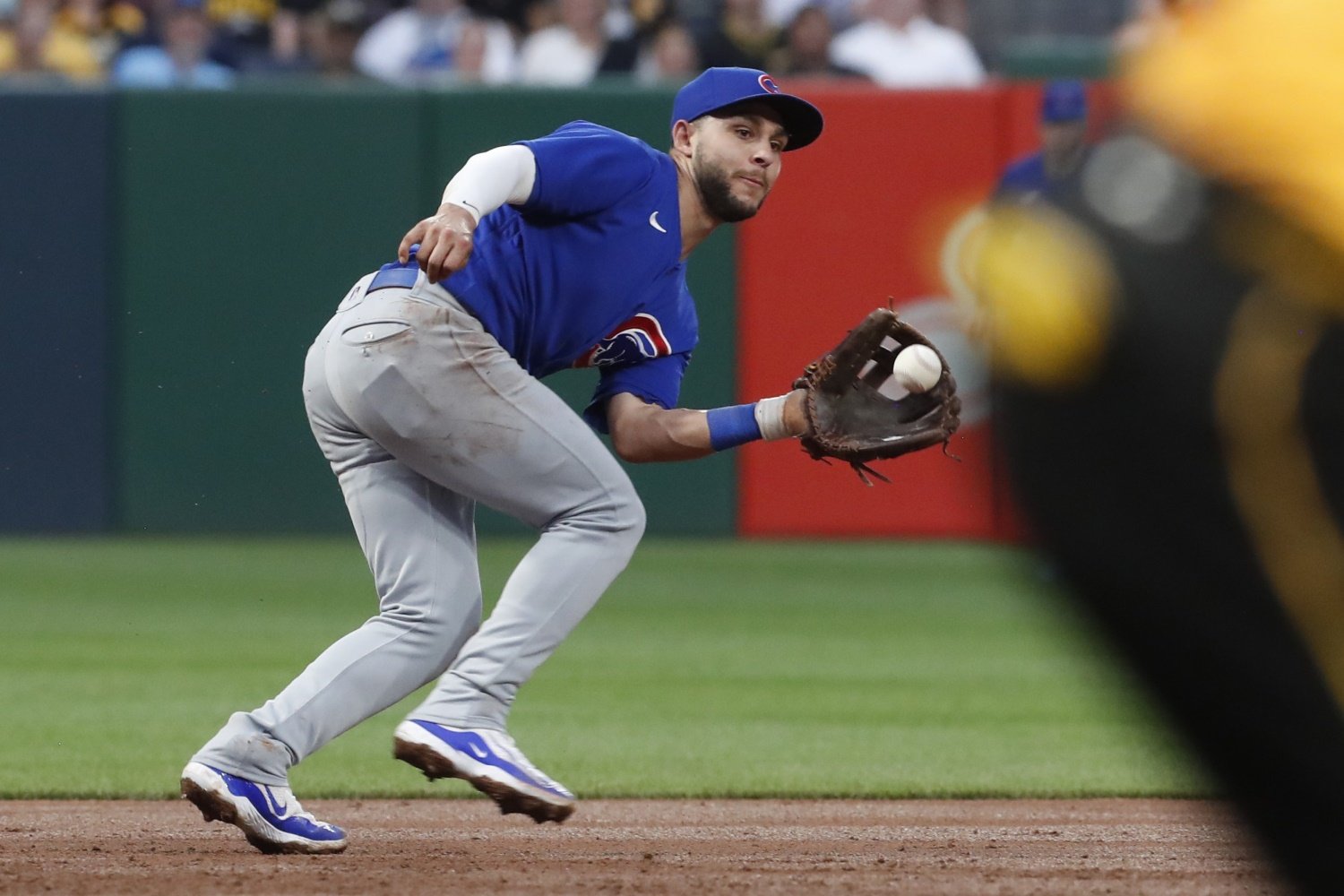 Image courtesy of © Charles LeClaire-USA TODAY Sports
It's incredible to watch Nick Madrigal play third base. In the long history of that position, few guys as small as he is have been any good at it. That's partially a systematic bias at work: teams have prioritized power at that spot and tended strongly to keep short guys with any agility at second base. However, it's also partially a product of the demands of the position--the physics and the geometry of it. 
There's no one correct way to play third, but each variation on the art form has to check certain boxes and answer certain questions. How does one stay ready for the bunt or the mishit dribbler, which can so easily become a hit along the foul line? How does one cover the huge amount of ground for which a third baseman can often be responsible, especially if there's a runner on first base or the opposing batter is left-handed, and still get to the ball with one's feet and body in position to make a strong throw to first? The combination of lateral and straight-line quickness, of arm strength and quick release, is why the position is most often manned by bigger, stronger, more broad-spectrum athletes than second base is.
There have always been step-and-a-dive third basemen, who played the position like they were keepers in a soccer goal. Troy Glaus was one of the best. He would play shallow, and use his length and strength to get the ball fast and fire it across the diamond. There have also always been craftsmen of the spot who were just a bit short on the sheer speed to be a shortstop, but played third like one. They start deep, range widely, and are comfortable throwing on the run, going in either direction. Nolan Arenado is the modern exemplar of this, but Brooks Robinson is the best ever in that style. This is a spectrum, of course, and some guys change things up within it, but the idea is widely applicable. You can play a more upright, running style from deeper, or you can play a lower-crouched, quicker, more leveraged style from shallower.
Madrigal is, of necessity, something else altogether. Because he lacks high-end arm strength, he realizes he has to get to the ball fast. Thus, he plays shallow. Of the 46 third basemen who have played at least 1,000 plate appearances at that spot this year, only three play shallower, on average: Anthony Rendon, Ke'Bryan Hayes, and Yoan Moncada. Notably, that's three guys who have spent the lion's share of their careers at the position. By contrast, guys who are just learning the job tend to play pretty deep, especially if they're moving over from the middle infield. Elly De La Cruz (with his long strides and strong arm, but also without much experience at third) plays deeper than anyone else in the league. 
Hayes is an especially compelling guy to find right next to Madrigal in terms of average starting depth, though, because he's the one whose style at the position Madrigal's most resembles. Hayes, too, is short for third base, though he still has four inches or so on Madrigal. Hayes, too, has a below-average arm, but no one ever talks about that fact. Why? Because Hayes has such quick feet, and such soft and quick hands, that he produces the range of someone who plays deeper, while still cutting down the length of the throws he needs to make, and he releases the ball incredibly quickly. Madrigal, incredibly, has learned to do the same things, even though he just became a third baseman on the fly this year.
Twice in the late innings of Friday's tough loss, Madrigal made great defensive plays to thwart potential Pirates rallies, which could have put the contest well out of reach. They were subtle displays of his brilliance, but they were still there. In the sixth inning, with two runners on base, Jose Cuas induced a very weakly hit grounder by the fleet-footed Alika Williams. Madrigal had to deal with a high, in-between hop, and was screened by the runner advancing from second to third, but he cleanly fielded and fired across in time to get Williams for the third out. Then, in the seventh, Andrew McCutchen came up with runners on the corners and one out. His grounder was hit more sharply, but still not hard, and this time, Madrigal had to start a twin killing, or the Pirates would pad their lead.
That's a hell of a feed from Nick Madrigal at 3B to Nico Hoerner at 2B for the double play. pic.twitter.com/ojoIuh5v3z

— Brendan Miller (@brendan_cubs) August 26, 2023
We're rarely going to see the dazzling play from Madrigal at third. Indeed, the species of dazzling plays that are possible at that spot are largely out of reach (no pun intended) for a player like him. He's made dozens of subtly excellent plays just like those, though, and as a result, the numbers say he's not merely been a pleasant surprise. He's been one of the best third basemen, with the leather, in all of baseball.
My preferred defensive metric is Defensive Runs Saved (DRS), the stat furnished by Sports Info Solutions. By their reckoning, only six people who have patrolled the hot corner this year have saved their team more runs than Madrigal's five. Hayes is the runaway leader, at 18, even though he's missed time with injury. Ryan McMahon, of the Rockies, is second, at 16, and more familiar stars Matt Chapman (11) and Austin Riley (7) come in right behind them. Then there are two players (Taylor Walls and Nicky Lopez) whose primary positions are elsewhere on the infield, and who have only combined to play about as much at third as Madrigal has.
Defensive Runs Saved is a counting stat, though. That Riley and Chapman have played more than twice as much as Madrigal means that he's actually been as good as they have, on a rate basis--or at least, that's the implication. For an explicitly rate-based defensive metric, we turn to Baseball Prospectus, who has created a new suite of defensive stats this year and are vying to reclaim their former position as the best measurers of defense in the baseball analysis sphere. According to Range Out Score, their rate stat for defensive range, the only third baseman who has been better in meaningful playing time is Manny Machado. Madrigal's arm dents his value slightly, and Riley and Alex Bregman edge past him on the overall rating on that basis, but it's still astounding to see Madrigal matching up so well with those names.
Finally, let's turn to Outs Above Average (OAA) and Fielding Runs Prevented, the Statcast-powered figures found on Baseball Savant. Again, only six players come in ahead of Madrigal in total FRP at third, and five of them have played substantially more innings there than he has. These metrics actually credit Madrigal with an above-average value based on throws, not because it mistakes his arm for a cannon (although, surprisingly, he comes in 13th of 42 qualifiers for average arm strength at third, at 84.9 miles per hour), but because he gets rid of the ball so quickly and is so accurate. His feed to Nico Hoerner on that double play last night is a perfect example. 
Both DRS and OAA report breakdowns for players based on the direction they have to move to make a play, and both report what you would expect for Madrigal. He's a bit weaker than average on balls to his right, forcing him to the foul line and setting up long, potentially hurried throws. However, he's been a master on balls hit in front of him and on those to his left, where his quick feet, clean picks, and momentum set him up for a sound delivery to first base. His range is a half-step better in that direction, because he's more certain and less rushed when he goes that way, but even going toward the line, he's serviceable.
What does this all mean? Well, for one thing, we might want to get used to the sight of Jeimer Candelario as the designated hitter on the lineup card. That was his position Friday night, and it makes a lot of sense to keep him there on a semi-regular basis down the stretch. Unless and until the team options Patrick Wisdom, he can act as the backup third baseman, and Candelario can get most of his reps at first base and DH, with Cody Bellinger flexing between center field and first.
If the team recalls either Pete Crow-Armstrong or Alexander Canario when rosters expand next week, it will make even more sense to keep Bellinger primarily at first, and Candelario might reclaim some time at third. When Kyle Hendricks, Justin Steele, Javier Assad, or (ahem) Jordan Wicks start, though, Madrigal should start with them. This was one of Joe Maddon's big things with the highly modular 2016 Cubs. He would put Javier Baez at third base when Jon Lester started, because the other team was likely to run out a bunch of right-handed batters and hit ground balls to the left side, where Baez could have a tremendous impact. 
This dynamic is different, but the math is very similar. With their starters on the mound, the Cubs get a ground ball in 32.2 percent of opponents' plate appearances--second-highest in MLB. When their relievers enter, that number falls to 27.2 percent, good for 24th in MLB. Madrigal can have his greatest impact if he starts the games started by any of the team's more grounder-friendly starters. He can bat ninth, and David Ross can pinch-hit for him later on if the matchup warrants it, because it's less likely that his defense will come into play later on, anyway. With his improved hitting and his superb glove work, though, Madrigal has carved out a significant role for himself.