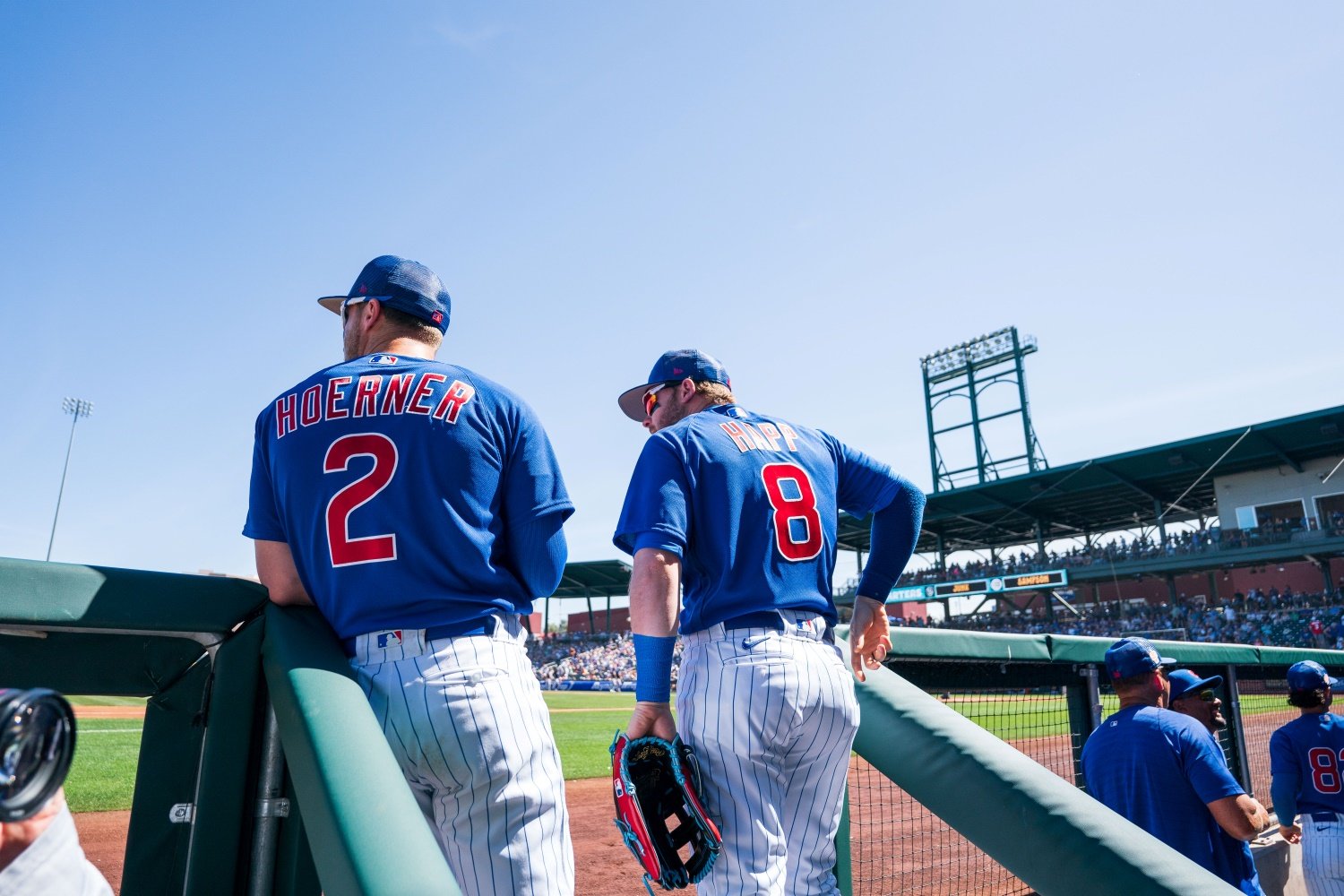 Image courtesy of © Allan Henry-USA TODAY Sports
Don't get it twisted. The jury is still out on Jed Hoyer. 
While we can acknowledge that he's been hamstrung by ownership and budget limitations – to an extent we're largely unaware of as organizational outsiders – he has yet to build a contender on his own. We're still waiting on that "next great Cubs team." 
One of the largest knocks on Hoyer's reign during the (non-)rebuild has been their severe resistance to signing players to contract extensions. This took its clearest and most poignant form in the trades of Anthony Rizzo, Kris Bryant, and Javier Báez within the fastest of windows in 2021, as well as letting Willson Contreras walk in free agency after failing to move him in 2022. (We should note, though, that someone like Kyle Schwarber doesn't perfectly fit the conversation, as it didn't appear that the organization ever had an interest in extending him, in contrast with the others. That he departed via non-tender prior to his last season of arbitration eligibility testifies to that.)
It isn't so much that the Cubs refused to spend, outright. Sure, they probably could have signed the likes of a Bryce Harper or a Manny Machado. They actively chose not to. But they have, at least, handed out some decent-sized contracts in free agency, most notably for Marcus Stroman, Seiya Suzuki, and Dansby Swanson. Notable players have been signed to notable contracts, even if it seems like teams such as San Diego, Toronto, or Texas have blown past them with the aim of returning to serious contention. A modest effort is still an effort. 
Of course, when you're trading away franchise cornerstones that helped break a century-long title drought while maintaining a resistance to signing said franchise cornerstones, that leads to a certain perception, fair or not.
While signings like Stroman or Swanson do move the needle at least a little bit as we await the arrival of upper-tier prospects from inside the system, it's that apparent unwillingness to extend that has particularly drawn the ire of the fanbase since Hoyer took over. As Rizzo, Bryant, and Báez crept closer to free agency, it became an eventuality that they wouldn't be retained. And although there was a glimmer of hope that Contreras could stick around after the team failed to move him last July, that ship obviously also sailed—in a very obnoxious direction. 
And yet, in a little more than a month, is it possible that Jed Hoyer has shifted the narrative in his favor? 
The team capped spring training by signing second baseman Nico Hoerner to a contract extension. A three-year pact worth $35 million, Hoerner's deal kicks in after this season. It buys out his remaining arbitration years, as well as one year of free agency. Barely two weeks after the Hoerner deal, the team agreed to another three-year extension with left fielder Ian Happ. With Happ set to hit free agency after 2023, the new contract will keep him stalking the outfield grass for another three starting in 2024.
There are, of course, layers to each. The Cubs get cost certainty with Hoerner as he reaches the end of team control, while he gets a chance to cash in again while still in his prime. Happ locking into another few years takes one of the better free-agent bats off the market before he gets there. They're fine deals that won't really prove burdensome regardless of the outcomes, since the term of each is relatively short. 
Perhaps most notable, though, is how this shifts the narrative favorably for Hoyer and the Cubs in the extension game. The reality is that the Cubs have now signed two members of their current "core" to extensions, regardless of what those deals look like. While they may not carry the cachet of the names of the previous group, the organization has shown that they're willing to take the necessary steps to extend guys when it's the right fit. 
All things considered, had the Cubs locked in Bryant, Báez or Contreras to the type of contract that each was reportedly seeking, the blowback could now be outpacing that of the negative perception wrought by not extending them at all. Bryant, while performing well when healthy, has struggled to stay on the field since arriving in Colorado. He played in only 42 games last year. Báez was a below-average offensive performer in 2022, and has started off even worse this year. As far as Contreras goes, it's early, but the St. Louis pitching staff has been very bad. Given the trajectory of a Hoerner or a Happ against that of a Bryant or a Báez, maybe there's some merit to be found here after all. 
Not to besmirch two all-time Cubs even a little bit. There's no way of telling what either would have done had they re-upped and stuck around. I'd even argue Báez, in a familiar environment where he was very much beloved, would be in far better form than we've seen since his departure. Rizzo has continued his steady brand of baseball, wonky back and all. It's not a perfect argument to make, but given the early returns, things are starting to lean toward the vindication of Hoyer and the Cubs. 
This isn't to laud the front office overmuch. There have been notable opportunities to improve the ballclub in the immediate term that fell by the wayside, to a pretty frustrating extent. As the organization heads into whatever they're labeling this next phase as, though, we have to acknowledge that the fan base might have been governed too much by emotion, while the team has quietly won extension roulette.