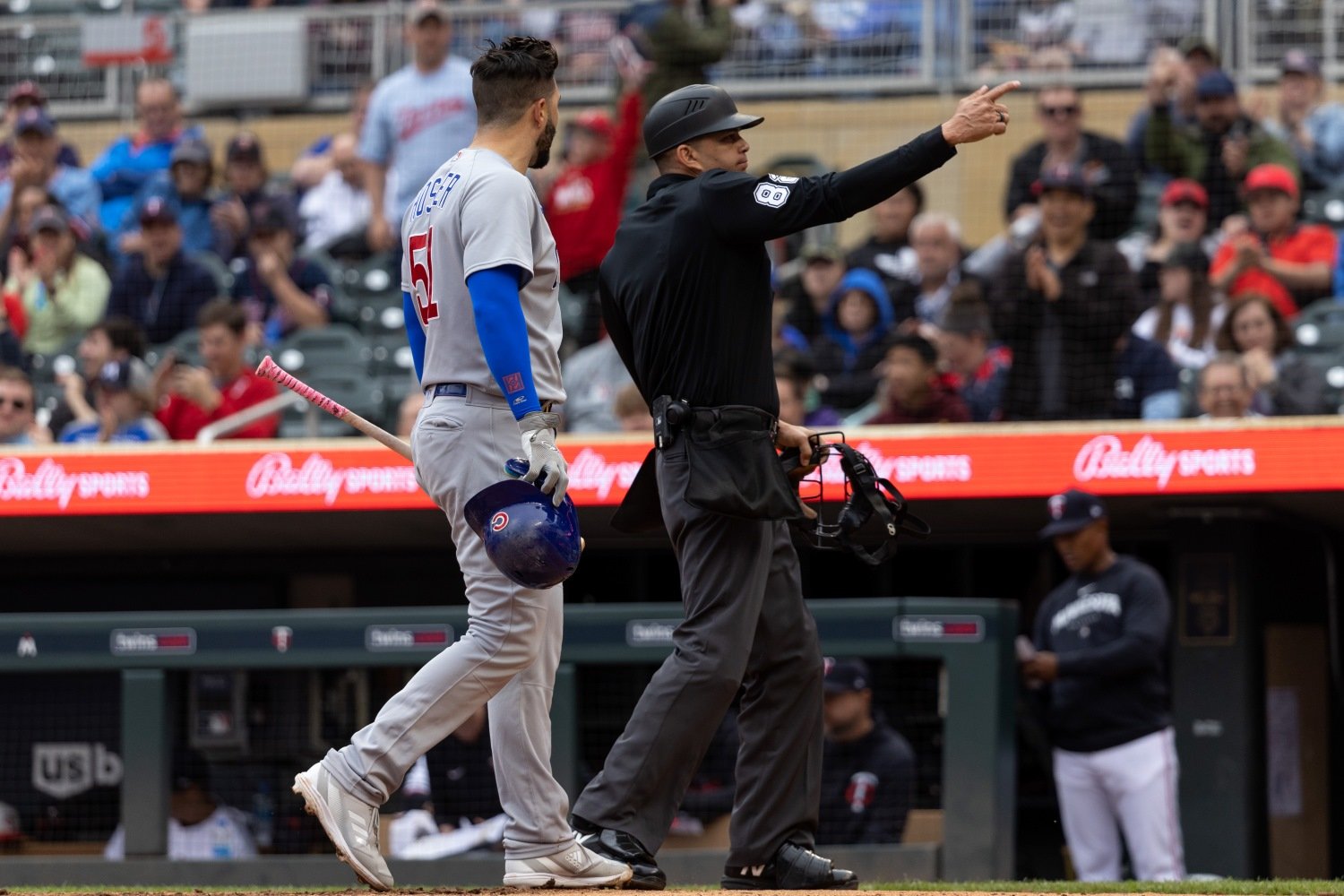 Image courtesy of © Jordan Johnson-USA TODAY Sports
A baseball season is full of opportunities to indulge in unearned catastrophizing. There are 162 games, and they can't all constitute either a jubilee or a crisis. Each game is just one, and it's important to view them as mere cells within a living, changing organism of a season.
That's easy to do after one bad series. It's harder to do after a truly dreadful one, like the one the Cubs lost to the Twins in Minnesota this weekend, as they allowed 27 runs in two brutal losses. Six weeks into a 27-week season, though, three bad weeks--which is what it's now been for the Cubs, who started 11-6 and are 8-15 since--don't represent a blip. Increasingly, the Cubs' identity is mediocrity.
No longer, either, is the team's run differential painting the picture of a legitimate contender who's merely gotten unlucky. That narrative was always as faulty as overreliance on their actual record, but being thumped 27-4 over the last two days has brought the two indices close enough that it no longer needs to be debated much. So far, the Cubs just haven't dispelled any of the doubts shown by pundits and projection systems before the year began. They projected to be a slightly below-average team. They're a slightly below-average team, so far.
The arc of their playoff odds reflects that reality. They began the season as distant longshots to reach the postseason in the National League, just north of 10 percent likely. At a few points between late April and the earliest part of this month, they nosed up to about 30 percent. Now, however, the sleepy division has awakened, and Chicago's window of opportunity seems to be slamming shut on their fingers. Their odds are still up, relative to Opening Day, but they're back to being afterthoughts.
This doesn't amount to a death sentence. The Cubs are better today than they were when the season began. They've added Matt Mervis and Christopher Morel to the roster, and Seiya Suzuki (who had some great at-bats and hit the ball very hard at Target Field) is ensconced again in right field. Their pitching depth is proving to be better than it was in either of the last two seasons, even though the last two games were an abrupt and grating dose of regression for a unit that was overperforming until then. There could still be more help coming from the farm before the year is out.
The team can't wait for any of that, though. Nor can they depend on their new blood to provide all the verve and resilience. This coaching staff and this roster were built on the premise that good leadership could pull a talented team through this kind of slump, allowing them to emerge stronger on the other side and climb right back into the race. That's far from being the only reason that the team extended Nico Hoerner, or why they signed Dansby Swanson, or even why they wanted Eric Hosmer and Tucker Barnhart, but it was a very real part of the appeal of each. 
If Jed Hoyer was right about the staff he hired and the players he acquired, they can right this ship and stay afloat as the heat of the summer gathers and the playoff picture takes shape. That's a high-stakes gamble, though, and it's not feeling as safe a bet as it did a few weeks ago, when the team was showing such spunk even when things went wrong.
With series in Houston and Philadelphia this week, the team's work is cut out for them. They've won just one of their last five series, but to come back to Wrigley Field next week as a .500 team, they need to win two of them in a row. Heck, forget about .500. They need to win a couple of series in a row, anyway. It would be easier to feel confident about that, though, if they weren't about to face both combatants in last year's World Series.