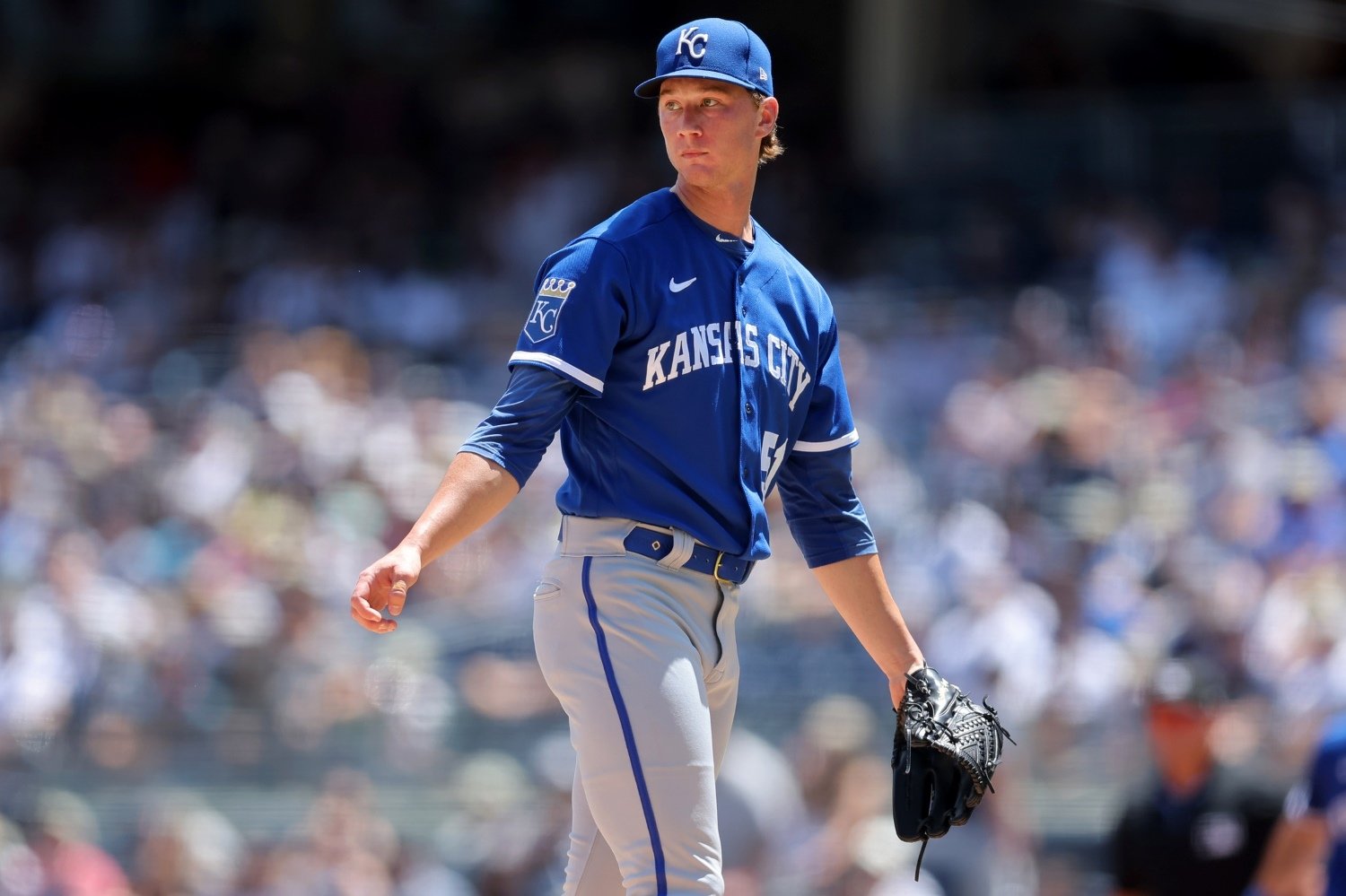 Image courtesy of © Brad Penner-USA TODAY Sports
Whether the Cubs trade one of their veteran starters this month or not, they need to keep in mind the need for more rotation help going into 2024. Though their starters have been their most vaunted and hyped position group this year, they've been merely average in that department over the last two months. Drew Smyly, as we'll discuss later today, doesn't look like a serious rotation candidate for the rest of this year, let alone for a 2024 club that hopes to take a firmer competitive stance. It's hard to know what the team will get from Jameson Taillon. There's a need here.
Happily, the Cubs do have young starters on the way, for a change. Hayden Wesneski, Jordan Wicks, Ben Brown and Cade Horton all project to figure into their rotation plans at some point in 2024. Injuries or unexpected developmental hiccups could easily thwart those plans, though, and even if that quartet stays healthy and matriculates over the course of next season, the team will need more quality veteran innings in order to push for the NL Central crown.
Last year, Royals right-hander Brady Singer was one of the team's few untouchables at the trade deadline. It wasn't even worth discussing a deal that would extract Singer from Kansas City, because he was having a solid season, had four-plus years of remaining team control, and seemed like a building block for the floundering club. He finished 2022 with a 3.23 ERA, and though his true talent level was probably a bit worse than that, he had made clear and exciting strides. He struck out over 24 percent of opposing hitters, and seemed to have a reliable two-pitch mix with which to sustain that success. 
None of that has carried over to 2023. Singer has an ERA of 5.55, and hitters are teeing off on him relentlessly. His strikeout rate has cratered, but even more dauntingly, over half of the batted balls he's allowed have had an exit velocity north of 95 miles per hour. He's a mess, and with just three years of team control remaining after this, he no longer feels like a long-term cornerstone for the Royals.
Here's the thing: the Royals are terrible at developing and coaching pitchers. There might not be another team in MLB doing worse. They've failed to convince Singer to do any of the things that he clearly needs to do, in order to get right. While he's never going to become an ace, Singer could rebound to the status of a mid-rotation workhorse, and the Cubs seem like good candidates to fix him.
The cost to acquire Singer would be a bit uncomfortable, because whatever his warts, the Royals have seen his upside quite recently. They would be giving up three years of a pitcher who was a first-round pick and a silver lining during a couple of very dark seasons for the franchise. That said, the cost would also reflect the fact that the Royals won't want to pay Singer to progress through arbitration, given that he is already making $2.95 million as a Super Two-eligible player this year, and that his surface-level numbers are ugly right now.
I think we could safely cross off all of the Cubs' top prospects. The Royals aren't in position to ask for a pitcher like Wicks or Brown for Singer, let alone Horton. They would surely want some pitcher with a chance to make it in the majors, though, so the Cubs would have to put together a couple of their lower-ceiling starting options in order to get him--Caleb Kilian and Carlos Guzman, perhaps, or Riley Thompson and Richard Gallardo. Because the Cubs have a 40-man roster crunch coming this winter and need to consolidate, giving up a couple of pieces to get Singer is no problem. It could even make sense to give up a higher-upside player like Michael Arias, who is only in South Bend but becomes eligible for the Rule 5 Draft after this year.
Getting my first look at #Cubs Michael Arias. They've found a diamond in the rough here. FB t97, swing and miss CH, here against Jace Jung pic.twitter.com/wa5MMFMkdb

— Nathan Graham (@nathangraham3) July 22, 2023
Singer has a slider that he commands brilliantly, and which can miss bats consistently. He has one of the game's heaviest sinkers. Right now, he doesn't have a third pitch, and he's been oddly stubborn about adding one. He's also not using the upper half of the zone much at all, making it too easy for hitters to lock in on his favored locations and pummel the ball.
The Cubs can do more to fix those problems than can the Royals, though, not only because they're better at pitcher development, but because the trade itself would force Singer to accept the fact that he's no longer a prized asset. They also seem like a good organization to help him better conceptualize his sinker usage. He seems more comfortable locating that pitch to the glove side (the first-base edge of home plate), which is very unusual for a sinker from a right-handed pitcher, and speaks to some latent skills that match beautifully with the Cubs' organizational strengths.
Because Singer has two minor-league options left, the Cubs could send him to Iowa while they tinker with his arsenal and try to unlock his best self. That's what they did upon acquiring Jake Arrieta in 2013, and while the ceiling is lower here, the concept is the same. Then, he would still be optionable in 2024, adding flexibility to a rotation that has rarely enjoyed that advantage over the last several seasons. 
Trading for Singer would not proscribe trading Marcus Stroman or Kyle Hendricks. In fact, it would be a logical tandem maneuver. It would slightly cushion whatever hit the Cubs' remote playoff odds would take by trading one of those guys. It would relieve the aforementioned crunch in the minors, which trading either of those guys would only exacerbate. It would also give them more leverage and more cost certainty as they head into the offseason, including leverage in negotiations to bring Stroman back via free agency.
This is the kind of risky acquisition from which Jed Hoyer habitually shies, but sooner or later, the Cubs need to take a few more chances. Singer would be a good target, because while he's superficially unattractive and unlikely to come at an intimidating cost, he could improve tremendously under better instruction.