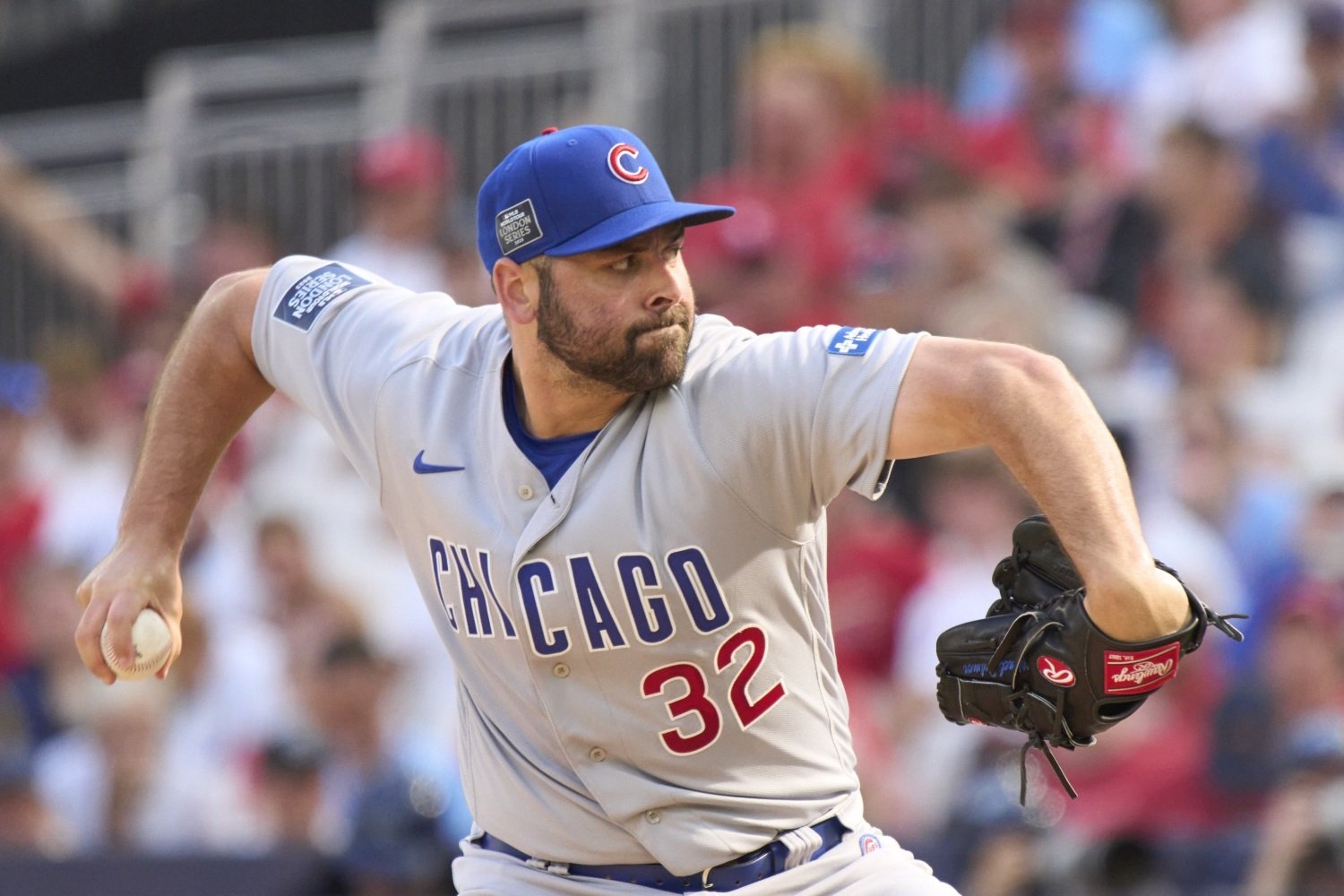 Image courtesy of Peter van den Berg-USA TODAY Sports
It's been an up-and-down season for Michael Fulmer, but from the perspective of a team trying to get a little bit of value for him in a trade, it's taken the right shape. After a brutal start, Fulmer has been brilliant since the start of June. He's made 17 appearances in the last month and a half, totaling just over 20 innings pitched. He's running an ERA of 1.33 during that span, and allowing opponents to bat just .141/.240/.234. He's fanned 20 of the 75 batters he's faced, and fixed the home run problem he had early in the season.
That said, the Cubs should get a solid (if small) return for Fulmer, who will be a free agent again at season's end. He's not only effective, but affordable, and it's easy to see why. After tinkering with his new sweeper and trying to make things work with both a four- and a two-seam fastball, a changeup, his primary slider and the sweeping one, he's acknowledged that much of that wasn't working and stripped things down. He's now, primarily, a four-seamer and slider guy, and it's both allowed him to execute more consistently and helped him find success against left-handed batters, which eluded him early on.
Since everyone wants to boost their bullpen at the deadline, the Cubs should have plenty of suitors for Fulmer. He's not an elite arm, and there will be clearly superior relievers available, but the team should still be able to find a modestly valuable return for him somewhere in the marketplace. 
Where, though? Well, the most obvious place might be the Arizona Diamondbacks, who lag the Dodgers by two games in the three-team fight for the NL West. The upstarts in the desert have a surprisingly strong lineup, but need help in both the rotation and the bullpen. Fulmer would be one of the best hurlers in their pen as soon as he arrived.
The Diamondbacks also have a fairly deep farm system, with plenty of players who might constitute fair value for a player like Fulmer. That means that they'll have warts. The most talented players the Cubs might acquire in a deal like this would be far-off young hitters in Low A, and the team should be open-minded about that. Despite the perception that the Cubs will need to contend in 2024 and should focus only on players who can clearly help them do so, the bigger-picture truth here is that the team needs to acquire talent and make progress. Whatever shape that takes, it needs to be done, and the Cubs aren't in a strong enough position to draw lines between the young talent they want and that which they don't.
However, considering the risk involved, I think the best scenario for a trade sending Fulmer to the Diamondbacks would bring back a starting pitcher in Triple A. In fact, there are two arms at Arizona's Reno affiliate who merit some discussion here. One is soft-tossing, lanky five-pitch lefty Blake Walston. He's working with a fastball much more about movement and location than about velocity, and it's uncomfortable to imagine trying to bring along a clone of Rich Hill in the pitching environment of 2023. That Walston is running a dangerously low strikeout rate and posting an ERA north of 4.50 in Reno speaks to that. On the other hand, Walston has a very Cubs kind of vibe, and his repertoire is evolving nicely as he tries to weaponize his good command. 
More conventionally attractive, by modern standards, is Slade Cecconi, a hard-throwing 6-foot-4 righty with a plus slider. Arizona has cleaned up his delivery a bit, but they haven't yet gotten him over the Reno hump, either. Both guys become eligible to be taken in the Rule 5 Draft this fall if not added to the 40-man roster, so they're just the kinds of players teams like Arizona try to move in deals like these in July. That doesn't mean they're trash that would simply be dumped on the Cubs, though, and if the front office spots things they could work with on either hurler, they could become instant candidates for the back end of the rotation next year. Unlike some of the others who will crowd that competition, too, they're each good candidates to move to the bullpen if needed--especially Cecconi, whose stuff could play up enormously.
There might be a deal packaging Marcus Stroman with Fulmer that would allow the Cubs to target the higher-ceiling players in the Arizona farm system, but that feels unlikely. Fulmer is more likely to yield a player with some work left to do, and that's ok. The Cubs can still use whatever they get in return, be it as further trade capital this winter or by seeking out players whom they can develop better than their current teams have done.