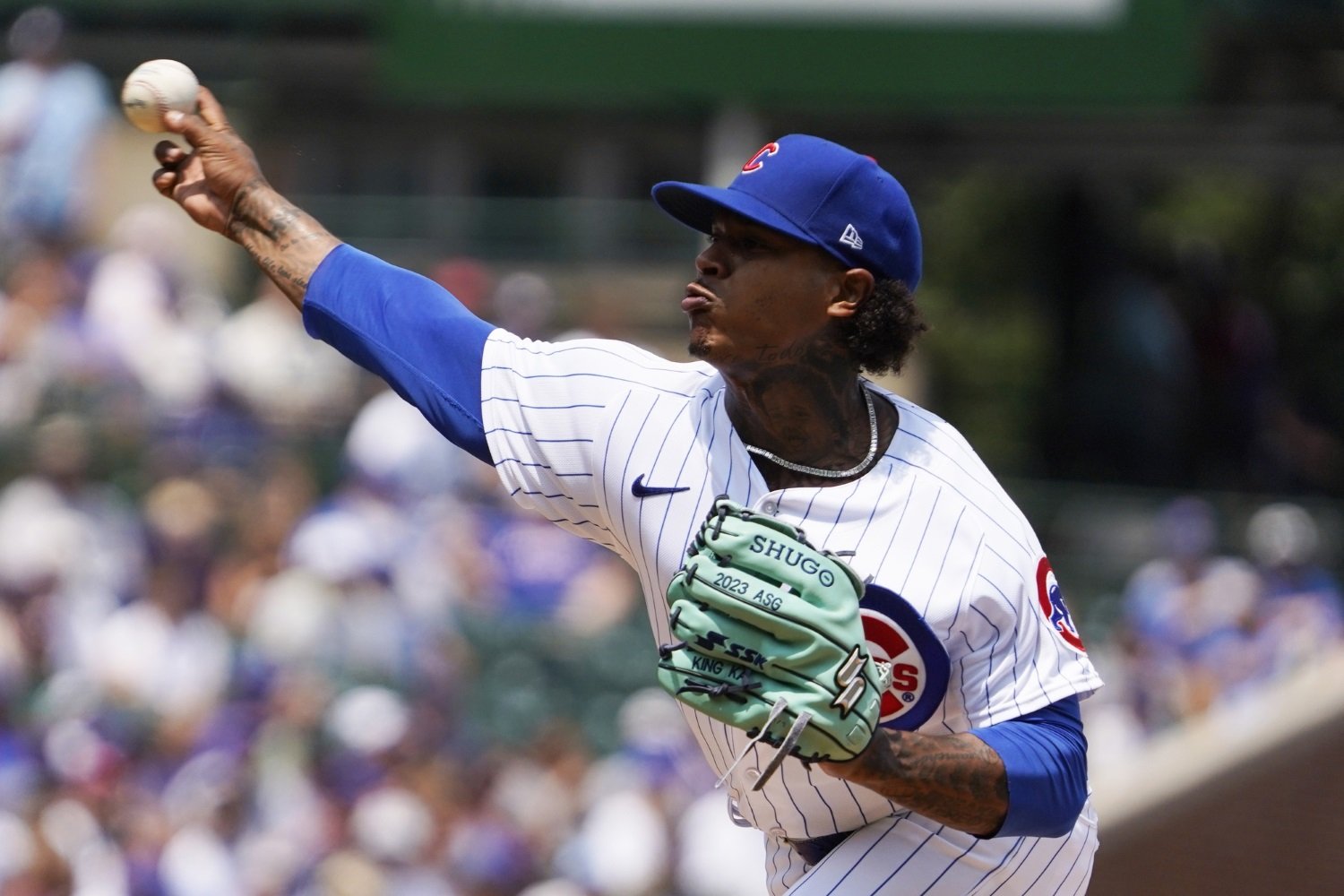 Image courtesy of © David Banks-USA TODAY Sports
Already, we've heard that the Dodgers have interest in Marcus Stroman. That makes sense. Despite their very impressive depth and seeming ability to turn fifth-rounders into mid-rotation guys at will, the Dodgers always seem to be wrestling with the injury bear, and they're losing that fight this year. Though they've pulled out to a two-game lead in the NL West, they have an entire rotation's worth of starters on the injured list, and there are three untested rookies in their rotation at the moment. One of their ostensibly reliable veterans, at the moment, is the oft-injured Tony Gonsolin.
The most obvious course could be for the Cubs to target one of those three rookie starters--Bobby Miller, Emmet Sheehan, and Michael Grove--in a potential Stroman trade. That's slightly fraught, though, because the Dodgers could see Julio Urias, Clayton Kershaw, and others depart as free agents this winter, so they might prefer to cleave to their young hurlers for now. Just as importantly, the Cubs face a likely future without Stroman, and perhaps one without Kyle Hendricks or Drew Smyly as viable starters in 2024. They might not want to add another rookie to a rotation that figures to feature at least two of Ben Brown, Jordan Wicks, and Hayden Wesneski, anyway. 
Perhaps, then, both sides would consider a trade that would give the Cubs the power missing from their outfield, even though it would need to wait until mid-2024. In a deal with echoes of the one that brought Pete Crow-Armstrong into the fold two years ago, the Cubs could trade Stroman to the Dodgers for a package headlined by outfield prospect Andy Pages.
Alas, the most obvious similarity to the Crow-Armstrong trade is in the status of the two prospects at the time of the deals (one real, one (so far) merely imagined). Pages tore the labrum in his shoulder in his first game at Triple A earlier this year, and is out for the season. That's the same injury (there are subtle differences, but PCA also had a labral tear and the prognosis for recovery was good in each case) that had sidelined Crow-Armstrong two months before the Cubs landed him in the trade that sent Javier Baez to the Mets. 
If Crow-Armstrong had been healthy at the time, he wouldn't have been available in a deal for an impending free agent like Baez. If Pages were healthy, he would probably already be knocking loudly on the door of the big-league roster, and the Dodgers wouldn't consider trading him for a player like Stroman--who can become a free agent at season's end, and who could opt in for $21 million next year if he happens to get hurt down the stretch. Since Pages is hurt, though, there's now some extra risk involved in projecting his career, and it might be enough to make him available in exchange for the market's best starting pitcher.
Getting him would be a minor coup, too, because he's exactly what is missing from the Cubs lineup. Before getting hurt this season, he was one of the most surefire (though not one of the highest-ceiling) power prospects in baseball. Almost no hitter in professional baseball, on any level, focuses as much on lifting the ball to the pull field as does Pages, and he's consistently successful doing so. He hit 57 home runs, 54 doubles, and four triples across two levels in 2021 and 2022, in just over 1,100 combined plate appearances. He strikes out fairly often, but not unmanageably, and he draws a ton of walks, because pitchers know they'll pay if they make a mistake over the inner two-thirds of the plate, and Pages knows how to spot the junk they throw just off the outside edge.
Obviously, since he's gotten virtually zero time in at Triple A thanks to the injury, he'll need to open next season in the minors. If he comes back with his strength and his approach intact, though, he should be a quick study there, and he could debut in the big leagues by midseason. That's another key difference from the Crow-Armstrong deal: proximity. Pages isn't going to end up a viable center fielder, but given that Crow-Armstrong should beat him to MLB, anyway, that's no problem. Fitting him into the team's plans in the corner outfield is tricky, but far from impossible. He could rotate through both corners, with Ian Happ and Seiya Suzuki getting some time at designated hitter. Alternatively, of course, the Cubs could shop one of their incumbent corner men this winter.
At Wrigley Field, a right-handed power hitter who can consistently lift the ball to his pull field should be a perennial threat to hit 35 home runs. It's how Ernie Banks hit 500 home runs, and how Kris Bryant won an MVP award. Pages comes with risk, but he could become the dangerous middle-of-the-order bat that the Cubs have sorely lacked since the 2021 trade deadline. They could do much worse than acquiring him for another rental player at this one.