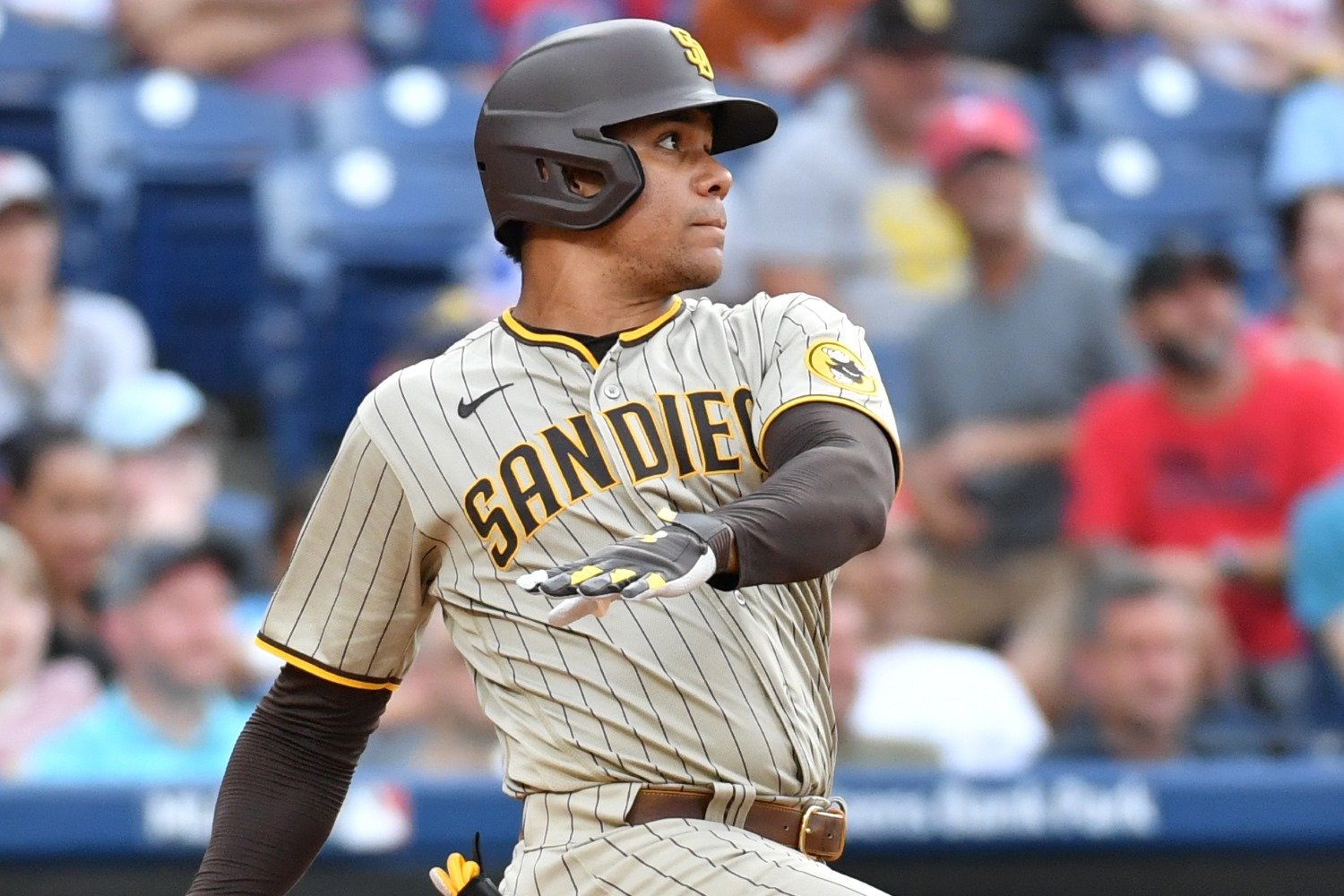 Image courtesy of © Eric Hartline-USA TODAY Sports
One year ago, the San Diego Padres beat the rest of the market and hauled in Juan Soto from the sinking ship of the post-2019 Washington Nationals. Soto was in the midst of an off year, but it was broadly understood that he was still one of the game's three or four most brilliant young hitters, and he had two and a half years of team control remaining. With Soto in the heart of their lineup, San Diego came within two wins of their first pennant since 1998.
Alas, the magic has not lasted into 2023. Soto is having a more typical season. Fernando Tatis, Jr. is back at the top of their lineup, doing dynamic things on both offense and defense. They have as deep a roster of stars as any team in baseball. Yet, they enter play Wednesday at 45-50. They're 10 games out and in fourth place in the NL West. They're seven games out of the final Wild Card spot, currently held by the Phillies, and the Marlins and the Reds are both between Philadelphia and San Diego in the standings, too.
Yes, this is a "the Cubs should trade for Juan Soto" post, in 2023.
By no means are the Padres ready to blow up the huge and expensive experiment they began a few years ago, when general manager A.J. Preller started trading for every good player who became available, especially if they had multiple years of team control remaining. To borrow a poker term, the Friars are pot-committed. However, the aforementioned expensiveness of this gambit might already be catching up to them a bit. They look unlikely to generate the buzz or the fevered ticket-buying for which they'd hoped, for the balance of this year, and while tickets sold last winter are already locked in, the team can't even afford absenteeism on the part of paid ticketholders based on their current model.
That's because the local TV rights bubble has popped, and the Padres were the first victims. Bally Sports walked away from their obligations to broadcast Padres games, and while MLB has won enough in court to secure the majority of the payments that were due to the team (in addition to picking up the slack in actually producing the games), the short- and long-term costs are enormous. The Padres suddenly face extraordinary uncertainty in a part of their budget in which teams have become accustomed to lucrative certitude.
That's not to say that Soto will hit the market at all, and certainly not to say that Preller will sell him cheap. It's just an important foundational fact. Soto is making $23 million in 2023, and that's just in Year Three of his four seasons of arbitration eligibility. He'll push close to $30 million in salary for 2024. He's a hefty line item on the bloated Padres payroll, and if the talent coming back were sufficient, Preller would be derelict if he didn't listen.
How could the Cubs be the ones to land Soto? It starts with either Ian Happ or Seiya Suzuki. Much depends on which of those two players the Padres value more highly, and some depends on which of the two the Cubs could convince to waive their no-trade clauses, but that's how the trade begins. Both players are good, and both should be even better than they've been thus far this season. Either would slide nicely into Soto's place on the Padres, hitting lower in their much stronger batting order but playing his vacated left field better and saving San Diego substantial money. The Padres' hopes for 2023 are dim, but they remain a potential favorite for 2024, and Happ or Suzuki could keep it that way.
Just as importantly, from Preller's always-hungry perspective, both Happ and Suzuki are under team control through 2026. The Soto acquisition last summer was typical of Preller, not only because it was big and splashy, but because it prioritized long-term control. Preller spent almost as lavishly, in terms of prospect capital, for the likes of Mike Clevinger, Austin Nola, Joe Musgrove, Blake Snell, and Yu Darvish, at various times. He doesn't like acquiring rentals. He wants to acquire players with medium-term team control.
Obviously, though, neither that love of lengthy commitments nor the Padres' mild financial crunch will make Preller jump at a straight-up swap of Soto for Happ or Suzuki. Those two just get a different, more productive conversation started between the teams, relative to a team who might call and offer only prospects for Soto. The Cubs would have to add a prospect of significant value, like Kevin Alcantara or Cade Horton, in order to make a potential trade come into clearer focus. Pete Crow-Armstrong's inclusion would really grease the wheels, but that's likely to be anathema to the Cubs front office, and even to fans.
Giving up one of the anchors of the current roster and one of the tentpole talents of the farm system would sting, and the Cubs might even need to include more to finish off a deal for Soto. Even so, it'd be worth it. In a scenario in which the Cubs did this, they'd probably retain at least one of Marcus Stroman and Cody Bellinger, too. They'd give themselves a markedly better chance of catching the Reds and Brewers in the NL Central, just as the Mets nearly caught up in the playoff hunt four years ago. New York was even further from a playoff berth than the Cubs are when they made that Stroman trade, but as it turned out, they acquired him just a few games into a streak in which they won 15 of 16. Were it not for a late swoon, the team might have made the postseason that year, even though the concept of the trade was to gear up for 2020.
Soto would be a transformational acquisition for the Cubs. He'd alter their lineup overnight, augmenting their grinding, patient offense (first in MLB in pitches seen per plate appearance) and adding major power thereto. He's the superstar outsider who can accelerate a slog from rebuilding to contention--the mirror image of the Jon Lester signing from 2015. He's hitting .265/417/.491, with 17 home runs and 23 doubles this year, and as always, he's leading MLB in walks. He'd replace Happ's or Suzuki's patience, but with better contact skills and more consistent pop.
He'd only be under team control through 2024, but that's fine. The Cubs need to be focused on winning in 2024, right now, and that might not mean trading away valuable players at this deadline--which could yield the most talent only if the team is willing to take guys who might not contribute for another two or three years. Rather, it might best be achieved by adding someone who could also help them make a desperate run in 2023, and then gearing up to make them the centerpiece of a 2024 winner.