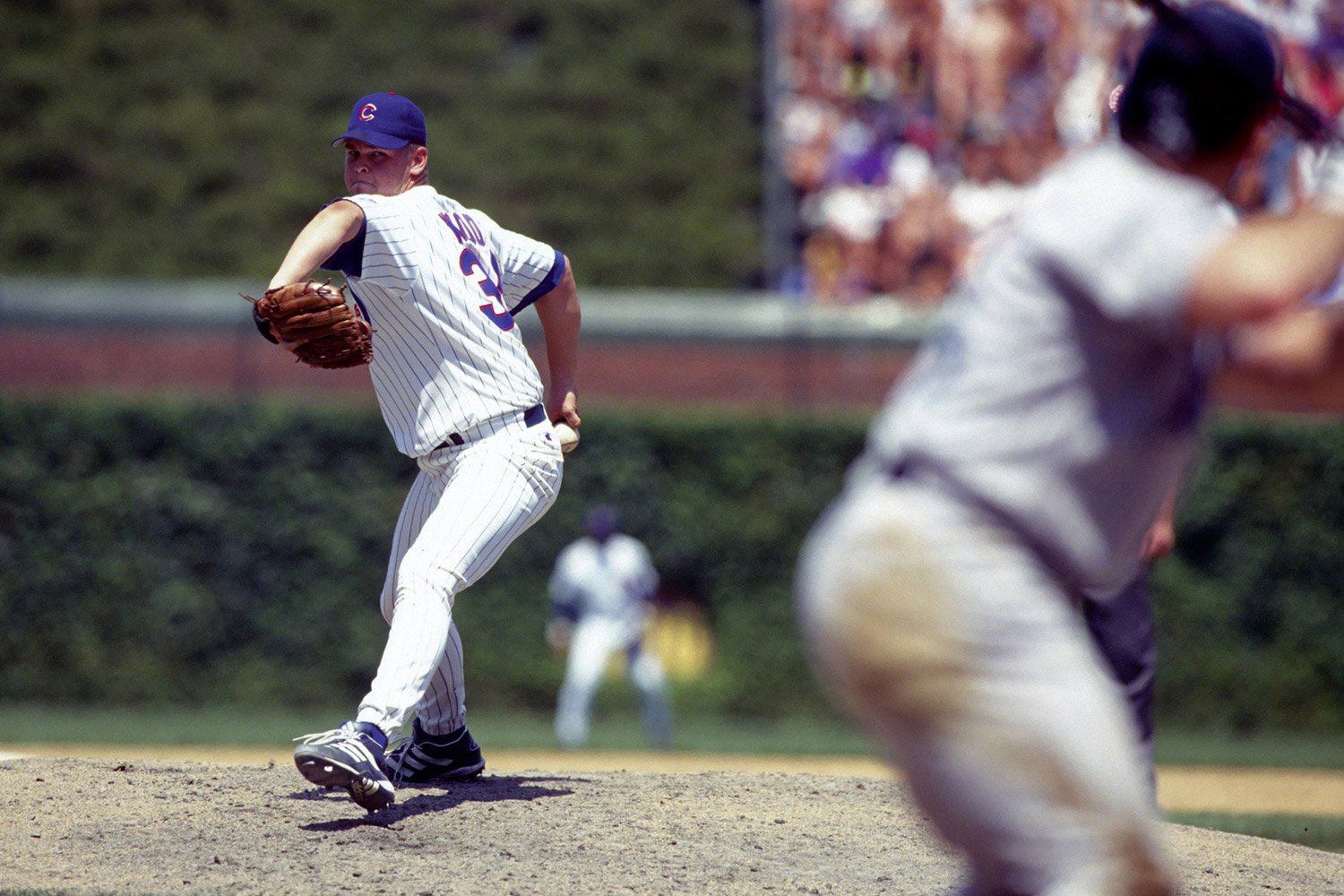 Image courtesy of © RVR Photos-USA TODAY Sports
Kerry Wood and the Cubs were off to a very neutral start through April 1998. Despite a good first week, the Cubs finished the month at 14-13. Wood was good at home, having won his first two starts against the Dodgers and Cardinals at Wrigley Field while losing to the Expos and those same Dodgers on the road. Going into an afternoon start against the Central Division-leading Astros, Wood's first pitch may have foreshadowed a very wild start. His first fastball was entirely missed by his catcher, and he hit home plate umpire Jerry Meals in the mask. Fortunately for Wood, this did not prevent Meals from calling a very generous strike zone.
Wood had thrown to regular catcher Scott Servais for his first four starts, but backup Sandy Martinez was behind the plate this afternoon. If there was one thing that Martinez showed Wood through the first inning, it was his ability to show a good target. Notice how, in this first inning at-bat by Jeff Bagwell - notorious for his very low stance - how Martinez gets just as low, practically sitting on the ground.
Wood overpowered the Astros' first three hitters (all members of the Killer B's), Craig Biggio, Derek Bell, and Bagwell. Houston could not put a ball in play until their sixth hitter, Dave Clark, flew out to center to end the second. It was probably too early to think no-hitter. Still, Houston shortstop Ricky Gutierrez ended those aspirations with a little ground ball leading off the third that bounced off the third basemen's glove, Kevin Orie, going to his left. Without much controversy, it was ruled a hit. Maybe Brooks Robinson or contemporary Scott Rolen could make that play. For those in the ballpark who were beginning to notice Wood's historic strikeout totals (now six through the first eight batters), the fact that Gutierrez was on first meant that pitcher Shane Reynolds could save himself from the same fate and put down a sac bunt. Biggio ended the third with a groundout to preserve the shutout.
The Astros' starting pitcher, Shane Reynolds, was in a similar groove. In fact, he struck out the side in the first as well, and through four innings, both Wood and Reynolds combined to strike out 16. Kerry Wood took it from there. He struck out the side in the fifth, all looking, thanks to a fairly wide strike zone. Here is Wood hitting Martinez right in the target, but perhaps two to three inches outside.
Same thing to get Gutierrez looking to end the fifth.
Wood's unusual impeccable control deserted him briefly in the sixth when he hit Biggio with a pitch and only struck out one hitter (the pitcher Reynolds). Going into the seventh with 12 strikeouts, he would need to fan the remaining outs to break Roger Clemens' twice record of 20 K's (set in 1986 and then in 1996). Amazingly, he almost did it, striking out the side in the seventh and eighth and only allowing a ground out by Biggio in the ninth. Derek Bell, the last hitter, was so helpless by that point that WGN broadcaster Steve Stone was openly called the last pitch that Bell futilely swung through.
The amount of records tied or bested seemed endless. He set a new strikeout mark for Cubs pitchers and rookies overall. Despite the twenty-strikeout performance being duplicated later by Randy Johnson and Max Scherzer, Wood's Game Score of 105 for a nine-inning game has yet to be matched. The only blemishes on the afternoon were a scratch single and a hit by pitch, all against a lineup that would win 102 games in 1998 and included a couple of future Hall of Famers in Biggio and Bagwell.
Wood continued his historic run of strikeouts his very next start against the expansion Diamondbacks. Wood overpowered Arizona hitters for 13 more strikeouts in seven innings. With Scott Servais back behind the plate, Wood's breaking ball, which was so key against the Astros, was not quite biting the same way in Arizona. He relied on his fastball and seemed to be laboring to get through the last few hitters in the seventh. He seemed to reach back for one last good breaking ball to get Yamil Benitez to end the frame. The 33 strikeouts set a new record for K's in consecutive starts. Wood even collected two hits and two runs batted in.