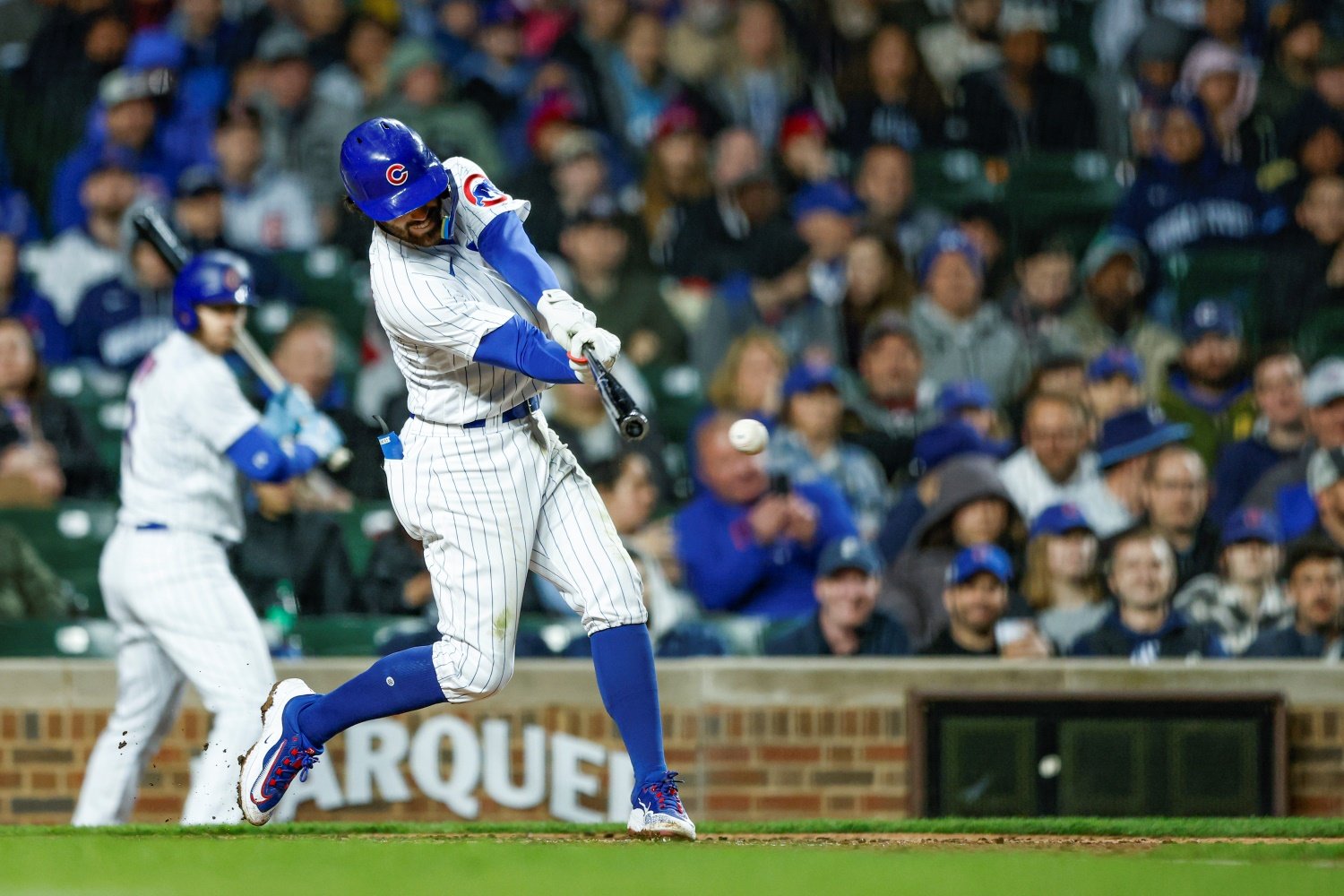 Image courtesy of © Kamil Krzaczynski-USA TODAY Sports
It took so long for the Cubs to promote Matt Mervis and Christopher Morel from Iowa to the majors that their legend outran their likely impact--even despite Morel having shown his flaws at the MLB level last year. Mervis, Morel, and Miguel Amaya do add a slightly stronger feeling of upside to the bottom of the Cubs lineup, but the reality is that they all slot into that part of the lineup for a reason.
The last two weeks and change have thrown cold water on those who got overly enthusiastic about the team's hot start at the plate. Over the last 14 days, the Cubs are hitting .243/.318/.373. They're 24th in wRC+ over that span, and 25th in isolated power. They have the seventh-highest strikeout in MLB in that period.
This, of course, is the real identity of this offense, and that's the problem. Even their best hitters have the kind of flaws that prevent one from being a devastating offensive force. 
The one potential exception is Cody Bellinger, who has shown the ability to be a genuine superstar in the past and is hitting like one this spring. He's been the bright spot during this rough fortnight for the team, but even he has seen his plate discipline crack. He has a strikeout rate just under 30 percent and a walk rate just over 6 percent in those 14 days, which bears watching.
This is all by design. During the offseason, the front office pivoted consciously to building a team that relies on pitching and defense to win games. Eventually, the goal is to have a juggernaut offense to go with that run prevention, but everyone knew this year's team would have to win close, low-scoring games. Alas: they aren't doing so. They're not only 2-8 in one-run games, but 2-3 in two-run ones. That rate--40 to 45 percent of games being decided by two runs or fewer--is definitely in the range the team should expect over the final 127 contests of their season. They need to win half of them or more, in order to even play meaningful baseball in September. To do that, they're going to need to find the right offensive formula.
That probably means more Morel, and much less Nick Madrigal. The latter has been brutal in every possible regard, since a superficially hot start. He's limited defensively, and has been a disaster on the bases. He doesn't help the team by adding missing pop at the bottom of the lineup, either. Morel can do everything Madrigal can do, but better. (Of course, it's now possible that both will need to play fairly often for a while, until we hear more about Hoerner's hamstring issues.)
It probably also depends on either Mervis or Suzuki developing into a full-fledged power threat. Patrick Wisdom and Bellinger are a decent start on hitting for sufficient power overall, but we've already talked about the problems that might be creeping in for Bellinger, and Wisdom's vulnerabilities--unable to handle premium velocity, far too many strikeouts--are obvious and problematic for anyone who dreams on sliding him up to, for instance, Trey Mancini's unproductive place in the batting order.
Beyond that, though, there remain questions about how this team starts consistently scoring enough runs to support even one of the league's best pitching-and-defense combinations. Willson Contreras didn't beat the Cubs Monday night. Jordan Hicks did. That can't happen as often as it has lately, if the team wants to stay in contention in the NL Central.