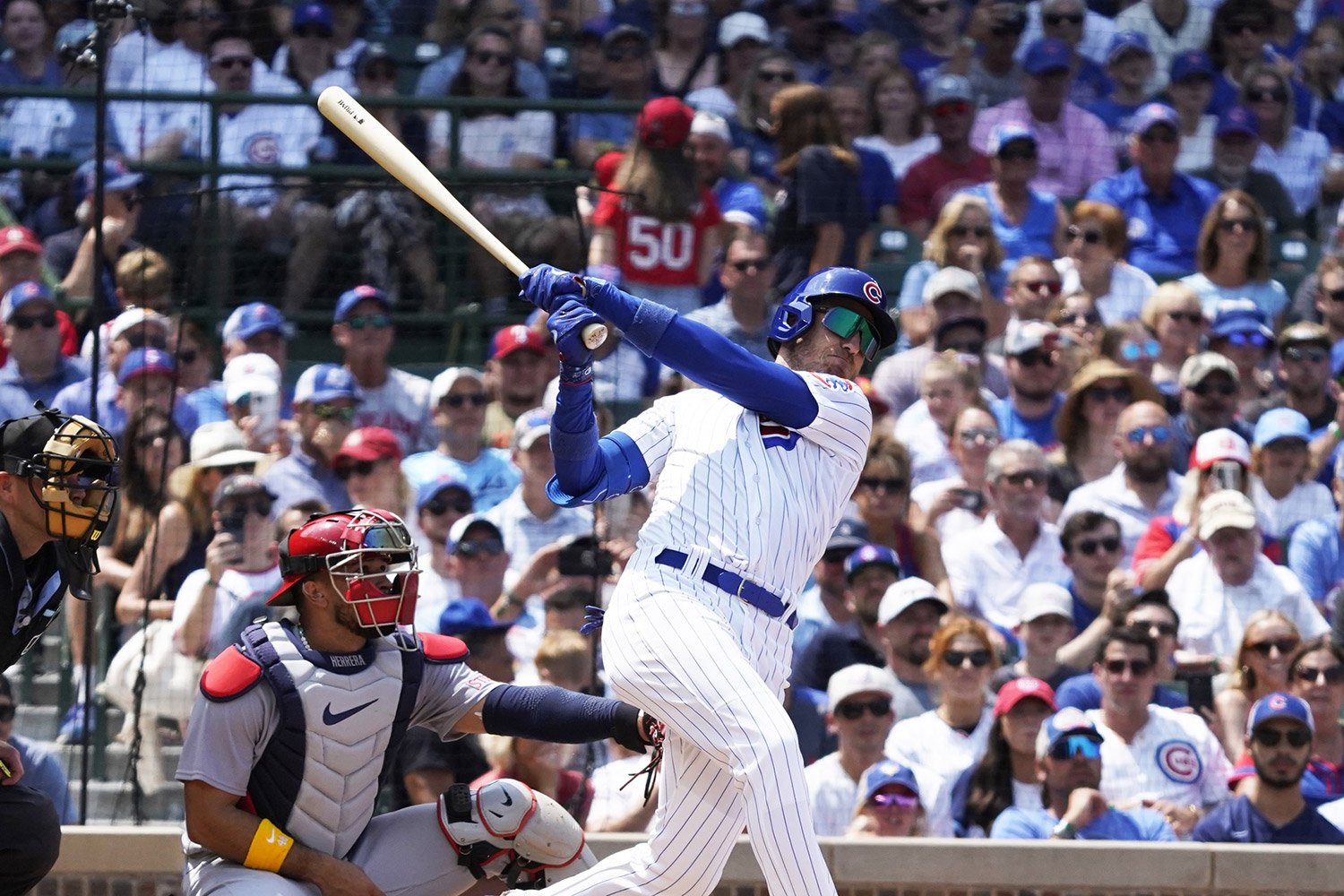 Image courtesy of © David Banks-USA TODAY Sports
That is too existential for my taste, regardless of how great and reflective the Barbie Movie was. 
Let's set the scene for the week heading into the trade deadline…
Record
48-51
6.5 GB in the NLC
5.5 GB of the Wild Card
(Honestly, I didn't expect the Wild Card to be that close)
5-2 This Week, Three Game Winning Streak
Week Ahead
2 Games at White Sox
4 Games at Cardinals
Another week, more non–playoff teams. Given the history between the teams, I cannot call this an "easy" week. The Sox should have Michael Kopech and Lance Lynn in this set, with the Cubs countering with Kyle Hendricks and Marcus Stroman. Justin Steele likely gets game one in St. Louis. The real question is, who will start on Friday? Drew Smyly came in after the Michael Fulmer opener and didn't bring much comfort to that strategy. Saturday will likely be Jameson Taillon, followed by Hendricks. I am all aboard a two-start week or The Professor. 
3 Up
This feels too easy. Cody Bellinger has been on fire. In July, he is hitting .452 with 7 HRs. He had 13 hits this week alone, and an NL Player of the Week Award is likely. The Cubs have needed that "star" production in the middle of the lineup. If he wasn't a Boras client, the calls for the in-season extension talks would be warranted. If he gets dealt, it better be a haul that can help out…
The "Cubs Core"
If the Cubs sneak into the playoffs this year, it will be on the performance of the core: Nico Hoerner, Seiya Suzuki, and Ian Happ. These are the three bats (beyond Dansby Swanson) that the Cubs have put a lot of time/resources/money into. Jed Hoyer has staked his job on their production as he promises the Ricketts a winner. Sahadev Sharma at The Athletic wrote an excellent piece discussing this point this week. As he joked on "On to Waveland" (The Athletic's Cub Podcast), he hoped the piece would get them going. It worked. For now, these guys are returning and keeping meaningful games so I can continue to enjoy…
Pat Hughes
Pat is part of a Chicago area summer at Montrose Beach and beers in the bleachers. He is like a family member I have never met, sharing his gift with me and describing the game and team I love so much. From the Benjamin Moore Uniform descriptions to years of culinary anecdotes in the late '90s and early 2000s to pass the time as the team didn't bring the excitement. If you are reading this blog, you are likely aware Pat Hughes was inducted into the Baseball Hall of Fame by FINALLY winning the Frick Award. His section thanking Cub fans brought waterworks to my eyes. 
---
3 Down
Drew Smyly 
Cubs Twitter has not always taken kindly to my support for Michael Fulmer. That means that particular corner must realize what kind of place Smyly is in if Fulmer was his opener. Smyly has looked off since mid-Jun e. Smyly won his start at Pittsburgh on 6/19 but has sported a 7.96 ERA in his six starts. It may be time to think of some Iowa options. This leads me to
First Base
First base has been a black hole for the Cubs all season. 
Mervis was allowed (one he should get again soon) to take the job and didn't run with it as many hoped. He clearly has AAA figured out. Bellinger is too valuable defensively to stick over there. This was a real failure of the Hoyer battle plan, which is around...
Roster design
David Ross is not to blame for lineups. I get frustrated with lineups and missing names, but this team has bench issues. Three catchers seem like a lot. This leaves very few options for extra hitters in crunch time. In addition, one could argue most, or none of these players could play 1st base. If the team tries to compete, using the roster better after some trades would help substantially.
What were your highs and lows this week? Will they put themselves in a position to stand pat?