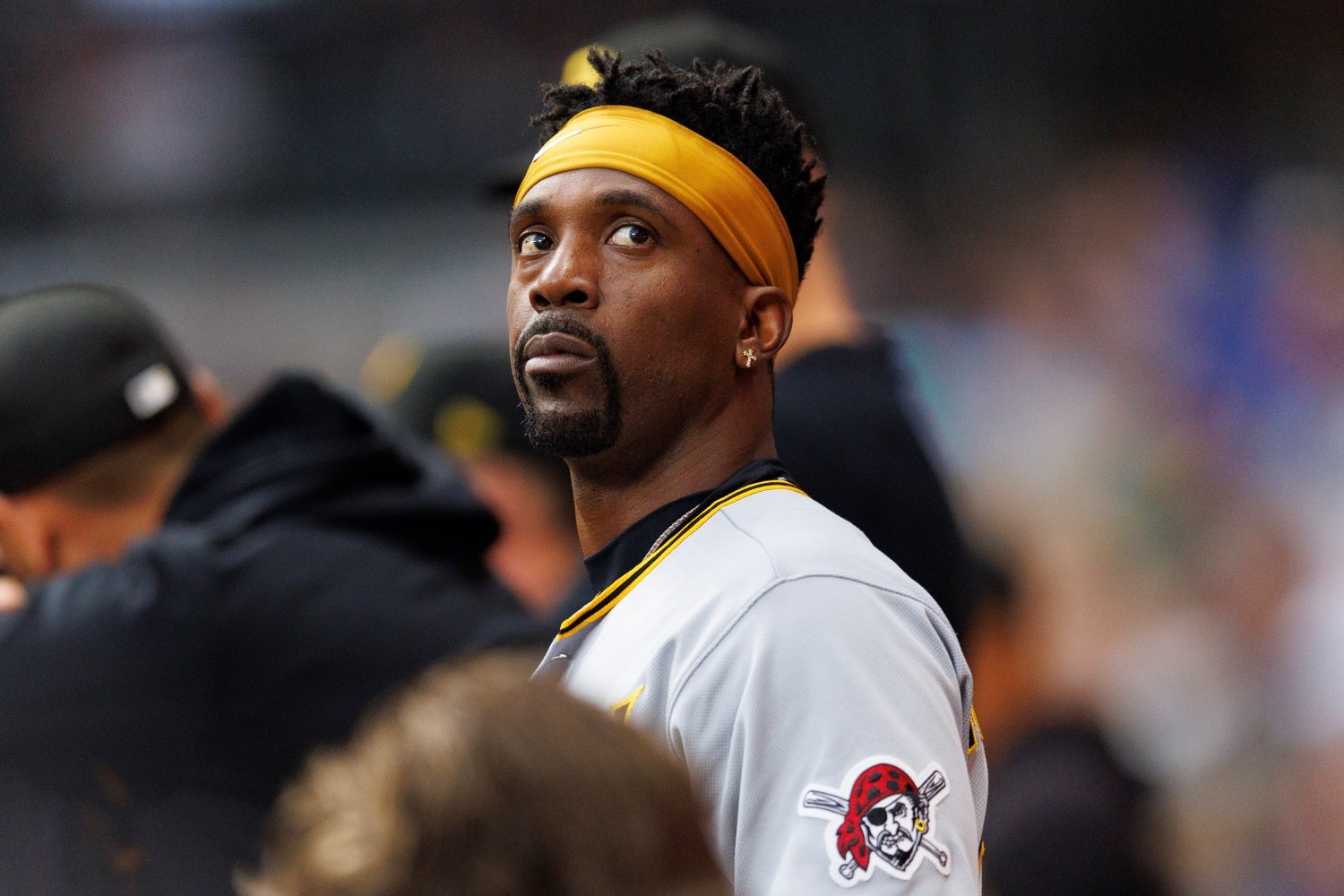 Image courtesy of © Jeff Hanisch-USA TODAY Sports
It's probably surprising to some to hear that the team is above-average in run scoring, at least on the senior circuit. They went through a long fallow period at the plate, and their weaknesses (being on the wrong side of average both in strikeout rate and in power) can make them disproportionately frustrating at times. Nor is their current standing a wholly accurate picture of how their season has unfolded. We're taking this measurement of their relative production during a fairly long hot streak, which juices everything.
Let's talk, then, about lengthening the lineup. The team needs to hit for more power, without striking out more, and they need help at first base, designated hitter, and/or third base. Here are three players who could be fits.
Andrew McCutchen, Pirates DH/OF
It's been a welcome surprise to see McCutchen hit so well in his return to his original team. Although long ago relegated to outfield corners and despite a couple of severe leg injuries over the years, McCutchen has remained a sneakily great athlete. He's not hitting for exceptional power this year, but his overall line--.271/.394/.431--would be an upgrade for almost anyone, and certainly a big one for the Cubs. McCutchen also has nine steals in 12 tries this year, and he's only struck out 55 times in 277 plate appearances. He'd slot in as the regular designated hitter, limiting Trey Mancini's playing time unless and until he shows he can hit and handle first base adequately.
Lane Thomas, Nationals OF
He's only 27, and still has two years of team control beyond 2023. It's unlikely that the Nationals will desperately try to move Thomas. However, this season has made clear that that team is far from contention, and he could be their best trade chip this summer. That's thanks to 36 extra-base hits (including 14 homers) in 328 trips to the plate this season, good for a .515 slugging average. Thomas has big tools. He strikes out often, so he won't solve that problem for the club, but he would be an excellent complement to the outfield mix of Ian Happ, Cody Bellinger, Mike Tauchman, and Seiya Suzuki. Adding Thomas would allow David Ross to keep all of those guys fresher, by rotating them through the DH spot and playing matchups better.
Jeimer Candelario, Nationals 3B
Since he's a free agent at the end of this year, Candelario would be much cheaper to acquire than Thomas would be. He's also much tougher to strike out than Thomas is. That comes at some cost in power, but if the Cubs feel that the rest of their lineup has found some productive stability, they can afford to add a player who keeps the line moving, as Candelario does. His batting line for the year is .260/.335/.466, which is (adjusting for the era and run environment) darn close to a perfect match for the production a believer might have expected from him when he was a Cubs prospect, several years ago. 
The above only scratch the surface. If the Cubs do go shopping next month, they'll have even more options than these. As a starting point, though, these three hitters are fine examples of how the team can shore up a lineup that isn't yet deep enough to support a championship run.