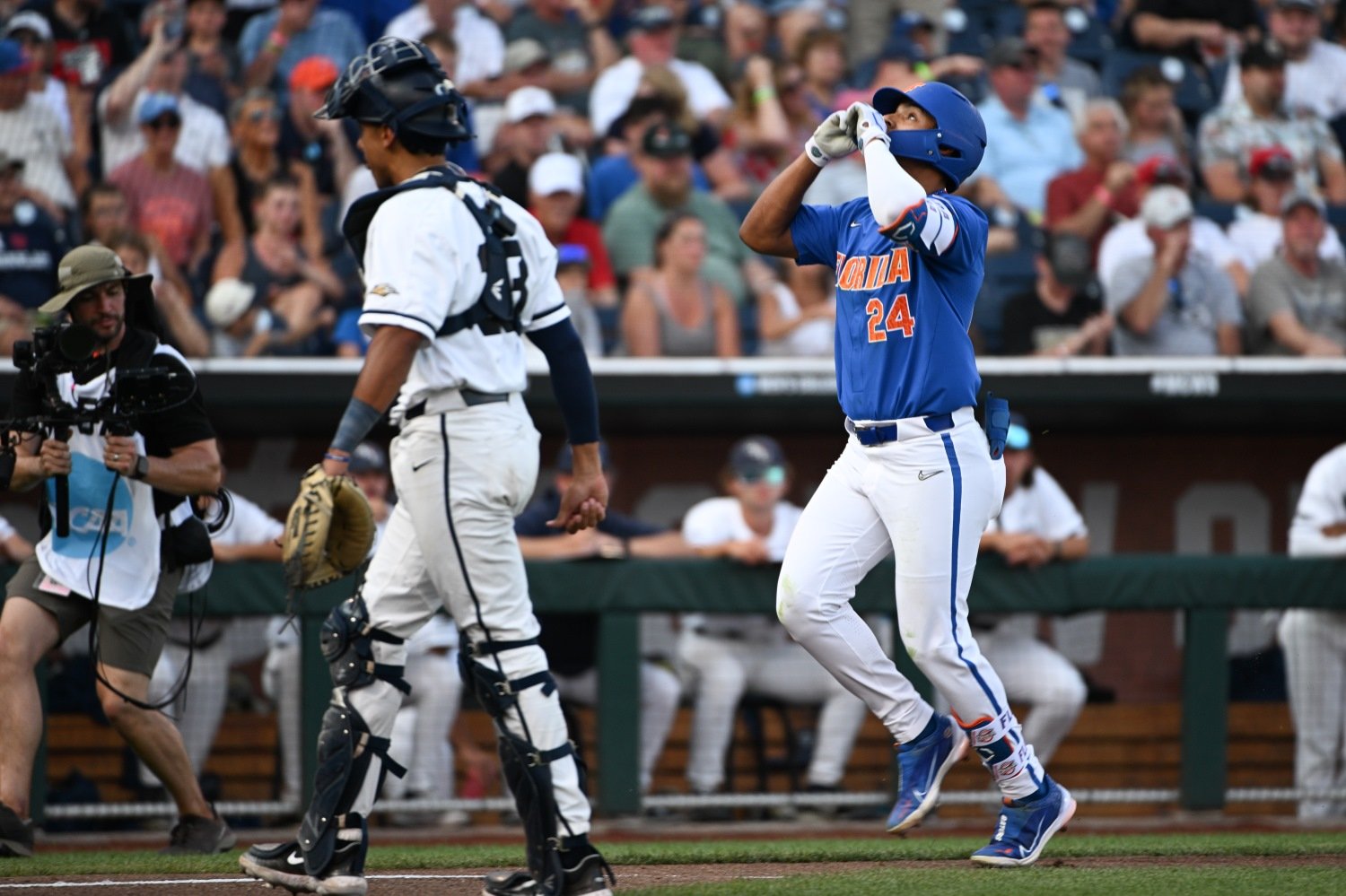 Image courtesy of © Steven Branscombe-USA TODAY Sports
It's become the custom of about half the teams in MLB to let statistical modeling guide their efforts to maximize the talent they compile in the draft. That doesn't mean that any team is solely drafting based on a number or on algorithmic decision-making software, and it doesn't imply that teams less focused on that style of valuation are totally ignoring the numbers. Still, it's the most common way of doing things, and it's making the draft more efficient with each passing year.
The Cubs are not, strictly speaking, a model-driven team. That, again, is not tantamount to an allegation that they aren't using mathematical tools and quantitative inputs to shape their approach. It's just not governing them the way it is for some other teams. They rely more on their scouts than many other teams do, especially when it comes to amateur talent, letting stats and demographic information fit into the picture but not dominate it.
Nor are the Cubs a team who lurks and looks for players well-liked by the consensus talent rankers, and then snaps them up opportunistically. That's one way that other teams are trying to maneuver in the world of capped draft bonuses and constrained overall spending. Those clubs still put exhaustive effort into scouting players, but they let the wisdom of crowds work for them, and they avail themselves of (usually) having more than the average amount of money to spend on their draft class. 
No, unlike their four division rivals, the Cubs hardly ever have an above-average bonus pool. Even when they have a lowly record, they miss out on the extra picks (and the bonus allotments attached thereto) that go to the Reds, Brewers, Cardinals, and Pirates, among others. They can't easily offer overslot money to certain players to push them down the draft board, nor pounce when they see a player sliding due to their demands--even if the aforementioned, much-trusted scouts do love the player.
Instead, they seem to be taking an interestingly idiosyncratic approach. The Cubs' type in the draft is players who they believe are undervalued by the rest of the draft process, for one narrative reason or another. That's not the story of every single pick they make, of course, but it dominates and repeats in the discussion as one runs down their draft board.
This is how the Cubs settled on Cade Horton last year. They were able to sign him for less than the slot value of the seventh overall pick, because of the injury that limited him early in his junior year at Oklahoma and the fact that he hadn't fully focused on pitching until relatively late in his amateur career. It's what attracted them to Jaxon Wiggins, their second and final pick on Day One this year, after Wiggins missed this season due to Tommy John surgery. 
The trend only got stronger as the team went deeper into their draft in 2022, and the same is true with this year's class. With their first pick (a third-rounder, 81st overall) on Monday, the Cubs grabbed Josh Rivera, the shortstop for the College World Series runners-up from Florida. Rivera had a great final season with the Gators, but that was his senior year. Before that, injuries, the pandemic, and uneven development had made him less than a top-tier prospect.
As was true with Horton, and with others the team has taken recently, it will be impossible to evaluate the validity of the excuses for Rivera not being more highly rated. By the time we know whether or not he pans out as a prospect and contributes in the big leagues, untold numbers of other variables will enter the picture. The Cubs are embracing the idea that they can pick out meaningful narratives and mitigations, anyway, and if they're right, they're hitting on a very profitable vein of talent. Because Rivera was a senior this year, they should be able to sign him for less than the slot value of that pick--just as they were with Horton, and just as they probably will with Wiggins, each for different reasons.
In the fourth round, the team virtually stood the image of Rivera on its head by taking Will Sanders. A big, sturdy right-hander from the University of South Carolina, Sanders came into this year as a potential first-round pick, but his stuff didn't progress as hoped, and he had a foot injury take a huge bite out of the latter half of his season. That the Cubs were as interested in Sanders as in Rivera is a good reminder that it's not as simple as (for instance) the front office believing in developmental momentum. It's just about finding players on whom they think teams are changing their evaluations either too slowly, or too quickly. That's how they believe they can get more bang for the bucks the rule set allows them to spend.
It also helps them, with regard to Sanders, that other teams have doubts about the shape of his fastball. The Cubs don't have the same preferences most clubs have, right now, when it comes to getting huge carry and missing bats with fastballs at the top of the zone. They wouldn't throw back such a player if they fell into their laps, but it's not a skill the Cubs want as much as other teams want it, and it's not as great an emphasis once prospects enter their system as it is in other pipelines. That means that they're likely to have slightly higher grades on pitchers like Sanders than some teams, even before accounting for confounding factors like injuries and odd developmental arcs.
To whatever extent they save money on Wiggins, Rivera, and Sanders, the Cubs might spend some of their overslot room on fifth-rounder Michael Carico, a left-hitting catcher from Davidson College in North Carolina. Even there, though, the Cubs got him partially because he missed a chunk of the season with a broken wrist, and didn't look great in a few of the sterner tests on Davidson's less-than-elite schedule.
Injuries are a common theme here, because they create an immediate and non-negotiable space of uncertainty and subjectivity. That other teams are uncomfortable with that is, in the Cubs' current approach, precisely the point. That's not to suggest that other teams aren't taking players with injury histories, or that the Cubs are targeting players because of injuries, but it seems clear that they ding most players whom they've flagged as talented less than most other teams do based on injury. 
Of course, no draft class can be composed solely of damaged goods and guys you've convinced yourself are undervalued. The focus Jed Hoyer, Carter Hawkins, and especially Dan Kantrovitz put on that kind of pick in the first few rounds is designed to create breathing room in an otherwise tight budget. It's getting some savings in unexpected places at the top of the board that lets a team draft more aggressively in the sixth through 10th rounds. Last year, there were just six total picks in rounds eight and nine who signed for more than slot money. The Red Sox, Rays, and Mariners each went over slot in the eighth round, and the Guardians did so in the ninth. The Cubs did it in both, with Mason McGwire and Connor Noland. 
This year, they could end up paying more than the slot value for their sixth-round selection, Alfonsin Rosario. With really impressive power, Rosario is fairly advanced and physical for a high-school outfielder, and his commitment (to Chipola Junior College, where guys like him have gone in the past and returned to the draft with higher stock) could require a little extra cash to break. They'll do it, though.
The rest of their picks Monday look more signable. Yahil Melendez is young and toolsy, but has a lot of growing to do--both physically and as a player--before landing on any real prospect radars as a shortstop out of Puerto Rico. Brett Bateman can go get it in center field, but is a college outfielder (from the University of Minnesota) without a ton of projectability. Jonathan Long hit for power at Long Beach State, but as a first baseman, his bat has to really translate nicely into professional ball for him to have a prospect profile. 
In the 10th round, though, they again found a player with a little upside, even if he might cost the full slot amount. Luis Martinez-Gomez, from a Texas junior college, has a projectable body and good present stuff. It's the kind of pick many teams might have tried to nudge into Day Three, where they could sign him for up to $150,000 without anything counting against their bonus pool total. Last year, teams gave four-figure bonuses to 14 players in the back half of Day Two, trying to maximize their savings against bonus pools by taking players barely credentialed to play pro ball. The Cubs' lowest bonus paid was $25,000.
It sure looks like the Cubs still have some money to spend on Day Three, so expect them to be aggressive, as they were last year. They spent overslot money on Luis Rujano last year, in the 14th round, but they also took Brock Blatter, whom they were unable to sign. The idea there was always to sign one of the two, but rather than fish in shallow waters otherwise, they also signed five of their Day Three picks to $125,000 deals--maxing out what they could do without those guys counting against their pool. Haydn McGeary, who's having such a loud 2023, was one of those five.
That's the Cubs' process in action. Monday saw it unfold and expand just as we might have expected. Last year, only six other teams were as diligent about using every pick on someone credible and signing as much of their class as possible as were the Cubs. Those teams were the White Sox, the Guardians, the Tigers, the Royals, the Yankees, and the Nationals. No single thread ties all seven of those clubs together, but think of them as the top achievers in the portfolio approach to drafting for 2022. For the AL Central clubs, it's clearly vital that they fill out their system as deeply and roundly as possible with draftees, not only to increase the likelihood of having solid, homegrown talent on the parent club in the future, but to minimize their expenditures on free agents in both the majors and the minors. 
The Yankees and Nationals are interesting inclusions, though. They, like the Cubs, are less concerned with certain analytical aspects of prospect evaluation than much of the rest of the league. They have lots of money, but don't want to be cornered into spending it on the free-agent market. They're run by guys, in Brian Cashman and Mike Rizzo, who are very similar to Hoyer in terms of age and experience in baseball, and who got waived into the big bumper crop of saber-savvy executives, despite not being as relentless in their statistical bent as others.
It shouldn't escape our notice that Kantrovitz is an alumnus of the Cardinals and Athletics front offices. He has shaped draft boards for teams who want to build from within, and who take a very market-based approach even to the anti-market draft system. That he's carried that over to the Cubs is little surprise, and it's probably what drew the Chicago front office to him, in the first place. 
Over a decade ago, it was Theo Epstein's (and, for a time, Hoyer's) Red Sox front office that cracked the draft wide open. By collecting compensatory picks and flouting the soft slot values assigned to all picks, Boston kept the farm system stocked to overflowing despite being perennial contenders. Right when Epstein came to the Cubs, the Collective Bargaining Agreement changed, thwarting him at all turns. Suddenly, small- and medium-market teams (and the Cardinals) got valuable picks to which the Cubs could have no access. The free-agent compensation system became much less favorable to big-market teams, and the slots went from pillow-soft to rigid and confining. That's why Epstein and Hoyer undertook such a deep rebuild in 2012, and why their farm system dried up once they came out of that.
Kantrovitz is meant to be the overdue solution to the not-so-new problems of the Cubs' systematic disadvantages in the draft. He's well-versed in winning an unfair game, and the Cubs (perversely) need to do just that. The approach they're taking to that is high-risk, but given their annual circumstances, they face risk anyway. This search for small reasons why players in key areas of the board might be undervalued is how they can maximize the potential rewards. It was on full display on Day Two here in 2023.