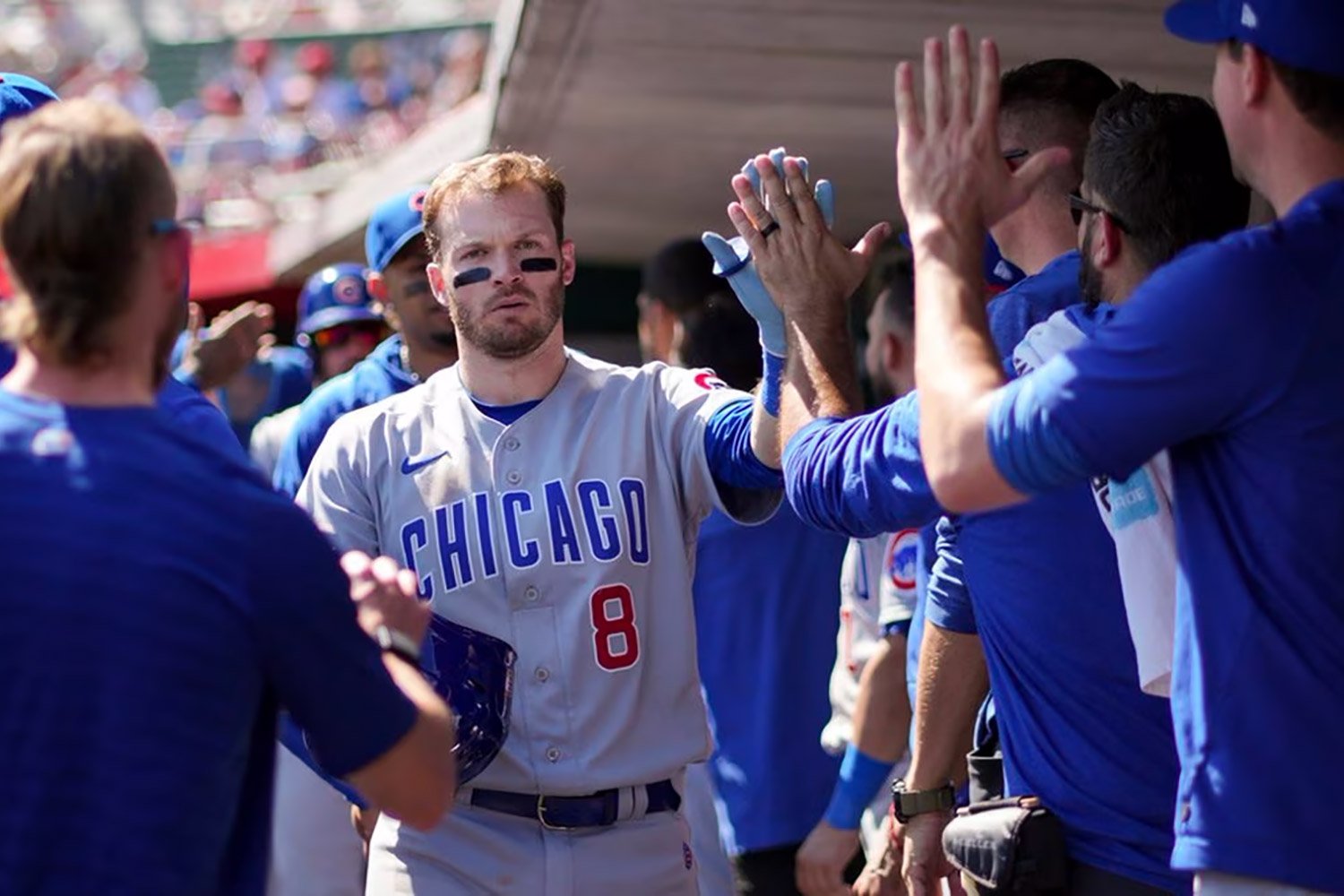 Image courtesy of AP Photo/Aaron Doster
I love Star Wars. If you have been paying attention, I have titled Episode 2 and Episode 3 of my Playoff edition articles after Episode 2 and 3 of the Star Wars saga.
I spent a lot of time this labor Day weekend watching "Rebels" with my son as a way to catch-up on the characters in "Ahsoka." Introducing something you love to your children is pure magic. It immediately transports you to the moment you fell in love with something just by watching the creation of a potential core memory for your kid. It is these types of moments that make being a parent fun. 
These thoughts have made me strangely nostalgic. I spent sometime reflecting this evening on my Cub-fandom and really found lots of joy for this moment I have enjoyed this playoff chase more than the others after 2016, as I re-learned the feelings of longing to be in this position. As Andy Bernard says on "The Office" series finale: "I wish there was a way to know you're in the good old days before you've actually left them."
Let's talk about Playoff-Contending Cubs baseball:
Record
73-64
3.5 GB of the Brewers in the NLC
+3 on Second WC Spot
In an extremely important week for the NLC standings, the Cubs put together a 4-3 week, winning/tying both their series. After laying an egg on Monday night, the Cubs won two squeakers on Tuesday and Wednesday with gutsy performances from Justin Steele and Kyle Hendricks. They have cemented their status as the 1-2 punch in a short series for the postseason. It unfortunately feels like a missed opportunity to gain on the Phillies/keep pace with the Brewers given the two blown saves in Cincinnati this weekend. As much as the twitter-manager brigade was all over David Ross, it has come to show how much Adbert Alzolay, Julian Merryweather, and Mark Leiter Jr. have been used. The lower scoring nature of games of late have required Ross to repeatedly use his inner circle. Alzolay has his highest workload since 2022. Merryweather is shattering his career high. Leiter is approaching his high as well. The Cubs offense is gong to need to put some crooked numbers up to get these guys some rest. 
Weekly Positive
Ian Happ never leaves Cincinnati with out a homerun. "Happ-Daddy", as dubbed by Boog Sciambi and MLB the Show, had a scorching week. His 1.127 OPS with 2 HRs,  5 RBIs and 198 WRC+ paced the offense. Hot Happ is good for this offense. We will need more than Happ to be clicking to get this offense back on track. 
Week Ahead
Cubs vs Giants
Game 1 -  Logan Webb vs Justin Steele, 1:20PM Central Time
Game 2 - TBD vs Kyle Hendricks, 6:40PM Central Time
Game 3 - TBD vs Jordan Wicks, 1:20PM Central Time
Another week, another set of major opponents. The Giants are currently 3 games back of the Cubs spot, but tied with the Marlins, Reds, and Diamondback for the final spot. With the Labor day holiday, the Cubs are getting two 1:20 starts. Cubs are 32-29 in day games, while San Francisco is 28-31. 
What to Watch
Logan Webb has been one of my favorite pitchers not on the Cubs. He is the workhorse of the Giants staff as their rotation depth has been tested. Game 1 of this series is a battle of each team's ace. Webb is all about his change-up, with it providing 21 run value this year with 40.1% usage. Where the Cubs will want to pounce is on the sinker, which Webb has allowed .538 SLG to. Currently, Patrick Wisdom has a .692 SLG vs sinkers. 
Cubs vs DBacks
Game 1 - 6:40pm Central Time, Javier Assad (Probable)
Game 2 - 1:20PM Central Time, Jameson Taillon (Probable)
Game 3 - 1:20PM Central Time, Justin Steele (Probable)
Game 4 - 1:20PM Central Time, Kyle Hendricks (Probable)
There are no breaks in sight. As mentioned above, the Diamondbacks are tied for the final Wild Card spot with the Giants. Given that Zac Gallen pitched on Sunday, it is very likely the Cubs will run into him this week. Gallen has inserted himself into the Cy Young conversation, posting a 14-6 record with 173.1 IP and 182 SOs. 
What to Watch
The Diamondbacks have a negative run differential and an under .500 expected Win/Loss. Corbin Carroll is a fun, dynamic talent with 23 HRs and 41 SBs. The Cubs will need to be extremely careful with managing the running game. I expect for Yan Gomes to be behind the plate for most of that series. 
Notes on Other Playoff Teams
Braves - The first team in baseball to 90 wins also had Ronald Acuna Jr. hit a baseball at 121.5 MPH. If you have not seen this, you need to:
Cubs - The good news is Marcus Stroman threw a bullpen on Sunday. As weirdly silent the usually chatty pitcher has been, I am happy to hear this progress. This would be a nice boost heading into the postseason if he can come back and pitch like Stroman. 
Brewers - The Brewers are so scrappy. Nothing beyond their bullpen jumps off the page, but they have timely offense, solid defense, and some superb pitching. They made the Phillies look pretty poor this weekend on their home turf. William Contreras and Mark Canha have been sneaky good, with 139 and 118 WRC+ respectively since the All Star Break. 
Malrins - If the Marlins can score enough runs to support their pitching, they may squeak into the playoffs. Old friend David Robertson was removed from closing duties this week. Robertson's high walk rate has lead to a 7.5 ERA. 
7 games on the docket this week against playoff teams, but at the Federal Landmark. I am looking for the Cubs to go at least 4-3 to maintain winning their series. 
What was your favorite moment of last week? What do you think their record will be this week?