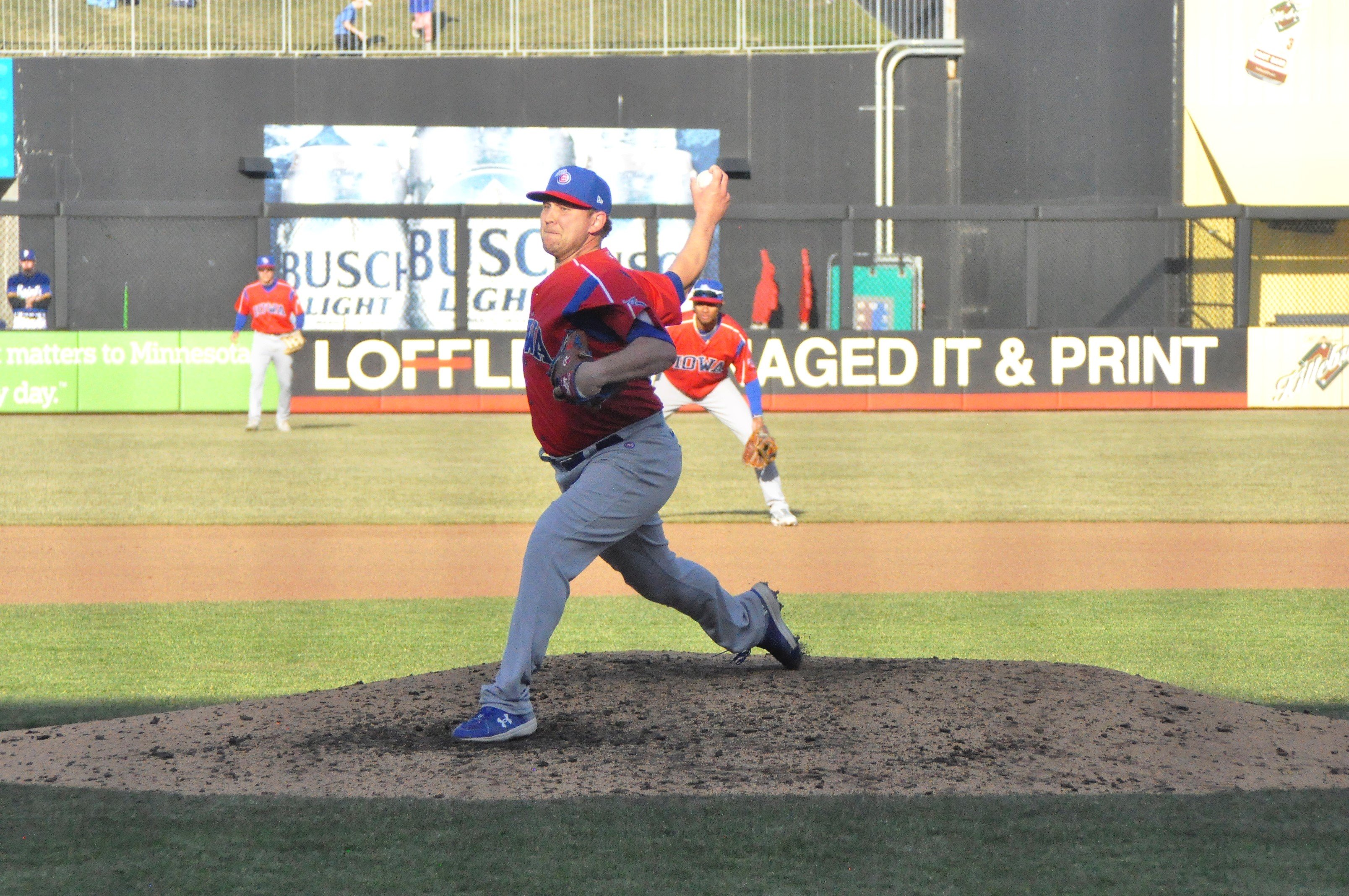 Image courtesy of Theo Tollefson
Tyler Duffey is one of the newest members of the Cubs organization. Signing a minor league deal with them during the off-season, the 32-year-old right-hander saw the Cubs as a team that would be able to give him a great chance to make it back into the Majors after a disappointing 2022 season.
"I liked a lot of things they had to say," said Duffey on his negotiations with the Cubs. "A lot of it was, be who you are, just get back to what you were doing before. Basically, last season was what it was and this is just a reset button. And with the shift to spring, I was feeling normal again."

Duffey's 2022 season out of the bullpen was one of his worst since becoming a full-time reliever during the 2017 season. In 40 outings with the Minnesota Twins Duffey had a 4.90 ERA, 4.79 FIP, and 79 ERA+ in 44 innings. His final outing of the regular season came against the Toronto Blue Jays on Thursday, August 4. He surrendered three earned runs, on four hits and a walk finishing out his time with the organization that drafted him. 
"I think last year was just an anomaly so to speak," said Duffey. "My fly ball rate, 40% of those were home runs and it was just not sustainable, not really my kind of thing and it was just unfortunate."
The flyball rate hasn't been a problem for Duffey so far in 2023 with the I-Cubs. His walk rate though has, but it mainly stems from a relief appearance on Thursday, April 6, against the St. Paul Saints, when he walked four straight hitters. 
"Everything feels great," Duffey said on his start to the season so far. "Obviously, that one outing aside, I'm really happy. It's somewhere I thought I had a chance to get on the big league team and make an impact with some young guys here. And it's all been so far so good" 
His manager, Marty Pevey agrees his stuff is good when he is in control and he has been seeing improvements in his control of the strike zone in each outing since April 6. 
"His velocity has been really good," said Pevey. "He's got a good sinker, his slider has been good. He told me as he was walking off the mound last Thursday, 'That's terrible. I'm better than that.' He knows what he has to do and he knows what it takes to be successful. He's worked extremely hard with Ron Villone getting to that point and I love having him on the club."
While returning to the Majors is a top priority for Duffey, the mentorship role had come to him in Spring Training spending time with pitchers who have only had a brief brush of time in the big leagues. One of those pitchers was Hayden Wesneski, another native of the Houston, Texas, area as Duffey is, who has only had seven games in the Majors. 
"Guys are coming to me sometimes with stuff. You don't realize when you come to a new team, and the most tender guy on their pen probably has only four years of service. So it's just a different animal and to get an opportunity to be around some really good talented players, like Hayden, it's just one of the cool things of getting to a new place," said Duffey. 
Pevey too has noticed the leadership role that Duffey has jumped into with the I-Cubs and appreciates the effort he is putting in with his younger teammates. 
"He's a great influence, you know, he's got the experience and he's leading by example," said Pevey. "He's out early almost every day when we were hitting and shaggin' fly balls.  I mean, he's just a great teammate. Great to have in the clubhouse and a wonderful guy to have at the back end of a bullpen."
With the first full series for the I-Cubs and Duffey being in Minnesota, it allowed a lot of time for him to catch up with old friends and teammates in the St. Paul Saints clubhouse. 
"Seeing Randy and Ober over there. Ryan LaMarre now I've played with him in three different places. The longer you're around the game the more friends you have, the more acquaintances you make, and things like that. Ultimately, it's playing in sync, that means you're still playing the game. Every day it's about us just trying to play baseball and have fun doing it," said Duffey. 
Duffey still looks back on his time with the Twins organization fondly as many players do with the team that drafted them. As the season goes on and his numbers continue to improve from a shaky April 6 outing, Duffey has great confidence he'll find himself back in a Major League bullpen in 2023.