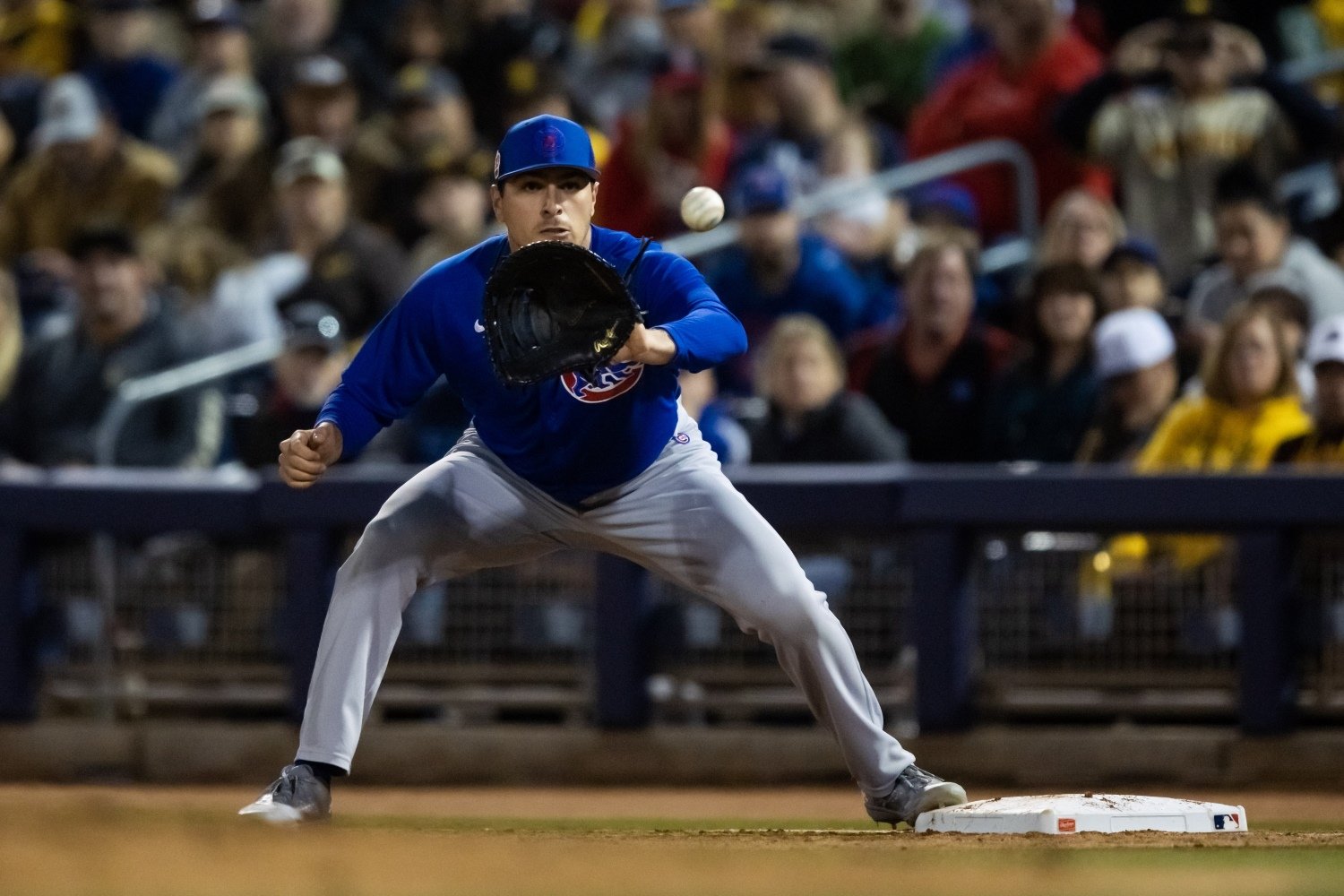 Image courtesy of © Mark J. Rebilas-USA TODAY Sports
It's hard to draw distinctions like those between tiers in the Cubs' pipeline right now. There's no question that their strength lies in quantity, rather than extraordinary quality at the top of the list. Still, there are some players even in the second half of our top 20, revealed and discussed last week, that have higher ceilings even than some of those we'll tackle today. By and large, though, these guys have fewer questions to answer between where they are and their career destination, be that the heart of a batting order or the top of a rotation, than their slightly less esteemed co-workers.
10. Daniel Palencia - RHP
Age: 23
2022 Stats (A+): 21 G, 75 ⅓ IP, 3.94 ERA, 1.21 WHIP, 31.1% K, 13.0% BB, 7 HR
There's some chance, remote though it might be, that the Andrew Chafin trade is remembered as one of the great ones in Cubs history, right alongside the one that sent Scott Feldman to the Orioles and brought back Jake Arrieta. Palencia was almost an afterthought in that deal, which felt like little more than an afterthought itself, but his sheer stuff has opened an eye for every hitter it has utterly overpowered in the low minors–which means it's opened many eyes.
In all likelihood, we're looking at a relief pitcher here. Palencia is powerfully built, but he stands just shy of six feet tall. He's 23 years old, but his entire pro track record consists of 34 appearances and fewer than 120 innings. He's eligible for the Rule 5 Draft after this season, so the Cubs have no reason not to bring him to the parent club if he becomes the best potential addition to their bullpen at some point this summer, and it's pretty easy to envision that happening. 
Even if it's just in relief, though, Palencia could have immense value. If he cleans up his mechanics, improves his extension and his changeup, and can cut it as a starter, he could be an ace. His fastball can touch 102 miles per hour, and sits very comfortably in the high 90s. Thanks to his short stature, he creates a flat approach angle when he attacks the top of the zone with that pitch, and he's going to rack up strikeouts on that, alone.
If he cuts it as a starter, Palencia will do so by finding a mix of breaking stuff that can supplement that heater more effectively. He has a potentially plus slider already, but needs to show more consistency with it, and his knuckle curve (or, perhaps, a sweeping slider that complements but doesn't replace the current version) needs to come along if he's going to start. If not, he just has to throw enough strikes to dominate with the four-seamer and the slider. Because of his strange amateur arc and the odd circumstances of his early professional tenure, he's a good candidate to come up as a short-term, short-relief weapon, only to eventually mature into a good starter.
9. Ben Brown - RHP
Age: 23
2022 Stats (A+/AA): 23 G, 104 IP, 3.38 ERA, 1.17 WHIP, 34.3% K, 9.4% BB, 10 HR
That Brown and Palencia are both starting 2023 in Tennessee's starting rotation is mildly hilarious. Brown is a head taller and looks about twice Palencia's size on the mound. He still seems a bit on the thin side, but he's generating plenty of power with his long levers and his clean delivery. Also unlike Palencia, Brown can fill up the strike zone. The questions about his future revolve more around finding the right mix of stuff to complement his mid-90s fastball than around mechanics or command, and that's a great place to start. 
It's hard to maintain two distinct breaking balls. One has to learn to keep them separate, to sequence them correctly, and how to calibrate their use based on the handedness of opponents. Brown can probably manage that, though, given the success he's already had at Double A and on his command profile. His range of potential outcomes remains wide, but a solid mid-rotation starter seems like the best individual bet. That would be a huge win for the Cubs, given that they got Brown for just three months of relief signee David Robertston's time.
8. Owen Caissie - OF
Age: 20
2022 Stats (A+) (incl. postseason): 111 G, 460 PA, .254/.346/.409, 12 HR, 12.2% BB, 29.0% K
Barring something unforeseen, Caissie will be the only meaningful return the Cubs realize on the trade that sent Yu Darvish to San Diego after 2020. That's less than ideal, but Caissie has a chance to be pretty darn good. Tall, sturdy and with power upside beyond what he showed as a teenager in High A, he profiles as a slugging corner outfielder who won't hurt the team defensively in either right or left field. 
To get to that pop, though, he'll need to make more contact. Even given his tender age for such a challenging assignment, he looked overmatched early last year. He started the campaign with 12 straight games in which he struck out at least once, and he went 5-48 during those contests. Thereafter, though, he slightly toned down the whiff rate and found his punch. He batted .273/.367/.444 after that first game without a punchout. Thus, we can wait a bit before being overly concerned about the eight strikeouts he's registered in his first 13 plate appearances at Double A.
7. Cade Horton - RHP
Age: 21
No professional stats
For a player on whom the Cubs gambled so boldly, Horton is still very much a black box. The big upside in taking a collegiate pitcher near the top of the draft is that they have already proven their durability and their dominance against high-level competition, and can therefore be put on the fast track to the big leagues. Instead, for the moment, Horton has yet to make his debut in official action, and he's been assigned to Low-A Myrtle Beach to open the season. 
That doesn't make the selection a bad one. It's just fraught with an unusual degree of risk. Horton showed an exceptional slider late in the season for the University of Oklahoma, ahead of the 2022 Draft. The pitch is more than an out-getter; it could be an ace-maker. In order for that to happen, though, he has to flesh out what is mostly a two-pitch mix, and he has to prove he can throw strikes, turn over the lineup card, and hold up to the rigors of a long season. 
All of that is possible, though, and because Horton is such a remarkable athlete, it could come together shockingly fast. If it does, he should be pitching in Tennessee or even Iowa by the end of the season. In the meantime, he should have a lot of success against hitters in A-ball, where his fastball and slider are enough to overwhelm most opponents.
6. Matt Mervis - 1B
Age: 24
2022 Stats (A+/AA/AAA): 137 G, 578 PA, .309/.379/.606, 36 HR, 10.2% BB, 18.6% K
Questions still abound about Mervis. Plenty of people believe his swing will never be able to generate real power against MLB-caliber fastballs, especially on the inner half of the plate. Plenty of people believe he'll struggle against left-handed pitchers, and a platoon player with no defensive value–even in the era of the universal DH–is unlikely ever to be mistaken for a star. 
His swing does have a little bit of a sweep to it. He's reminiscent of Logan Morrison, another thick left-handed hitter with a balance of pure hit tool and power. Morrison eventually grew into substantial power, but that took time and forced him to trade more contact than would have been ideal.
There are some early signs that Mervis is different. Perplexingly, as he climbed the ladder of the minors last year, he became less dependent upon power and controlled the strike zone better. He's kept his strikeout rate in check and walked at a very healthy clip. His power didn't suffer from that dedication to his approach last year, and in the early going of 2023, he's still generating some impressive top-end exit velocities. 
In the final analysis, though, hitting the ball hard especially often is more valuable than hitting it especially hard occasionally. Mervis will get a look with the parent club before this season ends, and then (if not sooner) we'll start to find out whether he can do the former well enough to be a first-division first baseman.