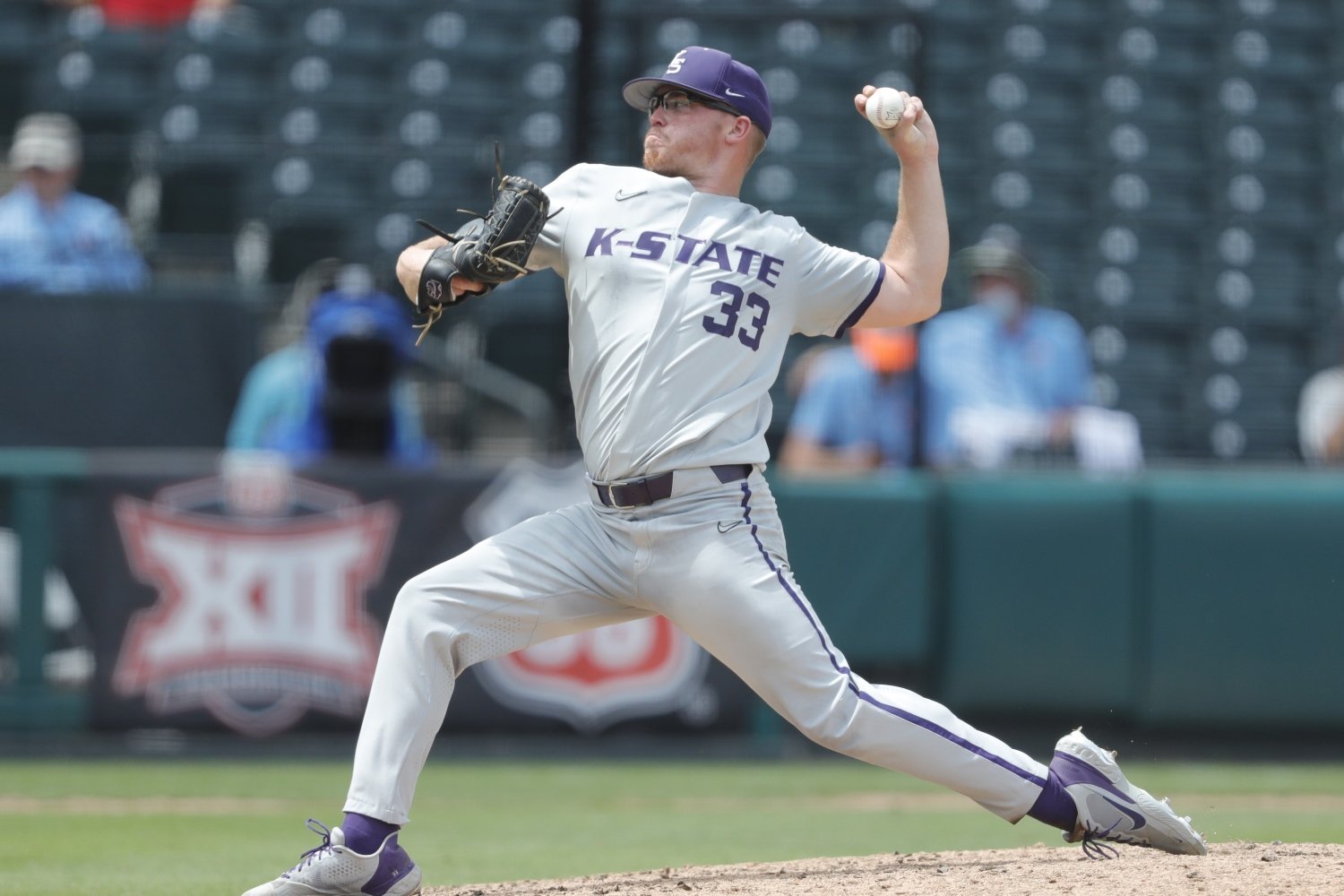 Image courtesy of © Alonzo Adams-USA TODAY Sports
5. Jordan Wicks - LHP
Age: 23
2022 Stats (A+/AA): 24 G, 94 ⅔ IP, 3.80 ERA, 1.25 WHIP, 30.1% K, 8.5% BB, 10 HR
The Cubs were pleased and excited when Jordan Wicks fell to them at the 21st overall pick in the 2021 Draft. A good blend of polish and upside, Wicks dominated college ball at Kansas State, though without the high-end velocity that gets collegiate aces drafted near the top of the first round. He's a lefty with average velocity, and the primary tool he brought with him to pro ball was a plus changeup.
Obviously, any lefty starter in MLB is going to see a whole lot of tough right-handed batters, so starting a repertoire with a good change is very valuable. The risk involved is significant, though, because what works at the amateur level–even a high level of competition like the Big 12–will absolutely not work in MLB. The challenge in scouting a player like Wicks lies in looking at that changeup and knowing it will have to be reinvented, or at least tweaked, along with all the other improvements an organization has to ask of a young hurler. The scouts, player-development analysts, and key decision-makers have to figure out how much they can trust a young person to hang onto what has made them special, even as they have to undergo an overhaul.
Wicks has repaid that trust rather impressively, so far. The job isn't done, but he made a great head start on it last year, adding a slider that should miss bats against lefties without losing feel for either his fastball or that changeup. That gives him, more or less, two pitches for each type of batter: the fastball and changeup against righties, and the fastball and slider against lefties.
There's a lot of work left, of course. His changeup really is stellar, and he might even be able to throw it left-on-left a bit in the big leagues, but it's not going to miss bats in the majors at the same rate as it has in the minors thus far. Without those whiffs, his control could become more of an issue, because although he's athletic and repeats his delivery well, his initial arm action creates just enough noise to make pinpoint command elusive.
To make up for that, even as he works to tweak either the usage of the change or the interaction between it and his fastball, Wicks could work on sequencing and feel for his curveball. That pitch is never going to be a major part of his arsenal, but he could steal strikes with it early in counts, as long as he avoids making that a predictable tack. There are some scouts who think he could benefit from adding a cutter, which would complement the fastball and changeup against righties and help him tone down some of the hard contact he projects to give up with his current arsenal. The danger there lies in adding too much and complicating his profile more than his development can handle.
A much simpler prototype for Wicks is right in front of us, although there are obviously some important differences. Justin Steele does just fine with (more or less) a two-pitch arsenal, relying on a fastball with some cut to it and a big-breaking slider. Wicks has the changeup instead of Steele's slider, and Steele's is the more versatile weapon. Wicks's fastball has more riding action but less gloveside movement than Steele's, which can work to his advantage because of the movement profile on the changeup but makes the fastball itself less dominant than Steele's. 
The last thing to consider, then, is whether a bit of continued mechanical refinement and some training focused on velocity could get Wicks working more into the mid-90s with his fastball. If he could find a couple more miles per hour, everything could play up, even without unique or devastating movement. As Wicks opens the season in Double-A Tennessee, our main focus can and should be on his results. He needs to learn to work deep into games; to sequence and spot his stuff; and to work out of trouble. When he gets closer to making his debut with the parent club, though, it will be time to hone in on the questions we've raised here. 
Wicks could be a No. 2 starter. That's an extraordinarily valuable player, and would take some pressure off the Cubs as they try to round out their roster over the next few seasons. He's more likely to settle into the middle of the rotation, though. That, too, has substantial value. If he doesn't succeed in adding more pitches or velocity, he can still be fine. He just needs more innings in the high minors to tighten everything up.