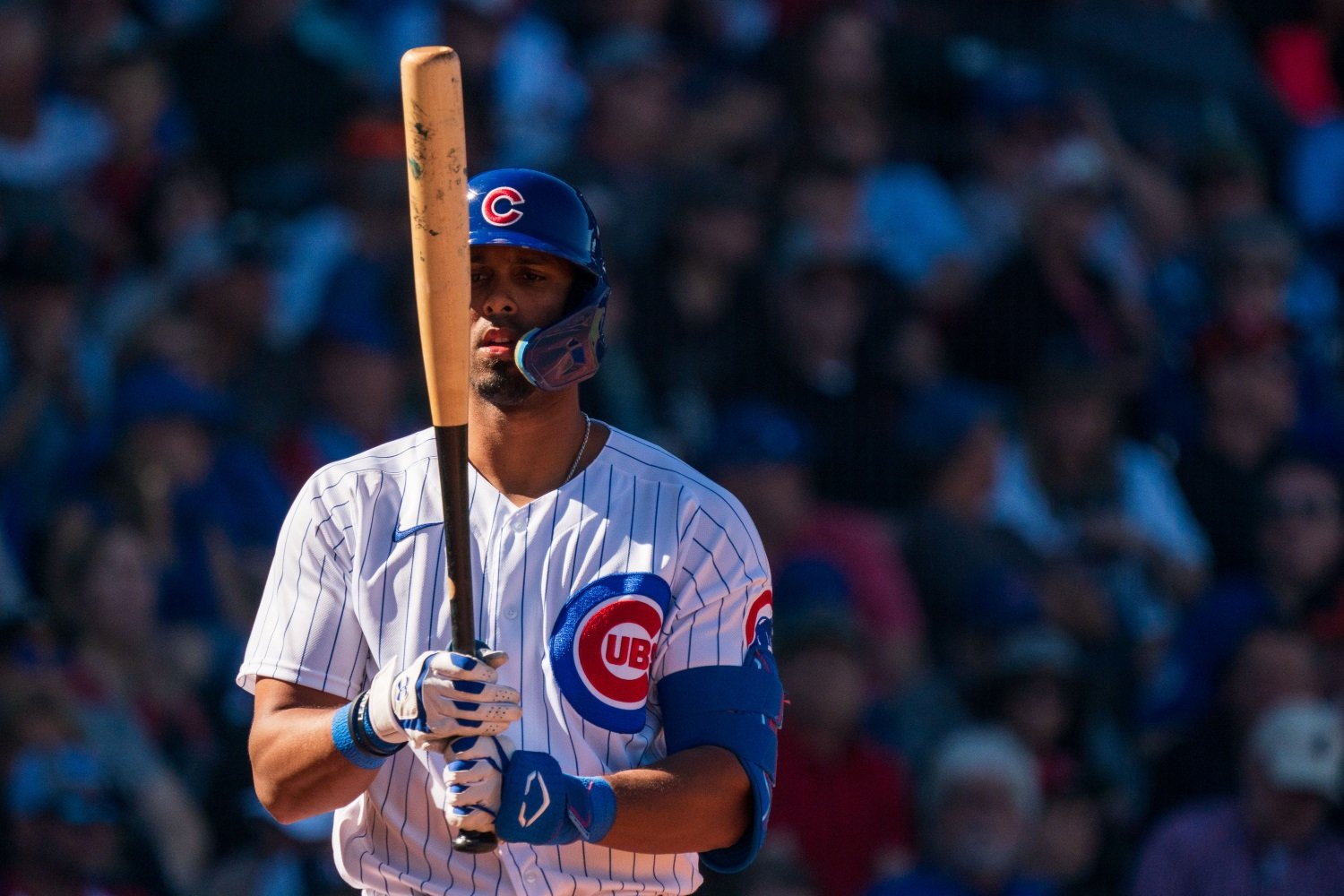 Image courtesy of © Allan Henry-USA TODAY Sports
An overslot signee in 2018, today's spotlighted prospect made a quick climb up prospect lists, but health issues have stalled him out and kept him eligible for this list longer than anyone would have liked.
4. Brennen Davis - OF
Age: 23
2022 Stats (AAA/A+/Rookie): 53 G, 214 PA, .180/.299/.298, 5 HR, 15.0% BB, 30.4% K
It's hard not to love Davis's upside, and even harder not to love his makeup. He could, with full health and at his best, be a rangy, slugging corner outfielder, a guy who delivers three or four wins of value by mixing an average pure hit tool with above-average power and solid defense. Alas, full health has been elusive for him, and it doesn't look like the unusual back malady that afflicted him last year has been left entirely in 2022. Davis struck out a lot last season, but this spring (and in early action in Iowa), he's not only continued to whiff too much within the zone, but shown the same diminished power that marked his attempts to come back after surgery last year.
If Davis's power is permanently compromised, that's the ballgame. The dream of him realizing all the potential that has loaded him onto national top-100 prospect lists for four straight seasons depends completely on him regaining his strength and mobility. For the sake of our discussion, though, let's assume that happens, because chronic and incurable weakness born of such a bizarre injury is almost too bleak a prospect to consider, and it doesn't make for interesting prospect talk at all. 
With his strength and stability restored, Davis still faces questions. He has a long swing, and will always strike out fairly often. That makes it important that he make good swing decisions, both to balance those whiffs with as many walks as possible and to ensure that he's not adding to the problem of his punchouts with too much weak contact. He's shown the ability to do that in the past, but don't fall in love with the walk rate he posted last year. It was, in large part, about him not feeling good enough to swing as much as he would have liked.
We need to ratchet down our hopes for him in the field and on the bases, in light of the year he's had. All the work he's had to do to regain basic, functional strength in his back and core has contributed to the natural slowing down that happens as a player finishes physically maturing and loses their teenage lightness of foot. He has a very strong arm, and can profile in right field just fine, but obviously, the Cubs hope Seiya Suzuki will anchor that spot for another few years. Davis, then, could be ticketed for left field, and with Ian Happ becoming a free agent at season's end, the timeline is pretty clear. That's why every game and data point Davis gives the Cubs with which to evaluate him in 2023 is so important. 
In the early going, too much of that data has been troubling for us to sustain much confidence. Davis has swung and missed too much, and specifically, he's been beaten too often within the strike zone, where patience can't necessarily make up for the whiff rate. He's also had a downright strange number of very poorly-hit balls, given the tools he possesses, which leads one to worry that the back really is still an issue. Neither of those things constitute a red flag right now, because it's still very early. They both bear watching, though, because of how 2022 went and because of the limitations to his profile even before that season happened. Modern prospect mavens love to cite 90th-percentile exit velocities in reports on players, and it's a useful stat at a macro level. How hard the average of a player's best contact is can usually tell us more about them than either their overall average exit velocity or their maximum on a single batted ball.
With Davis, ignore that number. It seems clear that he still has the ability to obliterate the ball on occasion, but as we discussed earlier in this breakdown, that only matters if he can either cut down his strikeouts or minimize the instances of soft contact. Thus, we need to know how much of that soft contact is still happening in order to get any sense of his viability.
In some universes, Davis joins the parent club this season and breaks out a bit, making the decision about Happ's future easier for Jed Hoyer and nudging the team toward contention for the playoffs even in 2023. He has that potential, and the Cubs' roster has that room for an impactful right-handed bat. He might make the most sense as a designated hitter, in the short term, but he could contribute if he's right. For at least the next month or two, though, the Cubs just need him to show them that he's right in Iowa.