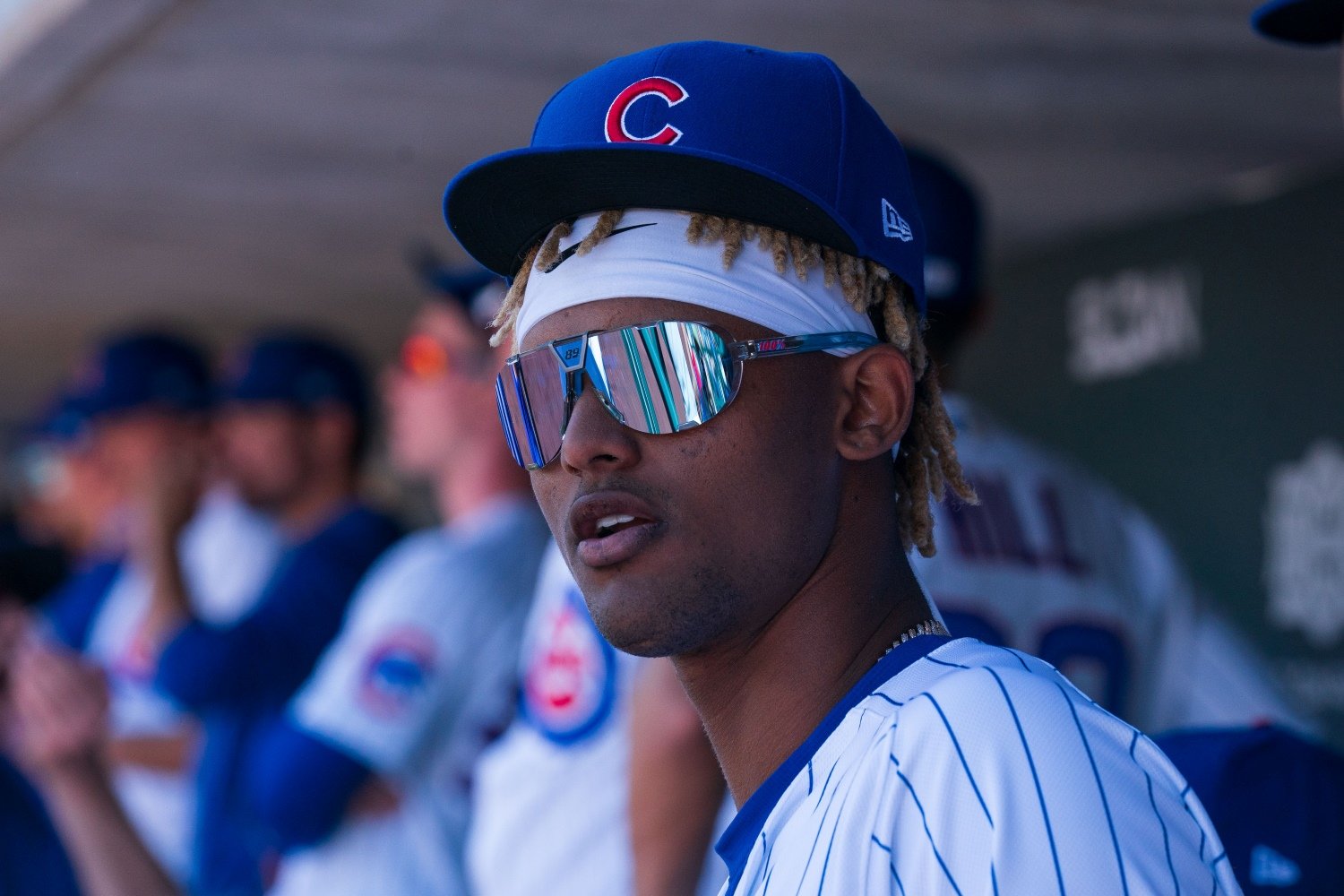 Image courtesy of © Allan Henry-USA TODAY Sports
If anyone in this system is going to become a future Hall of Famer, it's most likely to be Kevin Alcántara. His floor is lower than those of the others in this bracket, too, but Alcántara is the man who could win MVP awards.
3. Kevin Alcántara - OF
Age: 20
2022 Stats (A): 112 G, 495 PA, .273/.360/.471, 15 HR, 12.1% BB, 24.9% K
The elimination of short-season Class A teams has made evaluating seasons like the one Alcántara had in 2022 more difficult. He put up good numbers, and more importantly, he showed some genuinely dazzling physical tools, despite what we're all conditioned to think of as an aggressive assignment. He spent the whole season in Class A, and it was his age-19 season.
In any such analysis, though, there are layers of nuance through which to sift, and in this case, they're important layers. For one thing, Alcántara's birthday is July 12, which means two things:
Though it was nominally his age-19 season, Alcántara turned 20 just before the All-Star break. It's easy to dismiss those fine distinctions, but if you just increase the number in that age column on Baseball Reference by one, any minor-league performance gets slightly less impressive.

At the time when Alcántara became eligible to sign as an international amateur free agent, the signing period for such players started on July 2. Thus, he signed precisely on his 16th birthday in 2018, and (as a result) had to be added to the 40-man roster this past offseason. That means that he'll spend at least one of his three option years playing in the middle rungs of the minors, and it means that we have to evaluate his performance and his apparent readiness for the next step in the context of an earlier need to be ready than other players might have.
For another thing, since Alcántara signed, the minors have contracted, and the lost levels of competition (mostly short-season Class A) have funneled a different caliber and style of player into the full-season Class A leagues than would show up there in the past. The Cubs had nowhere less challenging to send Alcántara than to Myrtle Beach, and the pitchers he faced there (though still mostly older than him) were not as experienced or as polished as pitchers at the same level tended to be a few years ago.
None of this is to diminish what Alcántara did. As a young player with a still-developing skill set, and while playing in a pitcher's park and a pitcher's league, Alcántara put up good numbers, demonstrated a balance of exceptional athleticism and savvy for the game, and carried himself well. 
There's a little bit of Fernando Tatís, Jr. in Alcántara's offensive toolkit. That's so aggressive it's irresponsible, but it's not quite crazy. At 6-foot-6, Alcántara has long levers and some holes in his swing, but he can do some special things with the length and strength he already possesses, at such a young age. He stays fairly upright throughout his swing, but those long arms still cover the outside corner well, and he has the adaptability to take pitches out there the other way with power. When pitchers try to crowd him, on the other hand, he can get his hands in a bit, whip his bat through the zone, and catch the ball out front. 
The combination of those abilities is rare, especially in a player as big as Alcántara. There's much left to be cleaned up. He has an admirable facility with varying the timing mechanisms of his swing, including his leg kick, but the default version of that kick is too big for his swing and would be exploited by higher-level pitchers. He'll need to quiet that down, but still find a way to both get started early enough and still stay back well enough to cover the whole plate. That sentence was complicated, but the threading of a developmental needle it described is even more so. Alcántara also has to refine his pitch selection, because players with strike zones as big as his will never be able to afford to expand those zones. 
In the field, the picture is much more simple. Alcántara is unlikely to win any Gold Gloves, but he's very fast now, and should retain a modicum of speed even as he ages and adds a little weight to his frame. He has a strong arm, and will profile gorgeously in right field if the bat plays. All he needs on defense is time and experience, and he should get plenty of each before the parent club needs him, in light of the team extending Ian Happ through 2026.
If it all comes together, Alcántara's profile looks like a poor man's Julio Rodríguez, or a more orthodox version of Hunter Pence. Patience is required, and the 40-man roster clock is ticking, but the upside is more than worth the wait.