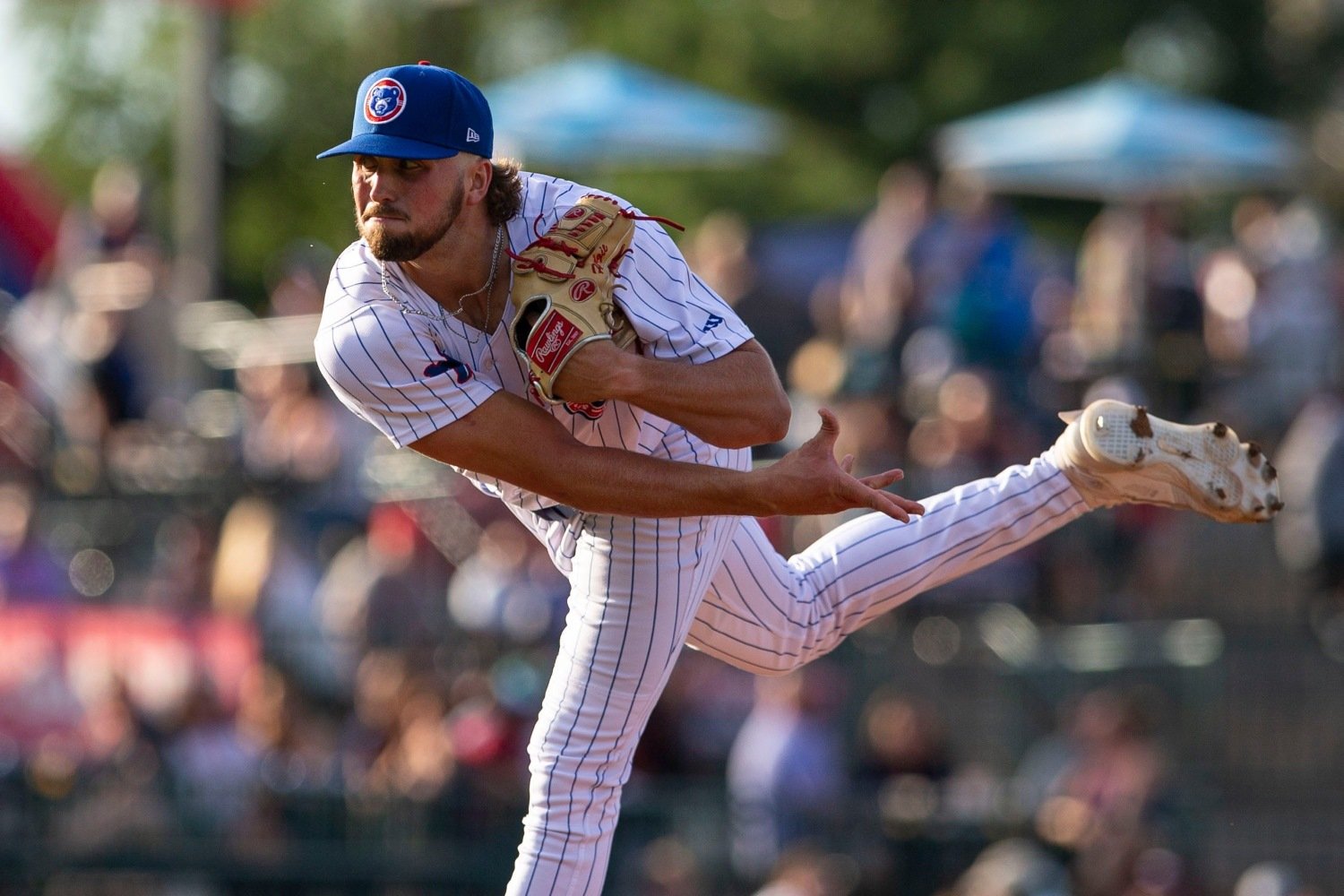 Image courtesy of © Chloe Trofatter / USA TODAY NETWORK
Though they have many more players with credible big-league futures than most other systems, the Cubs lack clear and unblemished future stars. This set of five players illustrates that point. There's ample potential here. Between injury concerns and flaws that will need to be addressed as they ascend, though, there's no real floor for most of them. They could be anything from All-Stars to non-MLB players.
15. James Triantos - 3B
Age: 20
2022 Stats (A+): 113 G, 504 PA, .272/.335/.386, 7 HR, 8.9% BB, 16.1% K
If he were a hair more of a quick-twitch athlete, Triantos would be a much more highly-regarded prospect, because he would either project as a shortstop or as an above-average third baseman. As it is, he's likely to stick at the hot corner, but not to add much value there with his glove, and his offensive profile is a bit shy of star-caliber for that position. 
That said, he's not by any means a low-ceiling guy. The numbers you see above are more impressive than they look. At 19, he played the whole season in Class A, and handled not only that challenging assignment but the difficulties of hitting at Myrtle Beach gorgeously. After a brutal start, he made fast adjustments and attacked the ball better during the summer. He stole 20 bases in 23 tries. His frame could carry a bit more good weight without costing him anything in the field, and his swing could generate 20 homers some day if he adds that little bit of strength. 
Because of all that, Triantos probably would have ranked a spot or two higher as recently as mid-March. Alas, he tore the meniscus in his right knee and underwent surgery to fix it on March 21st. He could be back in action, in some form, by mid-May, but he could just as easily be out a month longer, and whether he'll be as mobile or if he'll be able to find his rhythm at the plate when he gets back is impossible to know. Get used to that exact type of uncertainty, with this group.
---
14. Jackson Ferris - LHP
Age: 19
No Professional Stats
Ferris has tremendous potential, but he's miles away. That's a cliché line about a teenaged pitching prospect, isn't it? It's such an important and inexorable fact that we sometimes let it remain abstract. Let's try to get more concrete with this one.
At 6-foot-4 and with room to fill out, Ferris could mature into a fireballer who sits in the mid-90s and threatens 100 miles per hour with his fastball. At present, he's usually at 93 or 94, but his youth and his frame imply that growth and good instruction can carry him up a few ticks. His delivery is clean and powerful, but the Cubs have already begun working to tighten it up and help him repeat it better.
Scouts look for those physical rudiments, because much of the rest of the player will have to be torn down and rebuilt, anyway. That's not just true of Ferris; it's how being a pro prospect works. He showed a pretty curveball throughout his draft year in amateur ball, but the pitch needs to be overhauled in order to work against advanced hitters. The Cubs made sure they saw a good feel for spinning the ball and getting his hand around it to create the direction of a curve, and now, they'll work with him to engineer a sweeper, slider, or knuckle curve that much better suits his arm slot and his fastball shape.
His changeup isn't anything yet. All one can say of it is that Ferris has shown some feel for the arm action required for that pitch, and that he could throw a good one out of the slot he already uses for his fastball. Add all of these things together, and it's easy to see how much uncertainty there is around Ferris, even before accounting for the risk of injuries and the way they might shake up the profile sketched above. Ferris has all the building blocks of a star southpaw. There's just a lot of construction work ahead.
---
13. Porter Hodge - RHP
Age: 22
2022 Stats (A/A+): 25 G, 109 ⅓ IP, 2.63 ERA, 1.24 WHIP, 30.2% K, 13.9% BB, 4 HR
That Hodge got an immediate assignment to Double-A Tennessee underscores the strides he's made even this spring, and the faith that the organization has gained in him. He's already a fully filled-out power pitcher, but his velocity has steadily climbed, and it looks like he'll be able to work in the mid-90s with his fastball even as a starter. Pair that with a two-plane slider and you have the start of what could be a front-of-the-rotation profile.
Neither his more vertical curveball nor his changeup are as polished as that slider right now, and one of them will need to take a step forward for him to realize his full potential. He's also about to face a very stern test of his control and command, which weren't as good as one would have hoped even against A-ball guys last year. Barring injury, though, his floor looks something like Jeremiah Estrada's median outcome: a relief ace who helps the team shorten games.
---
12. Alexander Canario - OF
Age: 22
2022 Stats (A+/AA/AAA): 125 G, 534 PA, .252/.343/.556, 37 HR, 12.2% BB, 27.6% K
It's hard to say exactly where Canario would land on this list if he hadn't suffered a ghastly double injury during winter ball, but it'd be somewhere in the top 10. The risk that his strikeout rate scrapes 30 percent and stunts his production against MLB pitching is real, and so is the possibility that his walk rate will dry up in the face of those hurlers' ability to relentlessly throw strikes with multiple offerings. As he proved in 2022, though, his tools are too good to be totally negated by even these noteworthy weaknesses. Canario stole 23 bases in 26 attempts, in addition to the phenomenal power he displayed, and he profiles either as a plus corner outfielder or as a tenable short-term center fielder. All of that is on hold and in question at the moment, though, while we wait to see whether those big tools have survived the surgeries on both his ankle and his shoulder. 
---
11. Cristian Hernández - SS
Age: 19
2022 Stats (Rookie): 44 G, 175 PA, .261/.320/.357, 3 HR, 7.4% BB, 30.3% K
The stat line means basically nothing for a player this young, at a level so far remote from MLB. As it happens, though, what jumps out in Hernández's numbers above is exactly what will most determine whether or not he gets back into the conversation as one of the top prospects in the system, where he stood a year ago: strikeout rate.
It isn't and needn't be a finished product at this stage, but Hernández has a swing with natural power and balance that would be the envy of many a more polished hitter. He's long-levered and has shown good hand-eye coordination. He has fluid athleticism, and should be an eventual fit for the left side of the infield. It all only matters, though, if he learns to make more contact. It's very hard to predict whether that will happen from here, even given the impressive maturity of his swing mechanics. Getting everything started earlier, while still giving himself time to see the ball clearly and make good swing decisions, will be the big challenge.