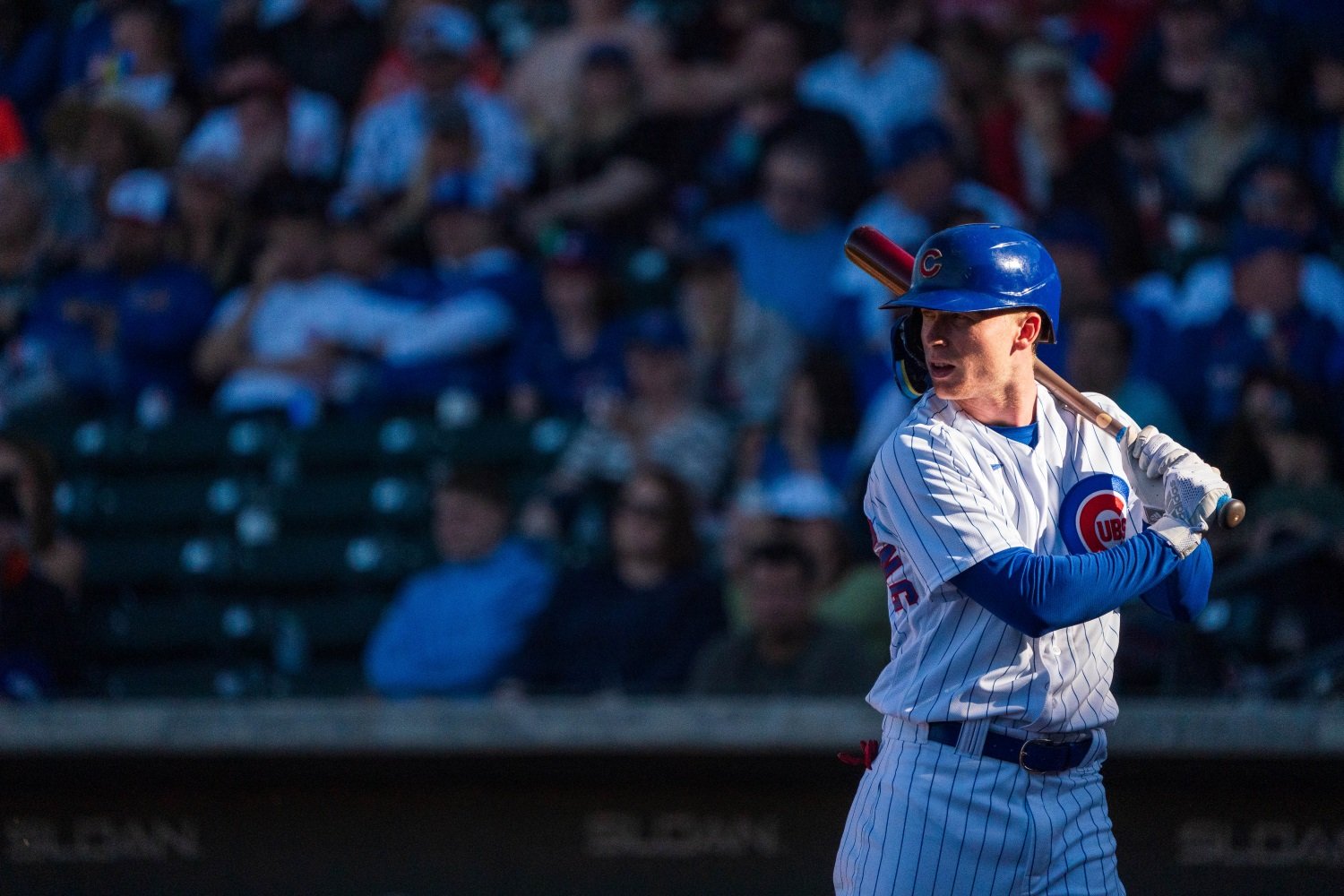 Image courtesy of © Allan Henry-USA TODAY Sports
It was harder to say goodbye to Javier Báez than to any of the other Cubs who departed at the 2021 trade deadline. Anthony Rizzo and Kris Bryant were, at their best, better players. They'd been bigger contributors to the 2016 team that won the World Series, even though Báez had huge hits in the NLDS and was co-MVP of the NLCS that year. Rizzo and Bryant were faces of the franchise while Báez was still a wild-styled prospect with a mixed reputation. Still, by 2021, Báez was the one who made the team go, and his was the personality that kept the team interesting after it ceased to be excellent.
That made it almost impossible that fans would embrace, let alone adulate, the player acquired in return for Báez. After all, what were the chances that a prospect the team got for just half a season of Báez's services would even be of similar overall value on the field, let alone the same kind of charismatic daredevil Báez is? They seemed to be near zero. That's what makes Pete Crow-Armstrong such a welcome miniature miracle.
1. Pete Crow-Armstrong - CF
Age: 21
2022 Stats (A/A+): 101 G, 471 PA, .312/.376/.520, 16 HR, 9.2% BB, 21.7% K
In answer to the question, "What if Albert Almora had plus speed, to go with those instincts and that ability to play the ball perfectly in flight?", Cubs fans finally have an easy answer. Just point to Crow-Armstrong, who makes the same graceful, improbable catches Almora made in a radius about 10 feet wider. He's blessed with the same proprioception and eye for the ballistics of a ball in flight as Almora, but he's a better athlete in every facet: faster, stronger, and with a better throwing arm.
If he were called up immediately, Crow-Armstrong would be a co-favorite for the Fielding Bible Award in center field before the end of this season. He's not merely a true center fielder, but a true star-caliber defender there, which puts very little pressure on his bat to make him a credible regular in the majors. Still, if he's going to have the long career and make the All-Star appearances the Cubs hope for, he'll have to hit, and there lie all of the truly relevant questions remaining about his game.
Last season, as a 20-year-old splitting his time between the two levels of Class A, Crow-Armstrong showed off some genuine pop. He hit those 16 homers despite playing in two pitcher-friendly parks and leagues, and he added 20 doubles and 10 triples to those, testifying to both his gap power and his speed. He also stole 32 bases in 43 tries. Those stats bespeak the tools–the way he can physically outmatch most players in the minors and many even in the majors.
More importantly, though, he visibly improved as the season progressed. Early on, he was getting away with some swing habits that won't work as he reaches higher levels: a lot of length in the back side of his swing with his hands, and a slightly lunging swing (reminiscent of another left-handed power-speed Cubs outfielder of yore, Corey Patterson) that left little chance for solid contact when he was fooled. By season's end, he was more upright, allowing him to handle high fastballs better. His two-strike approach was cleaner, and he was better able to use all fields. 
That doesn't mean he's ready to step in and produce numbers as gaudy as those he's put up in the minors anytime soon. Barring further refinement of his swing, he will strike out more as he climbs the ladder, and it could be the one obstacle to him taking over the leadoff role in the long term. He'll have to rebalance his approach as he encounters more pitchers who can get him to swing and miss, too, and that will naturally dampen his power somewhat. Still, the two-way center fielder with All-Star upside is a rare breed even in today's game, and the Cubs have had so few of them in their 150-year history that they can be counted on one hand. Crow-Armstrong could change that, as soon as the end of this season. 
There's one more thing worth talking about with him, too, and it's the thing that makes his placement atop this list both easy and thrilling: he's absolutely nuts, in the best possible way. Irrepressible, thoughtful, and beloved by his teammates, he has the makings of another clubhouse cornerstone, right alongside Nico Hoerner, Ian Happ, Dansby Swanson, and Seiya Suzuki. His hustle borders on recklessness, but mostly in a good way. His intensity seems infectious, rather than affected or offputting. He's even a baserunner as magical as Báez. That makeup seems like the secret ingredient that will help him bridge whatever gaps remain between himself and his goals. 
Pete Crow-Armstrong, aka Pete Crow-Acrobat! #pca #BestYearEver #NextStartsHere #Cubs @BleacherNation @JomboyMedia @MiLB @StoolBaseball pic.twitter.com/2fmbn85l3v

— Tennessee Smokies (@smokiesbaseball) April 15, 2023