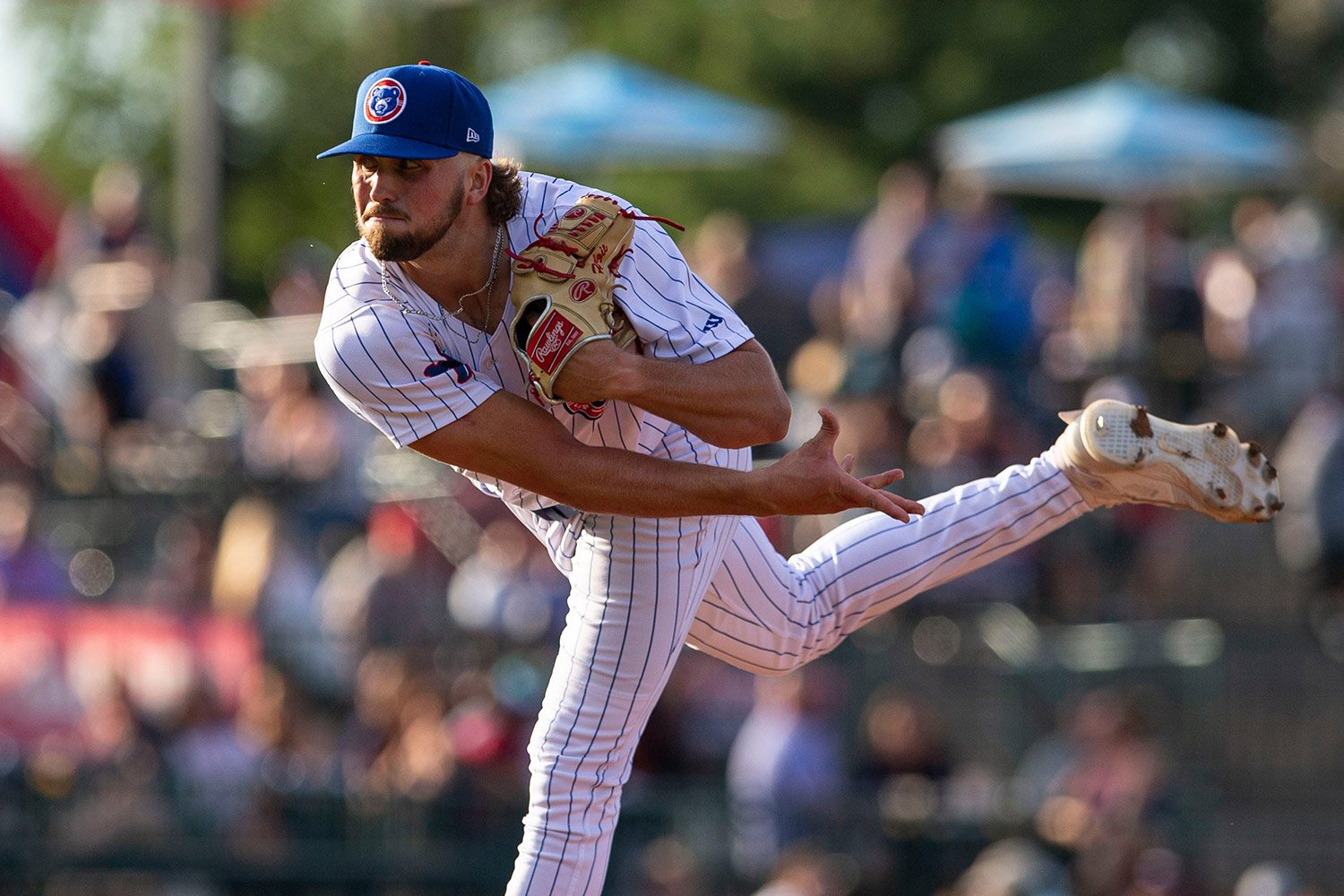 Image courtesy of © Chloe Trofatter / USA TODAY NETWORK
Iowa Cubs, AAA (2-4) 
Iowa continued to struggle this week, dropping five of six to Indianapolis. Jordan Wicks was called up, throwing a bit of a wrench into things. With the September roster expansion about to happen, Iowa will likely get picked over a few more times between now and the next update.
🔥Alexander Canario: 266 wRC+, 30.8 K%, 3.8 BB%, 4 HR, 4 2B: The K% remains too high, even for a run like this, but when you hit four home runs and supplement that with four doubles, you can kind of forgive it. The last hurdle for me is to see that K% dip to ~28% or so, but there's no denying the power here.
🔥Luke Little: 3.2 IP, 7 K, 2 BB, 0 R, 0 ER: Luke Little continues a theme of "guys who probably make it to the Cubs in September."  The lone member of the 2020 draft class making considerable noise, Little also represents a need for the Cubs: a left-handed weapon out of the bullpen. Luke Little has managed to control his walks in AAA more than in other stops, and that's his big key. Mid-to-high 90s from a left-handed arm will always play if you can command it just a little bit.
🔥Matt Mervis: 134 wRC+, 28% K%, 8% BB%, 3 HR, 1 2B: Time is probably up for Matt Mervis in getting a second call-up. Maybe they'll go with Mervis over Canario as a bench bat, but as limited as he is defensively, it's probably AAA from here on out for him. He's had a relatively good run since returning to AAA, but it likely won't be enough.
🥶Pete Crow-Armstrong: -5 wRC+, 44% K%, 8% BB%, 1 2b: Oh, how the mighty have fallen!  It's just a bad week, and these happen to elite prospects, too. I have a feeling this will be the last week of Pete Crow-Armstrong having a full slate of AAA games; expect to see him in Chicago by the weekend. 
🥶Yonathan Perlaza : 15 wRC+, 14.3 K%, 19 BB%: The walk numbers are good for Yonathan Perlaza, but he achieved a single hit over this last week. With Pete Crow-Armstrong and a streaking Alexander Canario both playing the same positions, it's unlikely at this point the Cubs will add Perlaza to the 40-man. What they do in December with him will be interesting.
---
Tennessee Smokes, AAA (3-3)
This was another middling week for Tennessee, pulling three wins out of six against the Chattanooga Lookouts on the road. The Lookouts are currently in second place in the Northern division, as despite the .500 week, the Smokies remain a few games clear in the division.  
🔥Cade Horton: 5 IP, 6 K, 3 BB, 0 R, 0 ER: I almost debated putting him in the "cold" section for the uncharacteristic three walks, but I think that's pretty harsh. I think that also just goes to show what kind of a season Cade Horton has had, that somehow, six strikeouts in five scoreless just isn't enough for me to put him automatically on the "hot" list. That's a special season.
🔥Porter Hodge: 3 IP, 4 K, 0 BB, 0 R, 0 ER: It's time to give Hodge some love, as he's not surrendered a run since a major blowup on August 5th. He's had a bit of a down season, entering as someone who was a sleeper pick, but if he can end it strong, Hodge could challenge for bullpen work in 2024.
🥶Owen Caissie: 88 wRC+, 42.8% K%, 25% BB%, 1 2B: Strikeout city for Owen Caissie this week. He'd been doing a pretty admirable job controlling this more recently, but the last few weeks have been a bit on the rough side. Hopefully, he breaks out of the funk and ends strong, as the Cubs will likely have spots in Iowa opening up, and a hot end of the season will likely earn Caissie a call-up to Iowa at the start of 2024.
🥶Haydn McGeary: 62 wRC+, 24% K%, 24% BB%, 2 2B: Not the best week for Haydn McGeary. He's only had two home runs over his last 51 PAs, and while he's not striking out a ton, if you're going to be a first-base prospect, the home runs are really important—hopefully just a blip, but something to watch until he gets hot again.
🥶Brailyn Marquez: 2.1 IP, 4 K, 8 BB, 5 R, 5 ER: It's just not happening for Brailyn right now, and it's a bit sad. The world looked at his fingertips in early 2020, and he was poised to make a strong contribution in Chicago. I'm not sure how the Cubs feel about him, but the kinds of struggles we're seeing in AA and their past frustrations with his conditioning could lead to a release this offseason.
---
South Bend Cubs, High A (2-4) 
When South Bend won, they won big, but sadly, they only won twice this week. South Bend played the Cedar Rapids Kernels and fell further behind the divisional leaders because of a poor week. Their biggest win came Thursday, in an 18-2 drubbing of the Kernals, but this was few and far between.  
🔥Matt Shaw: 289 wRC+, 8,7 K%, 4.3% BB%, 2 HR, 1 2B, 1 3B: Next week, I'm just going to copy and paste this section over because it's a safe bet he'll remain on this list until he gets promoted. Shaw is in the running for hitter of the month, and he's done nothing to suggest otherwise. 4XBH, a strikeout rate below 10%; what more can we ask for at this point?
🔥Kevin Alcantara: 247 wRC+, 19.2% K%, 3.2% BB%, 2 HR, 1 2B, 1 3B: A healthy Kevin Alcantara shrugged off the rust this week and put up some great numbers. Being that Alcantara is already on the 40-man, his continued dominance of South Bend will be important as the Cubs will likely want to start him no lower than Tennessee next year with the hopes he can get to Iowa. 
🤷‍♂️Brennen Davis: -42 wRC+, 78.6% K%, 0 BB%: I will give him the shrug emoji despite the bad numbers because it's just good to see Brennen Davis on the return. This is still technically a rehab assignment, as he's only got 14 PAs post-Complex League right now. Anyone else gets the cold emoji, but I'm giving Davis a bit of the benefit of the doubt.
🥶Michael Arias: 3 IP, 3 K, 1 BB, 4 R, 4 ER: Michael Arias struggles in South Bend, but this is good for his development. He's a raw prospect, and learning to keep pitches in the zone but not throw meatballs will be important to his development as a pitcher. Don't write him off because he's living on the cold list right now; instead, monitor the progress and hope it clicks one day.
---
Myrtle Beach Pelicans, Low A (4-2)
The Pelicans were the only Cubs MiLB team to score more victories than losses on the week, as they took four games at home against Kannapolis. The two losses suffered by Myrtle Beach were wild affairs in their own right, losing a track race 10-8 on Thursday and then a rain-makeup/shortened game as a part of a doubleheader Sunday 14-10.  Myrtle Beach remains five games out of the division lead but travels to division-leading Charleston for a six-game affair.
🔥Jackson Ferris: 4 IP, 5 K, 2 BB, 1 R, 1 ER: Another day and another really strong start for Jackson Ferris. As he's still only a year removed from being drafted straight out of high school, I think Myrtle Beach remains his "correct" placement; he's done everything to show that he needs to be in South Bend at the start of next season. I would not surprised to see him start to get top-100 honorable mentions as soon as this offseason.
🔥Jefferson Rojas: 187 wRC+, 13% K%, 13% BB%, 1 HR, 2 2B: Jefferson Rojas continues to impress as an 18-year-old in a very difficult environment to hit. He's at a 124 wRC+ for the season, a strikeout rate that remains under 20% and is playing far beyond his years. He's on a shortlist for "biggest breakout prospect" of the season for the Cubs.
🔥Pedro Ramirez: 328 wRC+, 23.8% K%, 19% BB%, 2 HR, 2 2B: Not to be outdone by his counterpart, Pedro Ramirez, age 19, put up a monster week.  Ramirez had a lot of helium coming out of Arizona this season, and while he's struggled early, he seems to be turning on the jets late. Keep an eye out on Pedro Ramirez for the last month of the season, as I think he's hitting his groove.
🔥Cristian Hernandez: 139 wRC+. 13.3% K%, 0% BB%, 3 2b: Hernandez is another Pelican who's starting to find his groove right now.  His last 45 PAs have seen him put up a 116 wRC+, with five doubles (three of which have come this week). He's been maligned a bunch this year, and somewhat rightfully so, but there's still a pretty good player here. A strong finish to the season would make everyone, including myself, a little better.