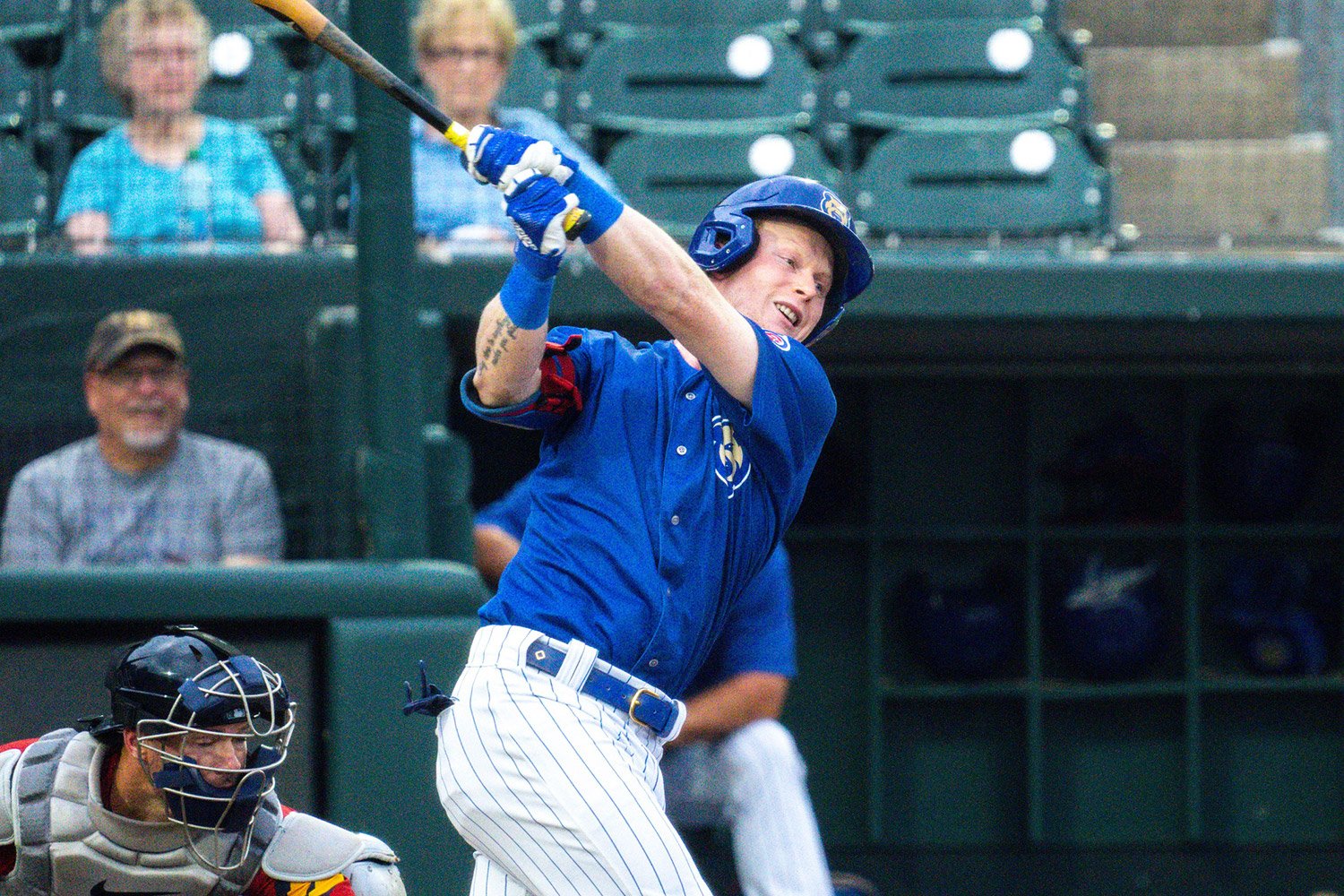 Iowa Cubs, AAA (2-4)
Iowa has been in some rut over the last few weeks. Perhaps it's due to a handful of call-ups, but the Iowa Cubs last won a series in an early August set against the Omaha Storm Chasers. Iowa is now just .500 in the second half of the season after finishing with the second-best record in the first half. 
🔥Pete Crow-Armstrong: 166 wRC+, 26.9% K%, 3.8% BB%, 2HR, 1 2B, 1 3B: A pretty strong week from Pete Crow-Armstrong all around. We can be a little nitpicky, as the walks still aren't great, and the K% is still a bit high (though down from recent results), but I'm willing to let that go in exchange for the easy power on display. Crow-Armstrong hit a grand slam as a part of a four-hit effort on Sunday. This may be the last MiLB update on PCA, as it was reported that he will be called up to Chicago on Monday. How much do we think we'll see of him?
🔥Matt Mervis: 154 wRC+, 20.8% K%, 20% BB%, 1 HR, 1 2B: How the Cubs handle the first base position this offseason will be one of the more intriguing storylines to follow, in my opinion. With two upcoming free agents in Cody Bellinger and Jeimer Candelario, who could handle the position, and internally, Matt Mervis, who's done nothing but hit AAA pitching, the Cubs have plenty of internal options (and a host of external as well). Mervis has done everything right since being sent back to Iowa. Do the Cubs give an earnest look at Matt Mervis again? Is he trade bait? Plenty of exciting Cubs baseball remains, but this winter will be quite interesting on the prospect front.
🥶Ben Brown: 2 IP, 1 K, 5 BB, 3 R, 3 ER: Well, that's not ideal. Ben Brown struggled with control this week as he works back from a lat injury that sidled him for most of August. Most of the "awful" numbers come from an outing in which Ben Brown walked three and gave up three earned, all while only getting a single out on August 6th, but even his more recent outing wasn't particularly great in that outing. Brown only got a single strikeout in just under two innings. Let's hope it's rust.
🥶Brennen Davis: -.14 wRC+, 33.3% K%, 4.4% BB%: Brennen Davis has had a few flash moments of quality at the plate since returning but has not had a great run overall. He's still at just 30 PAs in AAA, so it's not time to panic yet, but with only two weeks left in the AAA season, Davis' ability to finish the year strong is rapidly running out.
---
Tennessee Smokies, AA (2-4)
On the surface, a two-win week would offer little to celebrate. Still, a two-win week was exactly what the doctor ordered for the Smokies, as it represented just enough to clinch a playoff birth on tap before the playoffs is a last home series against Rocket City and, hopefully, a chance to get some reinforcements (more on this later) a bit of time to settle in before the playoffs.
🔥Brandon Birdsell: 5IP, 5 K, 1 BB, 0 R, 0 ER: Great start for the 2022 mid-round selection. Brandon Birdsell was a nice find for the Cubs out of Texas Tech at the time of the draft and has moved fairly quickly. I still wonder if Birdsell has enough juice to remain as an MLB starting option, if he'll be more of a Keegan Thompson swing-man, or if he'll be organizational up/down depth, but regardless, any of those outcomes will be useful from a 5th round selection. With only a handful of Tennessee starts, we may see him remain there at the start of 2024, but I expect he'll be on the MLB radar for spot starts come summer.
🔥Matt Shaw: 122 wRC+. 21.7% K%, 8.7% BB%, 2 HR, 2 2B: Don't let the .200 batting average fool you. Matt Shaw had another good week in Tennessee. We constantly asked, "Is Matt Shaw too good for South Bend?" and we might have to ask the same about Tennessee. He remains imposing in his first run in the professional ranks. Earlier this week, when asked who he tries to emulate, Matt Shaw mentioned that he tries to play like Dustin Pedroia, and frankly, the skillset matches up.
🥶Cole Roederer: 8 wRC+, 41% K%, 0% BB%: There was a time when Cole Roederer was a strong candidate for MiLB Comeback Player of the Year in the Cubs system, but his season has taken a sharp decline over the last two months. The K's are too frequent, and when he's not hitting home runs, he's not bringing enough value. His swing will always remain one of the prettiest you'll see around, but the results aren't there. 
🥶Pablo Aliendo: 54 wRC+, 20% K%, 20% BB%, 1 3B: Pablo Aliendo was another player who started very strong but has had a rough last 30 days. Over his last 20 games, he's hitting just .156 with a 77 wRC+, and this last week isn't helping the cause. He's still got a nice 110 wRC+ for an AA catcher, so Aliendo isn't entirely off the radar, but for a breakout prospect, you'd like to see a stronger finish.
---
South Bend Cubs, High A (5-1) 
South Bend may have been eliminated from the playoffs, but they certainly didn't let anything bring them down this week. The Cubs won 5 of 6 against Quad Cities, highlighted by a whopping 26-run effort on Wednesday. Many South Bend Cubs will likely get promoted to Tennessee for their playoff push. Moises Ballesteros has already reportedly gotten called up, and I'd bet to see Kevin Alcantara go up as well (and a few others to boot).
🔥Kevin Alcantara: 304 wRC+, 13.6% K%, 13.6% BB%, 1 HR, 4 2b: There really may not have been a player in the entirety of the MiLB who had a better week than Kevin Alcantara did. In what may have been his last week in high-A, Alcantara took no prisoners, hitting over .500, barely striking out, and picking up five extra-base hits. In weeks like this, you remember what kind of upside Kevin has.
🔥Moises Ballesteros: 190 wRC+, 4.5% K%, 13.6% BB%, 1 HR, 1 2B: No, I didn't transpose his walk and strikeout numbers; Moises Ballesteros only struck out a single time this week, compared to three walks. Yes, this also means "Big Mo" hit more extra-base hits than strikeouts. Look for Mo in the Tennessee section starting next week as he helps the Smokies hopefully capture a Southern League title. 
🔥James Triantos: 151 wRC+, 0% K%, 7.7% BB%, 1 3B: I also didn't mess up any numbers for James Triantos before you asked. James was able to avoid striking out all week, much like the aforementioned Moises Ballesteros. I'm unsure if he'll get the bump to Tennessee right now or if his season will be over. Regardless, his season in High-A will end with a cumulative 115 wRC+ and a miniscule K% of 10.6%. I still need to see more extra-base hits and power, but his bat-to-ball skill is unrivaled right now. 
🔥Luis Verdugo: 327 wRC+, 11.1% K%, 14.8% BB%, 2 HR, 5 2b: Talk about a late-season breakout for Luis Verdugo! Since July 1st, Verdugo has a 162 wRC+, a K% of 12.1%, has hit seven home runs with 16 doubles, and has looked like a different hitter. He's been a mainstay of the "hot" category, and there's some helium here for a 23-year-old who will be in Tennessee to start next season. He remains Rule 5 eligible, but I don't think he'll be picked. Keep an eye on him as a sleeper in 2024 to make the Cubs if these last two months were a light switch and something's changed.
😟Michael Arias: 2.1 IP, 5 K, 5 BB, 0 R, 0 ER: Michael Arias came out of Sunday's game with an apparent injury. Prior to being hurt, Arias was kind of all over the place, with five strikeouts and five walks, but the concern here is the injury. Arias had a great season, all things considered, so I'm a little worried that it could all be undone with a bad injury. Let's hope he's healthy, can get some good work over the offseason, and then go full bore next year.
---
Myrtle Beach Pelicans, Low-A (4-2)
The Myrtle Beach Pelicans finished off their last week of the regular season, winning four of six at home against Columbia, capping off their regular season on a high note. Hopefully, the momentum will carry them into the week, as they play three games (if necessary) against Charleston, the first on the road and the last two at home. 
🔥Jackson Ferris: 5 IP, 6 K, 1 BB, 0 R, 0 ER: Fresh off one of his worst starts on the season, Jackson Ferris bounced back with five strong innings. Throwing 56 innings in his first season as a professional, Ferris finished with a K/9 over 12 and a 3.60 xFIP on the season. If there's some polish, it's on being more deliberate and consistent in the zone. He's just 19; there's some funk there, and the arrow is pointing in the right direction. 
🔥Brian Kalmer: 271 wRC+, 16.7 K%, 4.2 BB%, 3 HR, 2 2B: I have no idea if Brian Kalmer will continue to be this good in the future, but the present is really fun. He's also learning, as his K%, which used to be in the "danger zone," has dropped to 20%. I have no complaints about his first stint. His age says we should expect him to be better than Low-A, but he literally finishes with a WRC+ of 200, and I'm not entirely sure that's just age. 
🔥Jonathon Long: 127 wRC+, 21.7 K%, 9.1% BB%, 2 HR, 1 2B: Again, ignore the .200 batting average Jonathon Long had and focus on the .371 wOBA and the 127 wRC+. Like Brian Kalmer, Long is probably too old and good for Myrtle Beach, but they also put up eye-popping numbers. Kalmer has overshadowed him, but that has less to do with Long and more with Kalmer. 
🔥Drew Gray; 3 IP, 5 K, 2 BB, 1 R, 1 ER: Drew Gray has been lights out recently, with 22 strikeouts in just ten innings. The Tommy John surgery seems quite successful, and the young left-handed pitcher finished 2023 off wonderfully. I wonder if he'll start in Myrtle for a month like Cade Horton to protect his arm or just go straight to South Bend?
🥶Luis Rujano: 1 IP, 1 K, 2 BB, 2 R, 2 ER: Not a super strong finish for Luis Rujano, but a great season nonetheless. He's made himself interesting enough that an early season 2024 call-up to South Bend, or even a South Bend start, is on the table. Either way, for a pitcher who reportedly only had a fastball this time last year, he's had a wonderful season. I've got some hopes that Rujano can eventually end up in an MLB rotation.
1