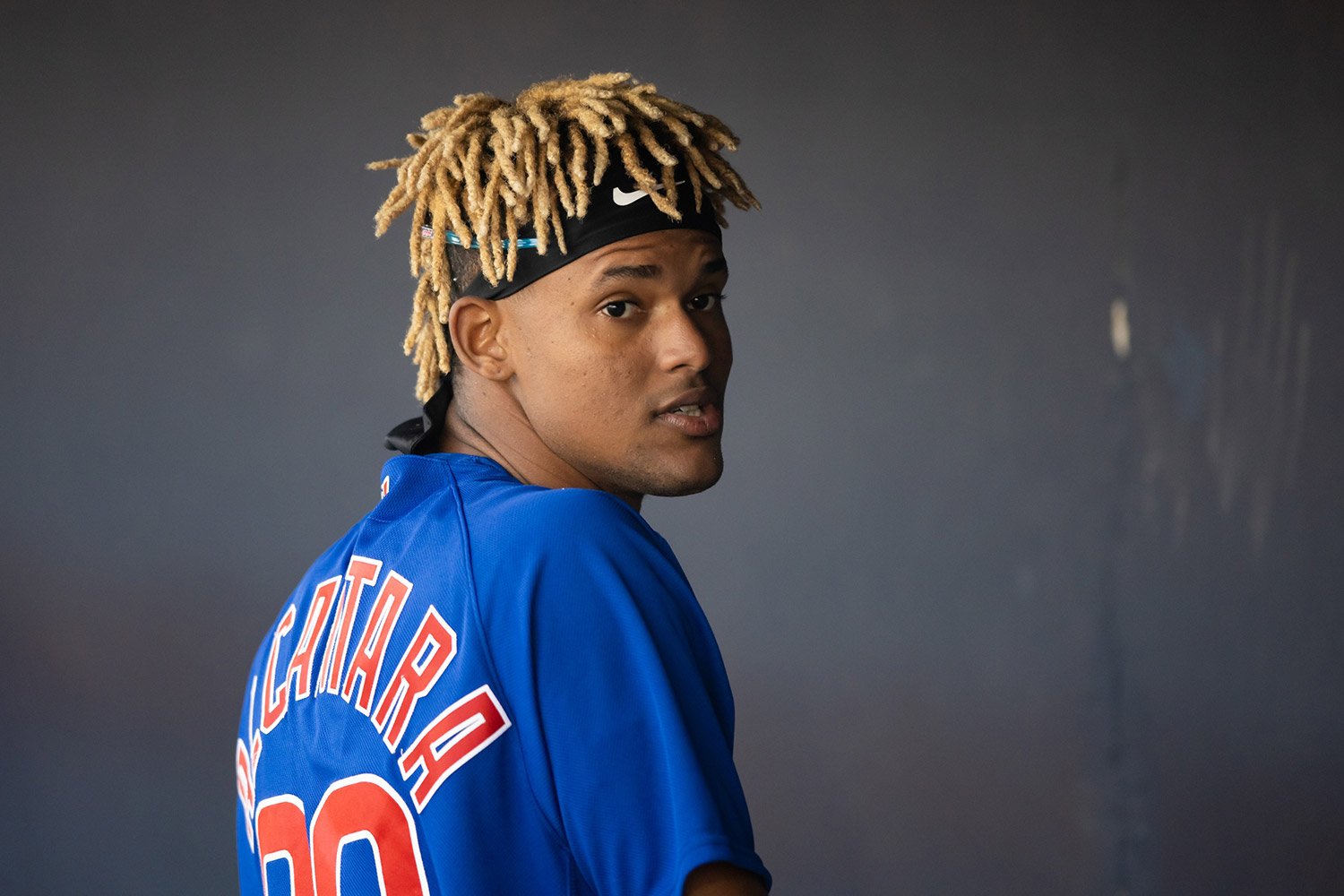 Image courtesy of Mark J. Rebilas-USA TODAY Sports
Iowa Cubs, AAA (5-1) 
It's good to see Iowa have a great week for once. Not only did Pete Crow-Armstrong get his much-anticipated promotion, Iowa rattled off five straight wins. The Cubs had been struggling recently, but a home set against St. Paul seemed to be the cure. Iowa has one last regular season series on the road. 
🔥Matt Mervis: 20% K%, 4% BB%, 1 HR, 4 2b: Another week for Mervis on the hot list. He was better than others, as his K% wasn't touching 30% like it had been. He also hit his 20th home run of the AAA season, hitting a monster shot to left-center field. 
🔥Jeremiah Estrada: 2 IP, 4 K, 2 BB, 0 R, 0 ER: Estrada is working his way back from injury. A reliever with some of the highest-end stuff in the system pre-season, Estrada has battled injury throughout the season. There's still hope he can rediscover the fun velocity/slider combination that made him a possible high-leverage reliever, but he'll be competing with many young BP arms next season. Don't entirely count him out.
🔥Luis Vazquez: 103 wRC+, 25% K%, 10 BB%: 1 2b: Vazquez hit .313, so while there wasn't a lot of power production, I'm giving him the fire emoji. I wonder what will happen with Vazquez entering next season. He's got enough skill to make an MLB roster, and his glove gives him a nice floor. A Jose Iglesias type of journeyman bat-to-ball skill with a plus glove can't be ruled out. But does he get a chance in Chicago? I could see him being moved in a trade this offseason for a team with an opening up the middle as a cheap, effective 3rd piece in a trade.
🥶Brennen Davis: 16 wRC+, 31.6% K%, 10.5% BB%: Man, it's been hard to watch Davis this year. He's either making a ton of weak contact or swinging and missing. Even in a strong week for Iowa, Davis doesn't look right. I'm not entirely abandoning ship. He's had no consistent baseball for years at this point, but he's waiving a lot of really major red flags on his own. Maybe a strong week, a strong winter, and we'll see old Davis. Or maybe there's no more old-Davis in there anymore.
---
Tennessee Smokes, AA (5-1)
Tennessee got a lot of help this week, with players like Moises Ballesteros, Kevin Alcantara, and James Triantos all added to an excellent team. The results are evident.  The Smokies took 5 of 6, and each of the aforementioned players played a role in their success. Tennessee's playoffs begin this week against the Chattanooga Lookouts in a best-of-three-set. 
🔥James Triantos: 119 wrC+, 15.4% K%, 7.7BB%, 1 2B: That's how you make yourself noticed in AA. James Triantos showed zero issues in his first three games in handling AA pitching, making a lot of contact, and overall, being the same Triantos we've known. I'm glad to see him hit the ground running, and hopefully, 2024 will continue that upward trend.
🔥Kevin Alcantara: 130 wRC+, 33.3% K%, 14.3% BB%, 1 HR, 1 2b: It's probably going to be a bit rocky with the strikeouts for a bit for Kevin Alcantara, but that's not crazy considering his jump. He's a long-levered hitter, and as he moves up, pitchers will attack up more and more with velocity. The good news is he's hitting for power and taking walks, so that we can accept the strikeouts for now. There's a shot Alcantara could be on pace to make his MLB debut next year if things progress quickly; however, it is probably more likely he won't be up until 2025.
🔥B.J. Murray : 215 wRC+, 10% K%, 20% BB%, 1 HR, 5 2b: A pretty ho-hum week for BJ Murray, with a .375 batting average, five XBH, doubling his walk total from his strikeout total. What a season Murray has had, and he's remaining a standout even after the Cubs brought up a handful of interesting prospects throughout the year.
🥶Kohl Franklin: 4IP 7 K, 0 BB, 6 R, 6 ER: This is such an odd line for Kohl Franklin. Normally, Kohl Franklin blowups are walk-related, but Kohl Franklin struck out seven in four innings while walking none. Instead, Franklin got pounded in the zone, giving up four extra-base hits and two home runs. It's good not to walk people, but forcing meatballs into the zone doesn't work out. 
---
Myrtle Beach, Low-A (1-2)
Myrtle Beach had a short week as their playoffs began (sadly ended) this week. Nothing is to take away from their excellent season. Many great prospects started in Myrtle Beach, only to end up in South Bend or even higher. 2023 draft pick Zyhir Hope also made his professional debut above Arizona this week. With the system's depth, I'm excited about the fun players coming through.
👎Game 1: Loss, 2-1: Game 1 was a close affair, started by Jackson Ferris. Sadly, Ferris (4.2 IP, 3 K, 3 BB, 2 ER) didn't have his sharpest stuff in his most important turn in the rotation, and the Pelicans got down early. None of the Pelicans star players had big games today. Brian Kalmer, Jonathon Long, Jefferson Rojas, and Cristian Hernandez were all held hitless, with the only run coming from a Brendon Bateman single. Credit goes to the Pelicans bullpen, led by Koen Moreno, who kept the score close.
👍Game 2: Win, 3-0: Game 2 was much better for Myrtle Beach, who could stabilize themselves behind standout Drew Gray. Gray struck out six while walking three, and Pedro Ramirez hit a solo home run in the bottom of the fourth. From there, Jefferson Rojas added two singles, while Brian Kalmer and Jonathon Long both hit doubles, and the bullpen was able to lock things down. Kevin Valdez finished with four innings on the mound, striking out a whopping nine hitters.
👎Game 3: Loss, 18-4: Well, that sucks. At home, and staked to an early two-run lead compliments from an RBI single off the bad of Pedro Ramirez and a double play from Brian Kalmer, starting pitcher Marino Santy couldn't hold the lead. Santy gave up seven runs while walking three in just two innings. His defense didn't help him much, but Santy was poor overall. By then, the wheels had fallen off the wagon, and the game was simply never in doubt.