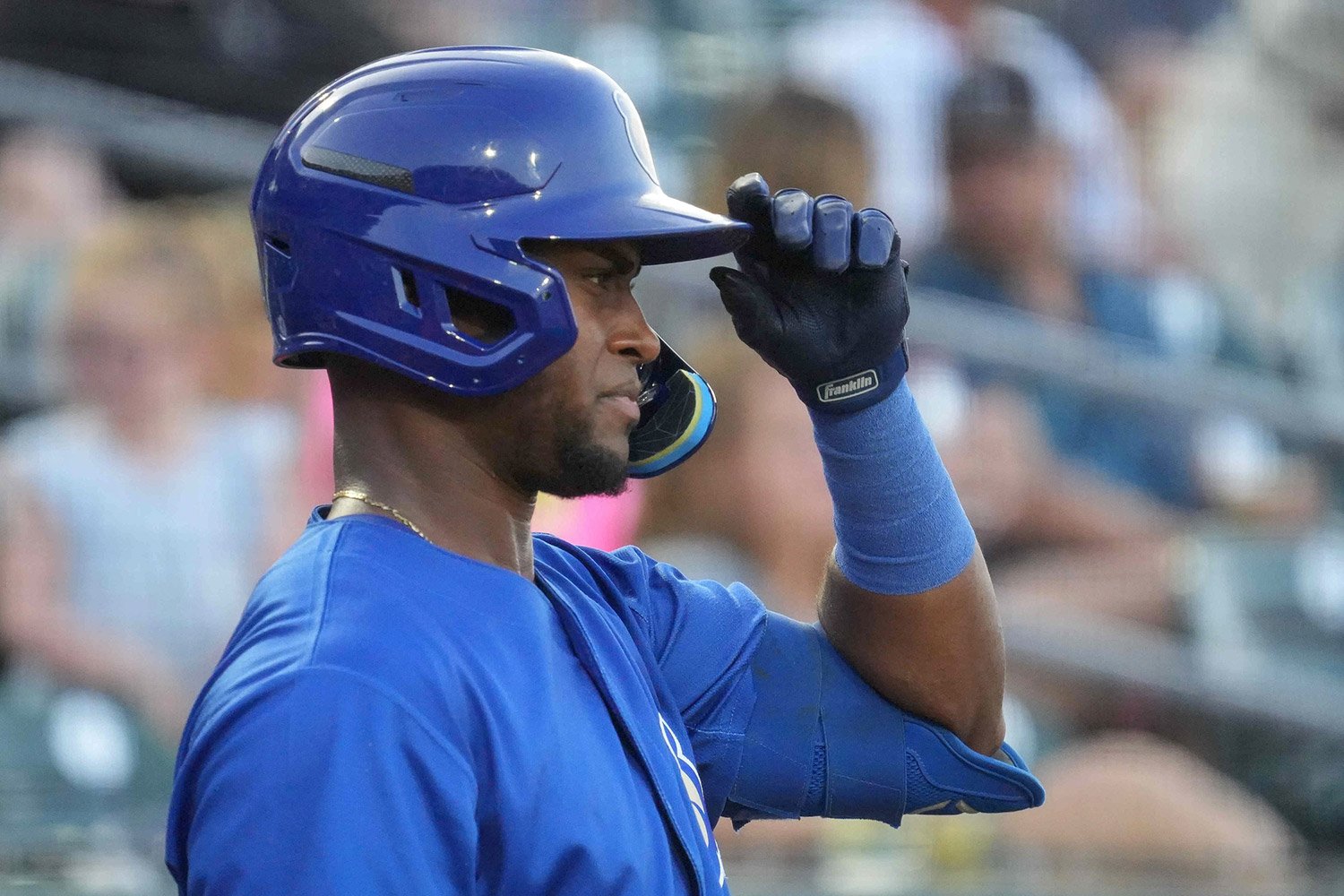 Image courtesy of Bryon Houlgrave/The Register / USA TODAY NETWORK (photo of Alexander Canario)
Iowa Cubs, AAA (5-0)
A great week on the road for the Iowa Cubs, who went undefeated against Omaha on the road. Offensively, the Iowa Cubs scored no less than seven runs in any game, punctuated by a 20-1 victory on Wednesday. Matt Mervis hit three home runs on his own en route to a 189 wRC+ for the week, though Mervis did strike out a little under 30% of the time. Alexander Canario seems to be turning a corner health-wise, as he hit .368, with a 162 wRC+, though, like Mervis struck out a ton, at 38.1%. Hopefully, the strong week at the plate, strikeouts be damned, signals good things for the future. The star of the week was Pete Crow-Armstrong; with four extra-base hits, two of them home runs, a .400 average, and a sub-20 % K%, PCA can adjust to the rigors of AAA life. Rounding out the notable prospects, Yonathon Perlaza had a sub-100 wRC+ but hit two home runs on his own. Brennen Davis was spotted in the Arizona Complex by Rich Biesterfield, and it seems like he's on a path to return.
On the mound, Shane Greene continued his comeback tour, throwing three scoreless, with three strikeouts. In due time, the Cubs will likely give Greene MLB innings as a veteran arm in the bullpen. Continuing the bullpen theme, Luke Little struck out three in three innings, more importantly, walking none. Continuing the bullpen theme, newly demoted Anthony Kay struck out a whopping seven hitters over 3 1/3rd innings without allowing a single base runner. Jordan Wicks also continued strong play in Iowa, striking out five in five innings pitched, walking only one. Lastly, Ben Brown remains out of action but, with luck, will also return shortly.
Tennessee Smokies, AA (4-2)
Another good week for the Smokies, finishing with four wins in six tries against the Biloxi Shuckers. Owen Caissie remains a man possessed, hitting over .400, with four extra-base hits, and continues to keep his K% in acceptable ranges, striking out five times over the course of the week. His exit velocity on the season would rank him 15th in the entire MLB, and he's doing it as one of the youngest players at his level. B.J. Murray Jr had a big week, hitting a pair of home runs while finishing the week with a wRC+ over 200. On the opposite end, McGeary would appear to be scuffling lately with a .143 batting average but has kept his K% below 9% over that time and seems to be having just a little spell of bad luck. Catcher Pablo Aliendo had a decent week, hitting a home run, but only has four walks over his last 70 PAs, and all four walks came in just two of those games.
On the bump, Cade Horton had one of his weaker starts, lasting four innings, giving up three runs (two earned) and striking out only a pair. In his defense (or maybe not, if you watched the game), Jordan Nwogu and Cole Roederer misplayed back-to-back balls, and a few dink-hits were the cause of those runs. Kohl Franklin, however, had a nice game, throwing five innings, and allowing no runs, while striking out three and walking only two. Since the calendar ticked over to July, Franklin has an era of 2.02, so there seems to be some progress occurring. Wrapping up the name worthy Smokies, Brandon Birdsell went five, allowing two runs; Hodge struck out three in a single two-inning stint while allowing no runs, and Scott Kobos struck out a pair without surrendering any runs.
South Bend Cubs, High A (1-3)
South Bend had to battle themselves and rain this week, losing multiple games due to weather. When they did play, they struggled, dropping all but one. Matt Shaw was a bright spot, hitting his first two South Bend home runs, which were opposite-field line drives. He's just not being challenged here, evidenced by his roughly 15% K% and his 5% walk rate, and I expect he will be moved to Tennessee before the season ends. Moises Ballesteros just kept hitting, as he hit two home runs and finished with a wRC+ just south of 200 for the week. It's nice to see Mo turn doubles into home runs, finally. Josh Rivera, a third-round selection from 2023, struggled, getting no hits this week versus six strikeouts. As did James Triantos, striking out an uncharacteristic five times, posting a 41 wRC+. Kevin Alcantara returned to the ACL and should shortly rejoin the South Bend Cubs from a lower leg injury that cost him a month.
Michael Arias continued to struggle with his promotion to A+, walking four, giving up five hits, and four wins in under three innings pitched. It'd be easy to worry about Arias, but we have to remember he's a kid who's only recently started pitching, and these struggles, while not ideal, are good for development. He's a raw pitching prospect still. In some positive news, Brady McCullough struck out six in five innings pitched on Tuesday, marking his best start yet in South Bend.
Myrtle Beach Pelicans, Low A (5-1)
Hosting Fayetteville, the Myrtle Beach Pelicans took five of the six games in the set with a handful of dominating wins. Cristian Hernandez, who hasn't had the eye-popping season many wanted, had a great week, hitting .300 while only striking out four times. The physical tools are there, but he's still learning to channel them. Few steps forward this week, which will hopefully have a strong finish. 2023 draft pick Jonathon Long hit his first two professional home runs, though these were his only hits of the week. Jefferson Rojas hit a pretty empty .263, striking out eight times, walking none, and having no extra-base hits. With that said, he's still so damn young that an empty .268 is still impressive in my book. One of the more impressive debuts from recent draftees has been Brian Kalmer, an 18th-round selection who hit two more home runs and had a wRC+ near 150 for the week.
Jackson Ferris is the most notable arm at Myrtle Beach, and somewhat mirroring 2022 draftee Cade Horton, they had an up-and-down appearance, going four innings, K'ing three, and walking three. Drew Gray couldn't make it out of the first inning in his start, walking five, surrendering three runs, and getting all of two outs. Gray hit his max-inning pitch limit and was pulled. Positive developments continue for Luis Rujano, however, as he has back-to-back starts going four, walking only one, and this time striking out five. There's still much to work on with control, specifically his secondary offerings, but he's got the kind of velocity to end up a rotational arm if these things get sorted out.
That wraps things up for our most recent run of games. Outside of South Bend, it was a great week for results, and most of the Cubs' top prospects had strong enough weeks, with a handful of standouts. Did I miss someone you care about? Who was your MiLB player of the week?