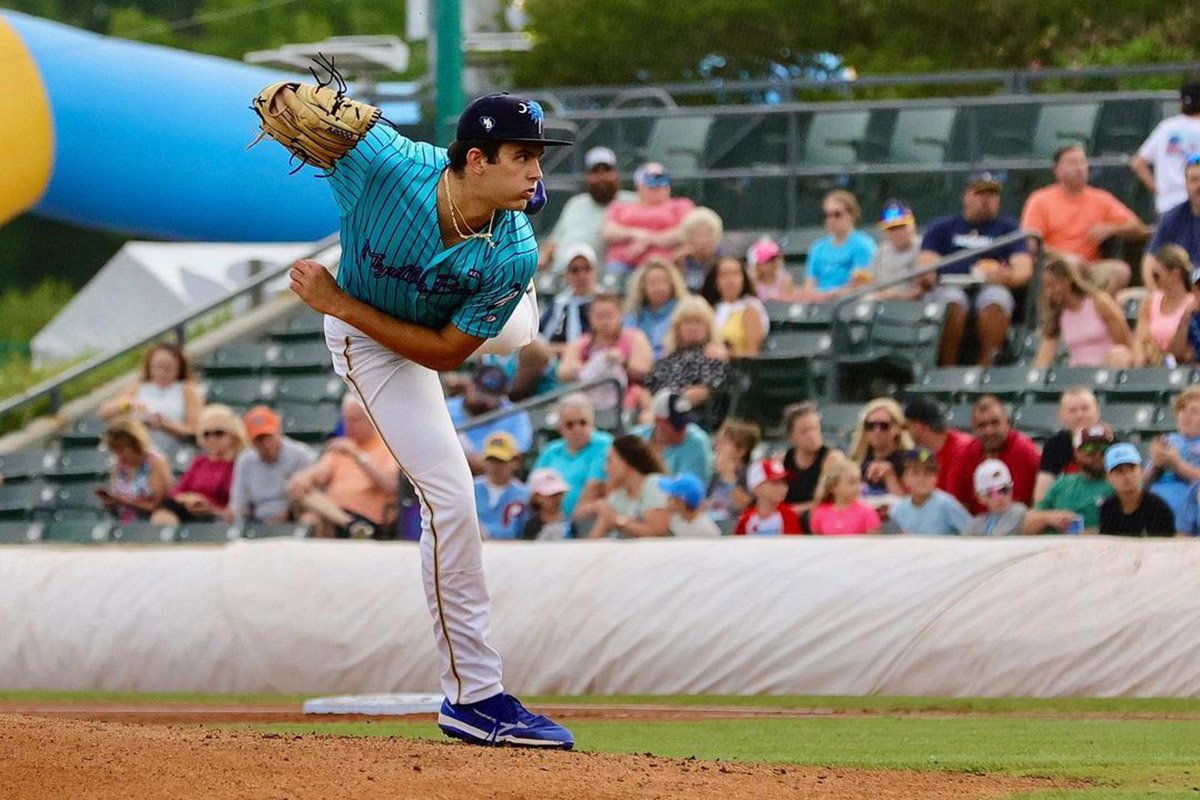 Image courtesy of Jackson Ferris
2023 Season Review
Jackson Ferris entered the 2022 draft with enough hype and helium that some mocked him for going to teams in the late first round. As Ferris "slid" down the board, it became more apparent that it was because a team higher in the draft had saved just enough slot money in their war chest to get the prized pitcher to fall to them in the second. That team was the Chicago Cubs. 
A left-handed pitcher who already stood 6'4", there was lots of projection in Ferris' body. It was easy to look at the lanky lefty on draft day and assume a team could unlock some added velocity, work with his breaking pitches, and create a pitcher with top-of-the-rotation style stuff on the backend. Part of the issue, however, lay in the mechanics. A bit of "funk" comes with this kind of a pick, and learning how to create consistency was going to be part of the problem.
2023 saw the Cubs somewhat aggressively pushing Ferris to Myrtle Beach. One of the top-lefties in the last class, this was aggressive, but probably where he belonged (and did he show he belonged!). As discussed previously, Myrtle Beach is a good place for pitchers in general, but it takes work for a 19-year-old pitcher at any level. It was clear, however, that the left-handed hurler would be good from his first turn on the mound, striking out seven and walking only one over three shutout innings. This foreshadowed things to come, as Ferris would finish striking out well over a hitter per inning throughout his 56 innings. More impressively, he surrendered only a single home run all season (and it took until August), likely due to his strong ground ball rate.
The season wasn't all perfect peaches and rainbows for Ferris, as he saw a high walk rate of five hitters per nine innings pitched. There was a 20-inning stretch between July 26th and August 31st (his penultimate start), which saw the pitcher walk 17 hitters across just 20 innings. This downside comes with a pitcher with a lot of "funk" in his delivery. It's also what comes with the territory of a 19-year-old kid making his first foray into professional baseball.
2024 Season Outlook and ETA
I fully expect the Cubs will give Jackson Ferris the bump to South Bend. Regardless of the walk rate, 2023 was a wonderful season for the young arm. Ferris is just too good for low-A, and his struggles are more with himself than with kids at that level. South Bend is not so pitcher-friendly and should give another level of competition. 
As we move forward, I expect the Cubs to work specifically on adding velocity and working on his mechanics. Over the last few years, few organizations have done a better job unlocking pitcher's velocity like the Chicago Cubs, so this is likely a place of emphasis. Standing well over six feet tall, Ferris offers tons of extension on top of his impressive velocity (sitting 92-95 mph usually and the ability to touch a few mph higher). If the Cubs can coax this average up a little to the 94-96 mph range, they'll have an arm around the top of the leaderboard for left-handed starting pitchers league-wide. 
The mechanics will be the biggest sticking point. The good thing about a "funky" delivery is that it can keep hitters uncomfortable in the box and makes pitch-tracking harder. However, this comes at the cost of consistency, and working on ensuring that the consistency improves will likely be important moving forward. Jackson's stuff is good enough to stand on its own, so the Cubs may want to clean up his delivery a bit. 
Regarding an ETA, we're still a few years off from seeing Jackson Ferris in Chicago. A full year across levels in South Bend and Tennessee is still lying in front of him, but he seems like the kind of arm who could be a quick mover if he can hone his control. There's legitimate top-of-the-rotation stuff and ceiling in Ferris's arm. With all starters comes every caveat of "Can he stay healthy?" so there will be a bit of luck involved here, too. Overall, he's a name that could pop up as a top-100 name in mid-2024, and by the end of the season, he could have the kind of stuff to force his way near the top 50.
Share
[[Template core/front/global/follow is throwing an error. This theme may be out of date. Run the support tool in the AdminCP to restore the default theme.]]