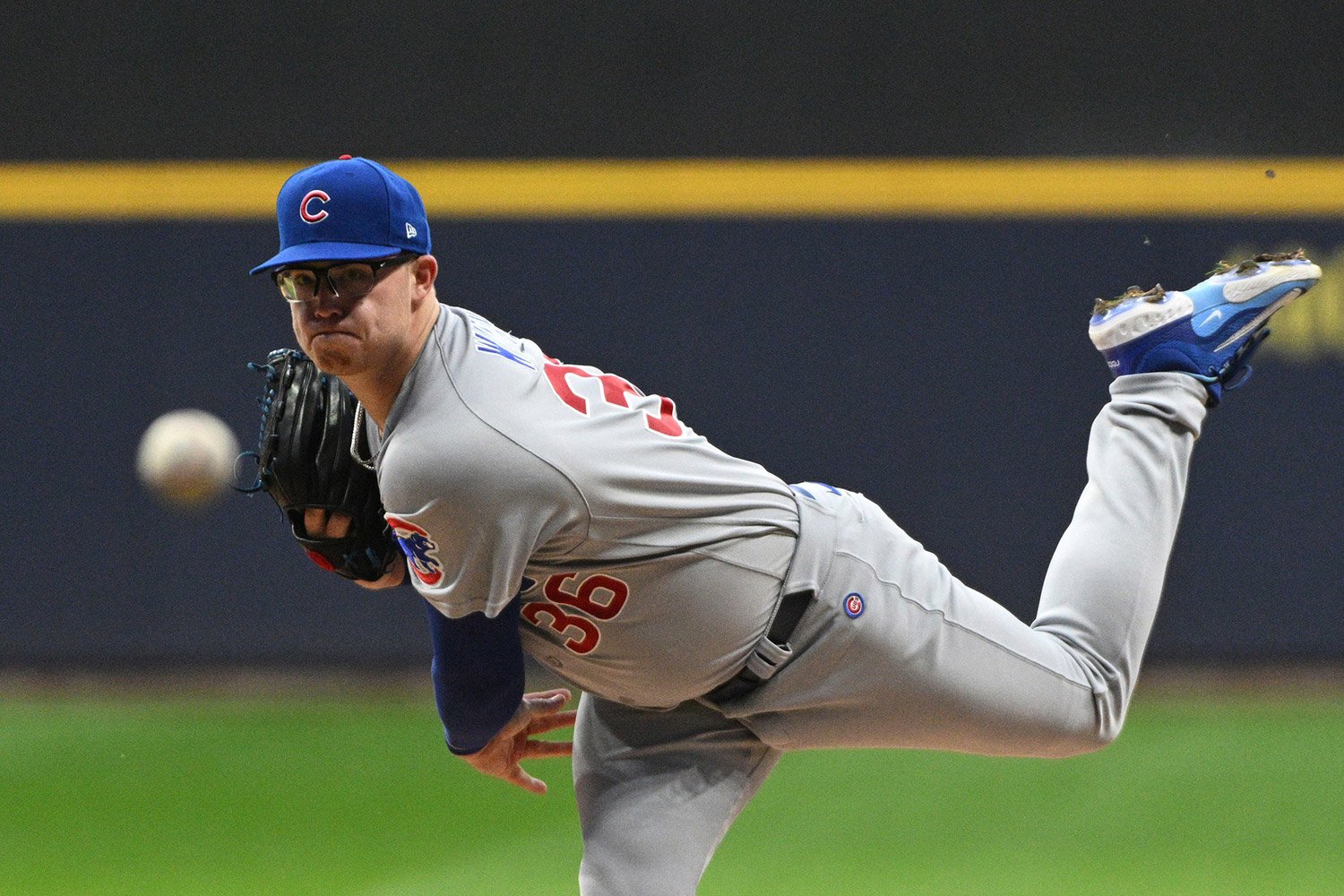 Image courtesy of © Michael McLoone-USA TODAY Sports
2023 Season Review
In 2019, the Cubs switched from Jason McLeod to Dan Kantrovitz to lead the organization's draft and scouting strategy. Despite 2021 not being his first draft, the 2020 draft was so weird, awkward, and out of the norm that it would be fair to call the 2021 draft, in which Jordan Wicks was selected, his first "real" draft. The left-handed hurler came by way of Kansas State with a plus changeup and the profile, at least on draft day, as a low upside but solid starter. Carving his way through the minors to date, Wicks surprised with a bit higher than expected strikeout rates and an impressive number of ground balls.
2023 saw Wicks start where he left off in 2022 in Tennessee. As discussed before, and will be again with other prospects who spent time in the Southern League, the first half of the season saw the league experiment with a pre-tacked ball, so all data comes with a caveat. Tennessee was a mixed bag for Wicks; his strikeout rates remained strong, as did his walk rates, but his home runs seemed to tick up as well, serving up nine in his half of a season at the level. Another interesting thing happened; he stopped getting ground balls, dropping his ground ball rate from roughly 47% to 40%. Despite this, he got off to a wonderful start, but the crafty lefty struggled a bit midseason before regaining his footing and ending up earning a promotion to Iowa; his overall numbers were impressive, however, as in 58 innings on the mound, Wicks struck out over ten per nine innings, with a pretty good 3.84 FIP. 
With the oddities of Wicks's time in Tennessee being fairly glaring, it was unsurprising to hear from Jordan's father that his son "hated" the baseball used in the Southern League. As he returned to a regular baseball, it might be hard to see that in his Iowa numbers. Wicks saw his walk rate climb and his strikeout rate drop, but it's in the batted ball data that we can see where Wicks went back to normal. Dropping his home run rate back down to under 10% of his fly balls, resulting in home runs, and seeing his ground ball rate climb back to the 47% range, the K-State grad began rounding back out into what we were used to seeing. After just 30 odd innings in Iowa, the Cubs called Jordan Wicks up to the major league roster on August 26th. 
It's hard to make a better impression in your first start than Wicks did, as he went five innings, striking out nine hitters over those five innings and giving up only a lone run. Proving it was not just a fluke, Wicks put together an excellent first 22 innings as a Cub, with a sub 2,00 ERA, a 48.5% ground ball rate, and limiting the hard hits. The only thing he could have done better was getting strikeouts, however, as his K/9 dipped to below 6 strikeouts per 9 innings thrown. Whether it was fatigue, the lack of strikeouts, or a combination, Wicks would struggle in his last few stints, not even making it out of the second inning against the Brewers in his final start of 2023. Regardless, there was plenty of good in his game during this time, and he helped keep a banged-up rotation afloat during most of September,
2024 Season Outlook and ETA
Jordan Wicks will likely be on an MLB rotation come Opening Day. I hesitate to say the Cubs rotation because I think, ultimately, Jordan WIcks' name will come up in trade talks this offseason. With the Cubs interested in Juan Soto and Pete Alonso, plenty of teams will look at the young left-handed pitcher as a possible return. Jon Heyman reported the Cubs to be a team looking for "multiple" starters in the offseason, so it would suggest that the Cubs keep this possibility open themselves. 
Regardless of the team, Wicks will have some things to improve on. Looking at his Baseball Savant data page, Wicks did an admirable job limiting barrels, hard hits, getting ground balls, and even getting solid chase numbers in his first go at the highest level. With that said, what Wicks did not do was get a long swing and miss. With a fastball that sits just below 92mph, he can't expect to blow hitters away with velocity, so getting hitters to chase his plus changeup and solid curveball will be necessary. Wicks struggled in his fastball command in his last two starts, giving up four home runs. While the velocity stayed up, Wicks was overthrowing to overcompensate, being tired at the end of a long year. 
There's a bit of variation in the 2021 first round pick ceiling. Mentality and temperament-wise, it's hard not to see a Jon Lester at times, and with his strong control and a change-up lead repertoire, you can squint and see some Kyle Hendricks. There's a lot of "FIP-Beater" in his profile; he limits hard contact and keeps the ball on the ground. Then again, Kyle Freeland, another lefty, does many of the same things, and he's a borderline starting pitcher most years. Making sure he generates a few more swings and misses in 2024 will probably be the difference between Jordan Wicks, the underrated and unheralded mid-rotation guy, and Jordan Wicks, the borderline back-end-of-the-rotation guy.