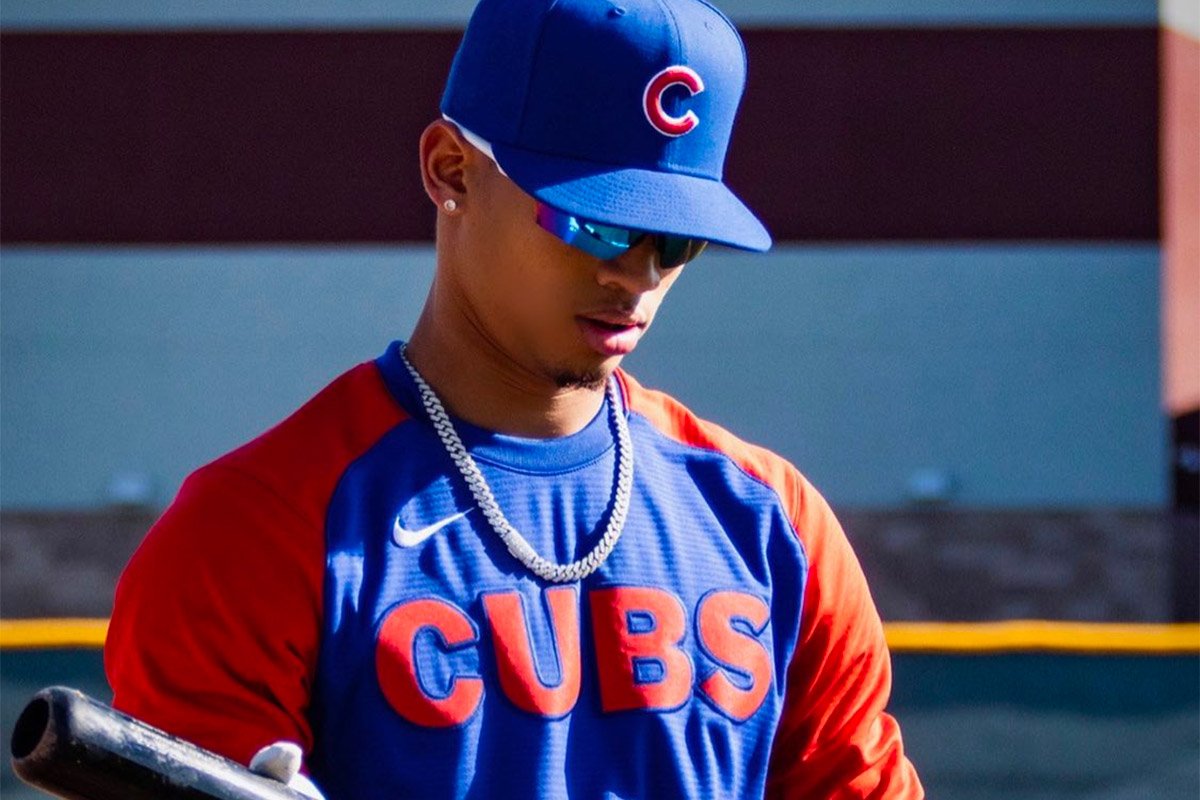 Image courtesy of Cristian Hernandez
2023 Season Review
Cristian Hernandez was once considered to be a massive international free-agent coup by the Cubs. Despite coming a bit later than anticipated, Hernandez was given a $3m bonus in the winter of 2021. Coming with massive expectations, Hernandez has struggled to hit those lofty comparisons. In my opinion, Hernandez is a great example of why comparisons for 15-year-old kids are so very unfair. How impossible is it for anyone to become the next A-Rod, let alone someone who would be a freshman in high school?
Looking at the raw numbers for Hernandez paints a pretty ugly picture of the youngster's time in Myrtle Beach. Posting a wRC+ of 77, a K% over 27%, and hitting just four home runs, it's easy to be highly discouraged by Hernandez. Hernandez is a tall, toolsy, lanky shortstop, and the power was something people touted as plus. Despite this, he's only managed seven home runs outside of the Arizona Complex league in 600 PAs. What seems to be an issue for Hernandez is his barrel control because his swing is quite visually appealing: 
That goes to show where the limitations are. In the video above, Josh Norris points to how good of a swing Hernandez looks to have, yet the ball doesn't get out. Can he control his lanky body to create the consistent barrel action needed for power? Despite increased contact numbers, posting declining ISO numbers suggests this is a legitimate possibility. 
There also was a change in approach for Hernandez mid-season. Hernandez's last home run in 2023 came on July 19th. From July 20th through the remainder of the season, his K% dipped to 24% (almost 4% lower than his season average), and his BB% jumped above 10% despite the lack of home runs. He had nine extra-base hits (eight doubles and a triple) over that span, which was a better rate of extra-base hits than the first two-thirds of the year, suggesting that there might be more power coming. There are still issues with things, so it's not all peaches and cream, as he only had an 86 wRC+, coupled with a > .230 batting average. The wRC+ of 86 is better than his season's line of 77, but it's hard to be excited by that, regardless.
Another caveat we can add to the argument is that Myrtle Beach is a really hard place to hit. Myrtle Beach isn't the best place for power numbers and tends to be a pitcher's league in total. It's not enough to answer the question of "Where is the power?" but it might be a part of the question. 
2024 Season Outlook and ETA
It's hard to tell if the Cubs will promote Hernandez to A+ South Bend or keep him in Myrtle Beach. On merit, he belongs in Myrtle Beach, but on the upside, an argument for being in South Bend is fair. His work over the offseason and the winter will play a large role for the soon-to-be-20-year-old. The Chicago Cubs have been more aggressive in promoting bats than they have on pitchers, so my guess is South Bend will be his home with the possibility of a developmental list return to the Complex League if it doesn't start well. This would also be a similar plan the team took with former IFA-bonus-baby Reginald Preciado. Getting Hernandez outside of Myrtle Beach into South Bend may also help.
We shouldn't overstate the downside, he's not a sunk prospect. He's tall, lanky, and the kind of player who could legitimately break out. While it's unfair to compare him to Alex Rodriguez, there's a reason people saw that, and the upside still is there. With an approach change signaled in his last 150 PAs, it could help him find the barrel control he has been missing. Much of this could be growing into his body, maturing, and adding core strength. Hernandez doesn't deserve to be a top-5 prospect in a deep Cub system and may not be the position's future, but he doesn't deserve to be written off, either. All seasons are important, but 2024 feels very important for Hernandez.  We're still years away from Hernandez getting on the MLB radar, so his ETA is probably hard to pinpoint, but I think 2026-2027 is around where he's aiming for at this stage.