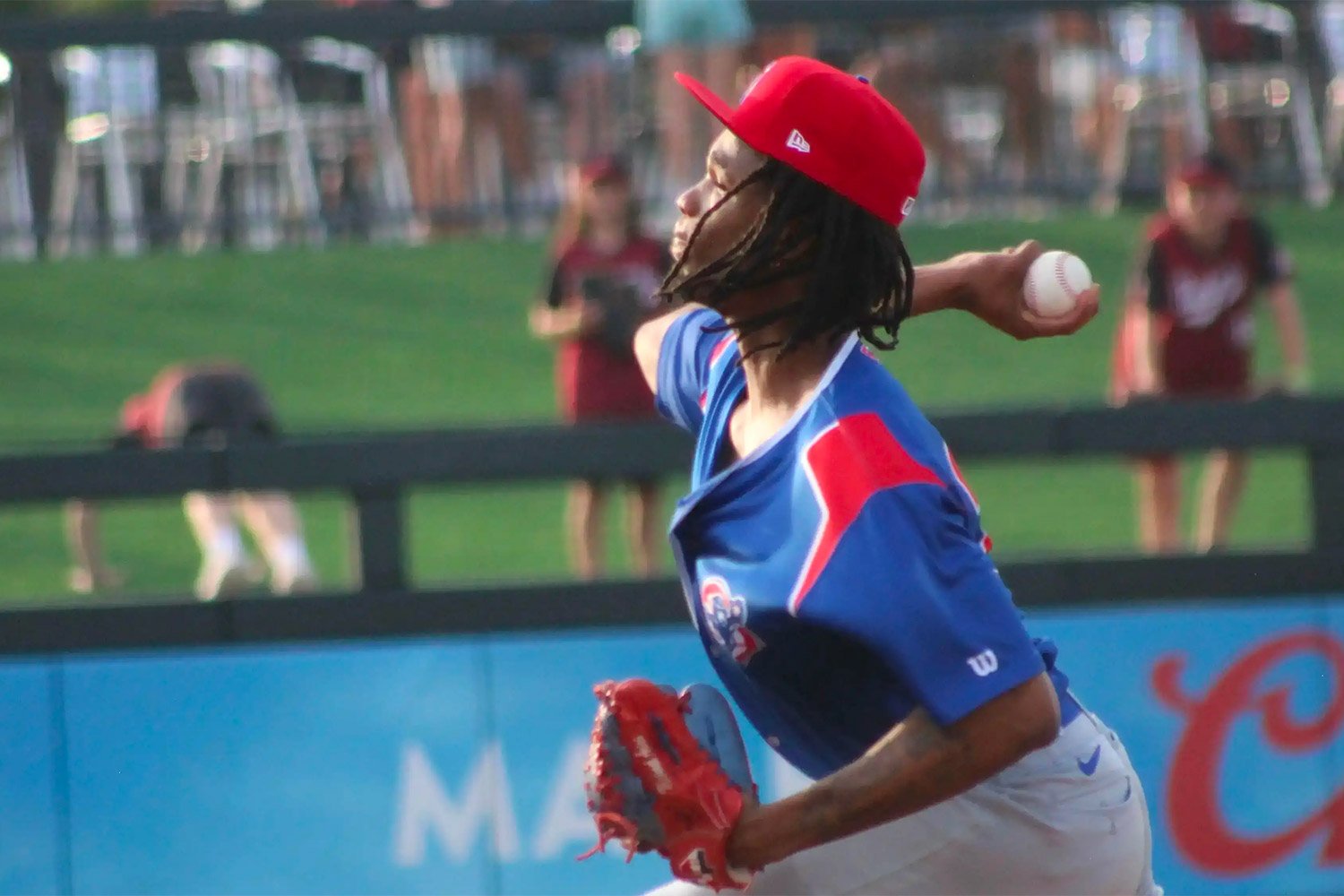 Image courtesy of Myrtle Beach Pelicans
2023 Season Review
Michael Arias has had a strange, fun, and winding route to becoming a top-20 organizational prospect. Originally signed as a shortstop by the Toronto Blue Jays, the Cubs scooped up Arias post-Covid to turn him from a shortstop into a pitcher. Since then, Michael Arias had not been seen much, compiling short stints in the DSL and the Arizona Complex League, which could have gone better. However, 2023 was a big change for the young hurler, and Arias is clearly on the map as someone with upside.
Michael Arias's biggest success was during a 42 IP stint in Myrtle Beach. Flashing a fastball that was reported to hit in the high-90s throughout the season and a funky delivery from a three-quarter arm slot, Arias posted an awesome 3.26 xFIP and a K/9 over 13. There are a few caveats in this, being that Arias was 21 years old and in a pretty pitcher-friendly environment, but it's fair to suspend some of that as we remember how raw and new to the position he is. The walk rate was high, sitting over 5 per 9/IP, but forgivable for a pitcher making his professional debut proper. If there's one thing it's clear Arias is a star about, it's his ability to limit hard contact and home runs, giving up just two home runs all season (likely due to his arm slot, slider, and fastball combination) 
Arias moved through Myrtle Beach quickly and was promoted to South Bend mid-season. South Bend was far more up and down and offered a unique challenge for Michael Arias. He managed to keep a somewhat respectable 4.25 xFIP and continue to limit home runs (as just one of his two home runs surrendered occurred at high-A). He had a more up-and-down roller coaster ride, being a part of a no-hit-shutout from the South Bend Cubs on July 6th, striking out seven in just a little over three innings on July 22nd, but also having games like his last start where he walked five while striking out five.
2024 Season Outlook and ETA
Be prepared to hear it often when we look at the Cubs' prospects, but Michael Arias will be another player on whom the Cubs will have to make 40-man and Rule 5 decisions. It's always a bit strange to see someone available for the Rule 5 draft around their 22nd birthday, but due to signing as an IFA, Arias is currently out of time and will need to be added to the 40-man or be eligible to be drafted. I do not think the Cubs will ultimately protect him, much like they exposed Luis Devers, the 2022 breakout pitcher. Suppose there's a small benefit to his struggles. In that case, I cannot see a team willing to commit to Michael Arias on the MLB roster for the entirety of the 2024 season, and you probably don't want to stash and "phantom injury" a player with as little background as Arias.
Michael Arias is ticketed for South Bend to start the 2024 season (assuming he's not drafted). There will be more leash here and a slower build time than many other pitchers in the Cubs' system. I wouldn't be surprised to see the Cubs give Arias a quick hook and turn him into a leverage bullpen arm. Most players who are converted position players end up as relievers down the road. Players like former Cub reliever Carlos Marmol (a converted catcher) and others such as Sean Doolittle, Kenley Jansen, and even the great Trevor Hoffman settle in as relievers. There are success stories like former college position player Jacob DeGrom turning into a Cy Young caliber starting pitcher, but those are much fewer and farther between. Michael Arias has a very loose and a bit wonky delivery, which I think lends itself more to the bullpen, allowing quick removals if he's not finding the consistency versus starting, where that can put you in much more peril.
Arias is a potential leverage reliever or a righty-killer with the arm slot and repertoire. There's a chance he's a starter, but he has more of a reliever's build.  As a starter, I don't think we'll see Michael Arias on the Cubs for a few years, maybe not until late 2025 or 2026. As a leverage reliever, there's a possibility of a late 2024 call-up if everything goes to plan and he settles in with his stuff, though 2025 would be more likely. However, none of that should be disparaging for a player who was clearly not making any headway as a position player. Great scouting find and win so far for the Cubs.