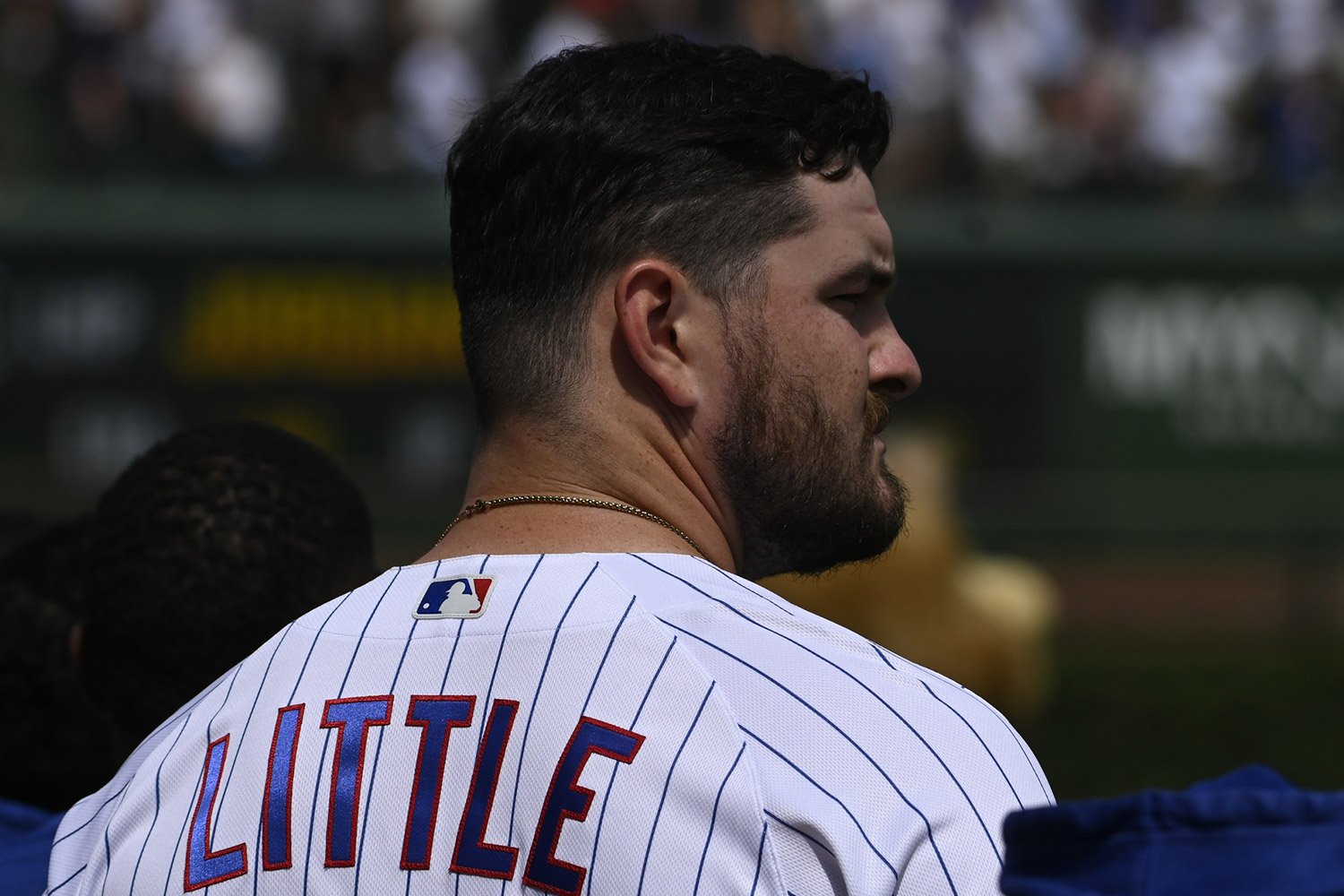 Image courtesy of © Matt Marton-USA TODAY Sports
2023 Season Review
Entering 2023, Luke Little was still being deployed as a starting pitcher in the Chicago Cubs organization with the hope that one day, he could be a part of the rotation. After four starts in South Bend, however, Luke Little's trajectory was changed rapidly when he was moved to the bullpen, speeding up his ETA and leading him to speed run three levels on his way to pitch in a cup-of-coffee stint with the parent club in September. 
Looking back, Little's season is a bit strange, as it wasn't as if Luke Little was failing as a starter with South Bend, at least on the surface. After his first four starts, little had a microscopic 0.57 ERA and 18 strikeouts in 15 innings. The issue was the seven free passes Little also gave up, and the Cubs decided that the path forward for Little would be in the bullpen. While walks would continue to be an on-and-off issue for Luke Little, they rarely fell into "scary" territory. Only on three outings did Luke Little give up more than two walks, and one was in a two-inning stint. While imperfect, he tended to be able to limit and control the walks, showing improved command as he went.
The switch to the bullpen put him on a collision course with the majors and he has sped up his ETA. It's easier to control walks in the bullpen, and as a left-handed pitcher capable of reaching the upper 90s with ease, Little's trajectory shot up like a rocket ship. Always a pitcher who posted high K/9 numbers, Little saw his strikeouts jump to over 16 per 9 innings pitched, just under 2 per inning. He was able to maintain this level at both AA Tennessee and AAA Iowa. He's also posted strong ground ball numbers, reaching 50%+ in Tennessee and over 40% in Iowa (in limited data). This shouldn't be surprising, as he throws two pitches, a fastball, and a sweeper, which should result in ground balls. This is the profile of a power arm out of the bullpen who could see high-leverage action if the walks remain in check.
Little was promoted to the Chicago Cubs at the beginning of September and logged just under seven major league innings, striking out 12. Walks remained a slight concern, as Little issued four walks but never had an appearance where he walked more than one. He also continued to get ground balls and looked the part. 
Luke Little is special on the mound because he's huge, standing at 6"8", and averaged 96.6mph on his fastballs. His size and extension make that roughly 97mph fastball look more like a pitch coming in at roughly 100mph. While there is limited data, Little's extension (where Luke Little releases the ball) is in the 98th percentile of all MLB pitchers. This kind of velocity and stuff can help to mitigate the walks. 
2024 Season Outlook and ETA
I would be disappointed if Luke Little didn't start 2024 with the Cubs. If you argue that he shouldn't be trusted as the sole left-handed arm in the bullpen or the primary leverage lefty, that's fair. He needs to be on the MLB team because he's already on the 40-man roster and the stuff he has. The stuff is just too good to ignore. I think he should have been given a bit more leash last season, and I hope he gets that leash in 2024.
I think Little has a leverage-type upside. Maybe he's not a "closer," but he's someone you can bring in later in the games and go to in important situations. There will always be a question with his walks, but you can survive with walks if you have great stuff in the bullpen. While this is not a comparison or a comp, Devin Williams, Aroldis Chapman, Alexis Diaz, and Josh Hader finished well above four walks per 9 innings pitched (and upwards) and still finished top-10 in reliever fWAR. You can survive with walks if you can strike out hitters at a high level and limit damage done, both of which Luke Little has the profile to do. On top of that, few pitchers have the fastball velocity and the extension on the release Little has.
If I have one other question, it comes in the form of wondering how Little's fastball/sweeper will play against right-handers. Is Luke Little someone capable of attacking righties consistently? Or will we see another case of Hayden Wesneski or Adbert Alzolay, where their fastball/slider repertoire caused extreme splits? With that said, it's a question you only get if you give Luke Little a chance, one I hope he gets.