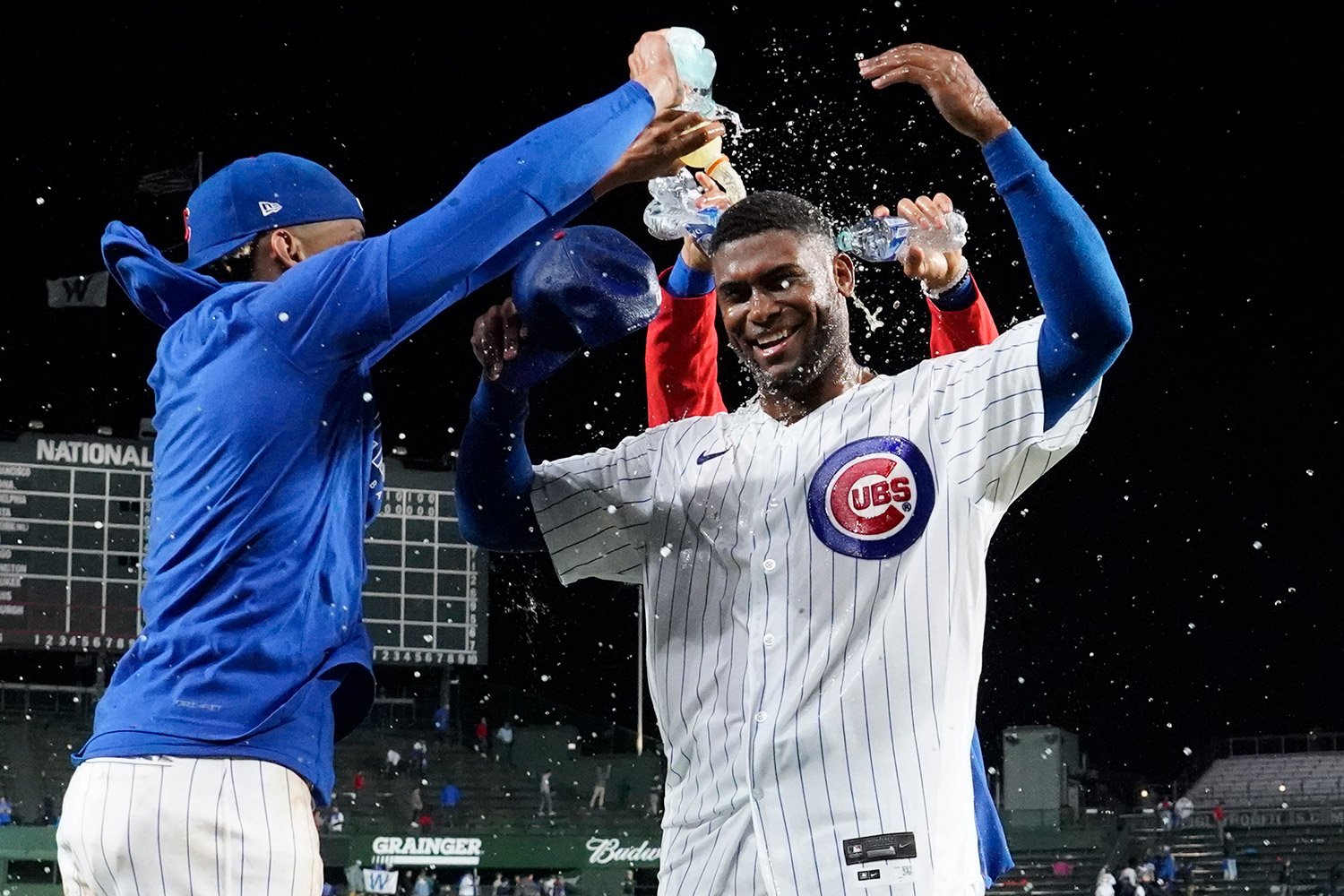 Image courtesy of © David Banks-USA TODAY Sports
2023 Season Review
As the 2022 season came to a close, few prospects had more end-of-the-season helium than Alexander Canario. Showing improved plate discipline and contact ability, not only did many believe Canario was on the path to an early season 2023 call-up, but others believed his 2022 was a key cog in how the Cubs handled their entire offseason. Instead, in late October, as the outfielder was legging out a ground ball in the Dominican Winter League, he slipped on the bag, fracturing his ankle and injuring his shoulder. Many were concerned his entire 2023 was over.
Despite the injury, Canario worked hard over the offseason rehabbing and got back on the field by mid-June. Short rehab stints in the Arizona Complex League and South Bend came with mixed results, but they didn't stop him from finally returning to Iowa on July 14th. In somewhat of a mixed-bag season in Iowa, the electric hitter showed what makes him so much fun and why people hesitate about his bright future. 
One fear people had was that the shoulder injury would significantly sap the power out of his bat for the season while he rebuilt strength. The good news is that even though it wasn't immediately shown, this concern would be alleviated by the end of his time in Iowa. In just 36 games, Canario hit eight home runs and 12 doubles, punctuated by a 14-game span that saw him to the bulk of his work, whacking 13 of these extra-base hits alone (six home runs and seven doubles) during that period alone. It took a bit, but the power was back, and Canario was teeing off on Triple-A pitching. 
This power output came with some questions. In 2022, Canario struck out around 19% of the time, a massive improvement over the near 30% rates he had been hovering at during his lower-level stints. In 2023, the strikeouts returned, as he posted a 28% strikeout rate in Iowa. Even during his 14-game span, which saw those 13 extra-base hits, Canario still struck out 30% of the time. Between August 4th and August 30th (his last game in Iowa), Alexander struck out in every game he played. Hitters who strike out over 30% of the time have a much harder path to success, so seeing Canario revert to being a higher strikeout hitter was problematic. Something that looked like it had been solved the year prior was rearing its ugly head again.
Regardless of the strikeouts, the Cubs promoted the outfielder to the MLB team at the start of September. Blocked by a red-hot Seiya Suzuki and Ian Happ at the corners, and with Mike Tauchmann and Cody Bellinger playing center field, little playing time was available. In a short stint, Canario saw 17 PAs in Chicago, much like this 2023 season: a mixed bag. Hitting his first career major league home run in dramatic style (an absolute bomb of a grand slam) but striking out eight times, the good and the bad were both on display.
2024 Season Outlook and ETA
As of writing this, Alexander Canario is out of options, meaning he must be on an MLB roster come Opening Day. There remains a chance that Major League Baseball will award the Cubs an extra option due to the injury suffered, which would allow the Cubs (or another team) to keep him in AAA if they wanted, but it has yet to be decided. That said, if he isn't given that option year, it makes the 2024 outlook for him in Chicago easier. In a perfect world, sitting a 23/24-year-old outfielder on the bench for much of the season isn't a comforting idea, as you'd prefer him playing somewhere. The Cubs, however, have most of the same roadblocks in place for Canario they did at the end of the 2023 campaign, though they are potentially swapping Bellinger for Pete Crow-Armstrong. DH is also murky, with Christopher Morel being the incumbent at the position and the Cubs being linked consistently with Shohei Ohtani and Juan Soto, who would likely slot into that space.
Ultimately, a trade may make the most sense for the Cubs and Canario. It wouldn't be a trade you'd be excited to make, but if another team values him as a starting corner outfielder, then the Cubs will have the opportunity to turn him into a player they may use more. As a primary corner outfielder or a designated hitter, he's in a challenging space. You have to scramble a few eggs to make an omelet, and the Cubs will have to make a few hard decisions on interesting prospects this offseason. Obviously, this could change if an extra option year is granted, but we'll have to wait and see if that occurs. There's a future where Canario turns into a starting MLB outfielder, and the upside of being a 30+ home run hitter is real. How the Cubs navigate the powerful slugger will be something to monitor over the offseason. Will he be a 4th outfielder? Will he be dealt? Will he get another option and get a chance to work in Iowa? We'll have to see.