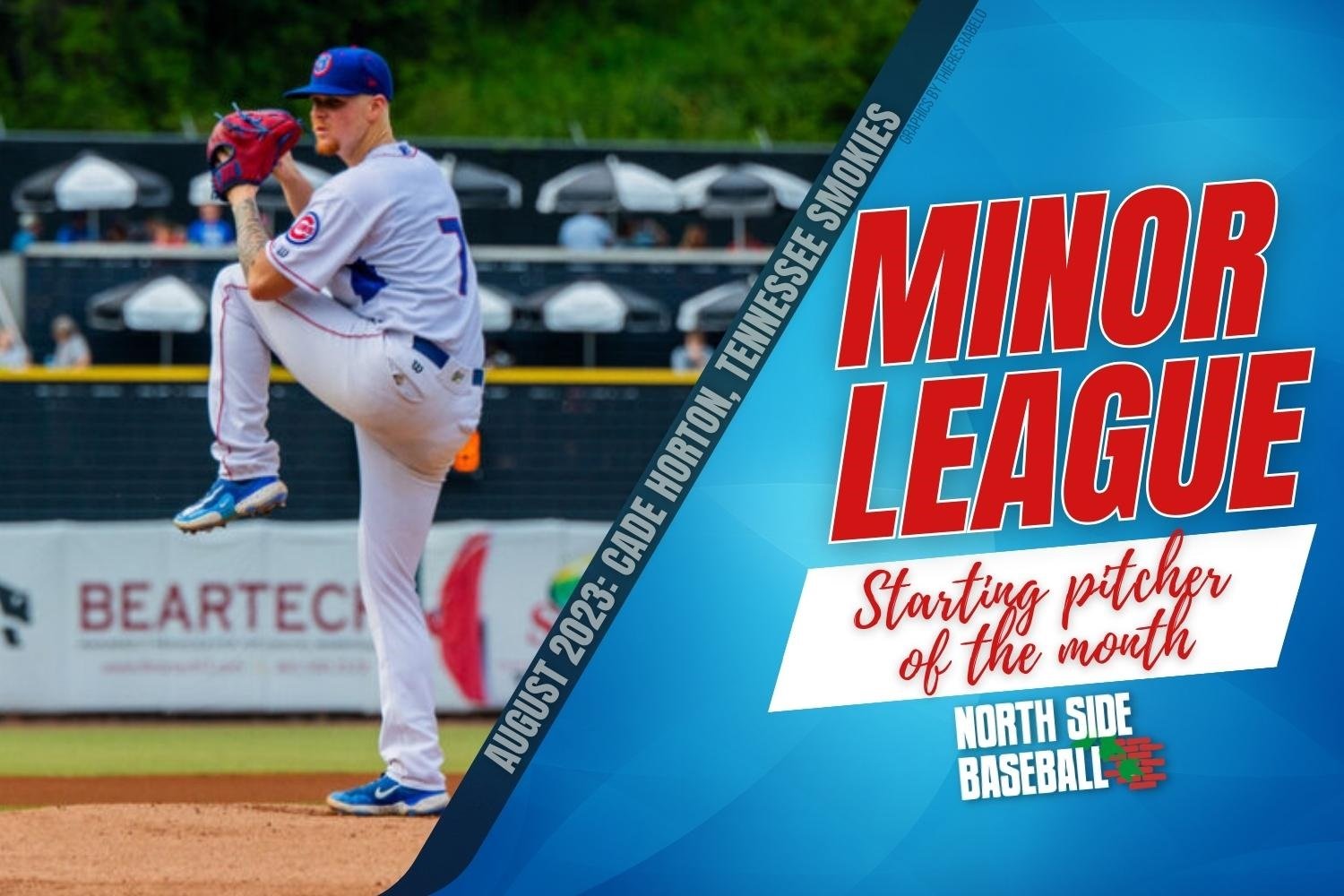 Image courtesy of Lindsay Coward, Tennessee Smokies
Honorable Mentions:
Shane Greene (Iowa Cubs, AAA) 2.16 ERA, 10.8 K/9 : 
Shane Green is an MLB veteran, so he should be able to carve up AAA in theory, but he's also working on reinventing himself on the mound as the sun sets on his career. He's pitched well enough that he will almost assuredly pitch with the Cubs in the month of September, either as an opener or as a veteran in the bullpen. 
Brody McCullough, (South Bend Cubs, High-A) 2.16 ERA, 8.1 K/9: 
Brody McCullough has been a fun find in the 2022 draft for the Cubs out of the 10th round. Initially I thought he would be destined for the bullpen, but he's managed to stick as a starting pitching option through the season. South Bend hasn't been eliminated at the time of writing this article, but will be shortly. This impacts someone like McCullough, as Tennessee's season will extend into the playoffs, and they could use some arms. Expect to see him called up for a playoff push in Tennessee with how well he's pitched.
Luis Rujano (Myrtle Beach Pelicans, Low-A) 2.25 ERA, 8.4 K/9: 
Another 2022 draftee, Luis Rujano has really impressed me this year. The book on Rujano on draft day was that of a pitcher who had a fastball but little-to-nothing-else. Seemingly a quick learner, Rujano has already hit the ground running in Myrtle Beach, striking out nearly a hitter per inning, and having his walk total trend down. 
Number 5: Koen Moreno (Myrtle Beach Pelicans, Low-A) 2.04 ERA, 3.54 FIP, 11.7 K/9, 5.1 BB/9
Koen Moreno has taken a bit longer to get his feet under him as a prospect, but August marks a potential turning point in his career for a host of reasons. Koen Moreno struck out over a hitter per inning in August, but more importantly, saw his leash on the mound get longer, as threw four innings in a start on the 15th, and most recently, went five innings on the 29th. He's certainly old for Myrtle Beach at the age of 22, but he finally looks healthy, and maybe there's a player here down the road.
Number 4: Jordan Wicks (Iowa Cubs, AAA) 2.45 ERA, 3.46 FIP, 9.2 K/9, 2.5 BB/9:
Jordan Wicks clocks in at number 4 on this list, partly because he had a great month, but also partly because I want to reward him for his big promotion. Wicks had wonderful control this month in Iowa, walking only four compared to 15 strikeouts. None of this even takes into his account his scintillating MLB debut, in which he struck out nine in just five innings. It will be interesting to see how he manages pitching on five days of rest, if he can force his way into the MLB playoff rotation (if there is an MLB playoff rotation) and what he will do against teams other than the scuffling Pirates, but it was certainly a month to remember for Jordan Wicks.
Number 3: Caleb Kilian (Iowa Cubs, AAA):
I'm still not entirely sure if Caleb Kilian has enough juice to pitch against MLB hitters, but it's good to see him get his footing back in Iowa. The fastball velocity has been up for a bit, and he's at least looking more like the guy he was early in 2022. It was really hard to watch someone who's calling card was throwing strikes looking flabbergasted on the mound and unable to find the strike zone. In the month of Iowa, Kilian walked just two hitters in 16+ innings. I wouldn't be shocked to see Kilian earn a spot start in September if an injury happens, or possibly even added to the bullpen.  
Number 2: Jackson Ferris (Myrtle Beach Pelicans, Low-A)
Jackson Ferris really could have won this award and I hemmed and hawed over this one for a while until settling on the eventual winner. Ferris has been as good as he could have been this season, and he's ending the season the right way. Ferris' stuff is just too good for Myrtle Beach today, as he continues to strikeout hitters at will. If there's one thing that ultimately held him back from being this month's Starting Pitcher of the Month, it's the walks. Ferris still walked nine hitters in 16 innings on the mound and that will have to get polished up as he moves up. With that said, he was drafted out of prep school, and this is his first season, so it's okay to just enjoy the ride.
Number 1: Cade Horton (Tennessee Smokies, AA) 
Cade Horton is a bad man. I'll expand on that, but that's the simple way of explaining his month. Even when he struggles for a hot minute, Horton still comes out smelling like roses. Case in point; his most recent start. Horton seemed to struggle a bit to start the second inning, he surrendered a two hits to start the inning, then followed those hits with an iffy past ball, resulting in a run scoring on the hits, and a runner on third with no outs. He finished the inning with a strikeout, a ground out (scoring another run) and a strikeout. The only other hit he allowed the rest of the game was to super-prospect Jackson Chourio, After Chourio, not a single base runner reached base, and finished the night with seven strikeouts, one walk, and giving up two earned runs in five innings. Cade Horton is steamrolling his way to Chicago, and I wouldn't be surprised to see him up as soon as June, 2024. 
Congratulations to Cade Horton. How do you feel about our rankings? How would you rank them?