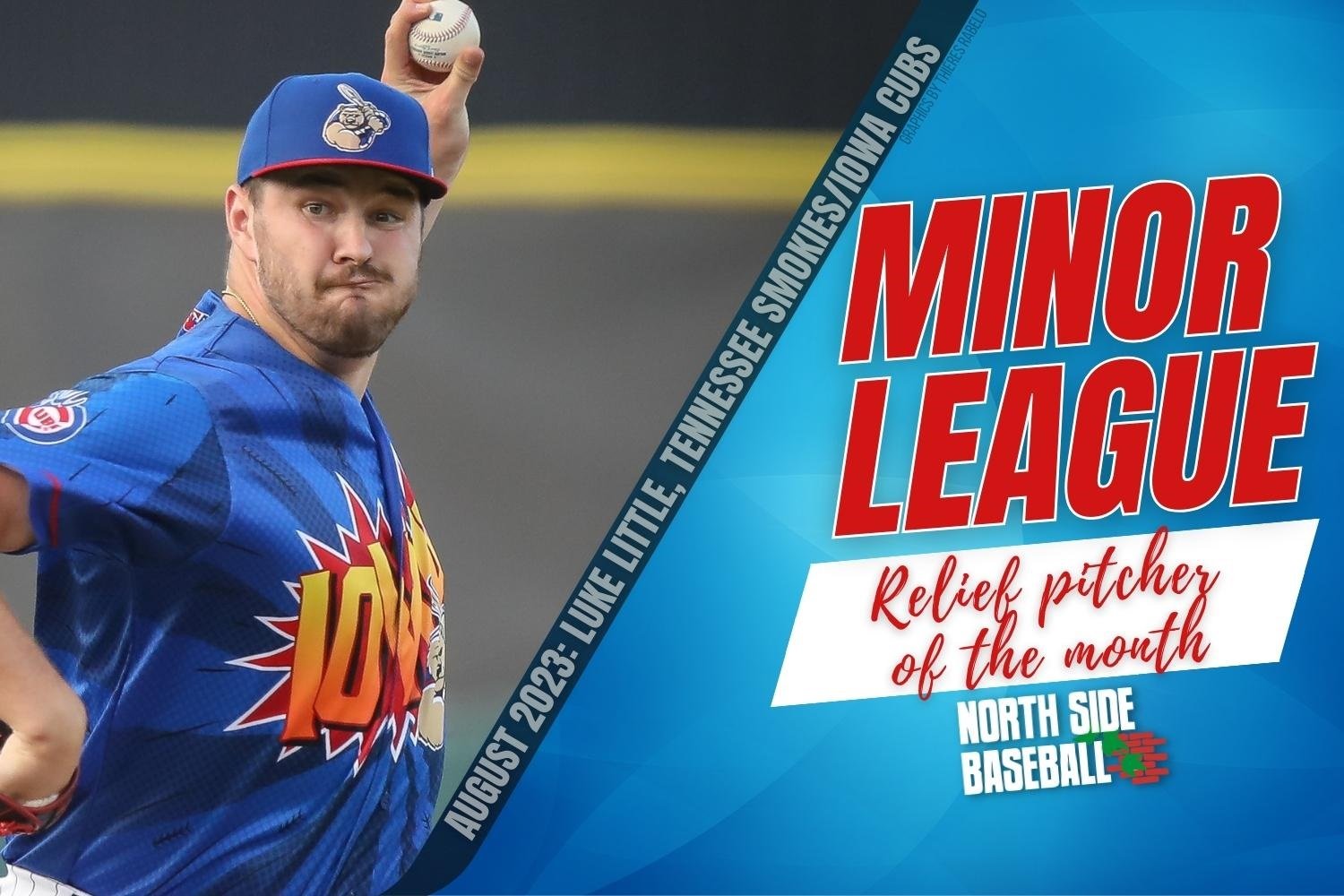 Image courtesy of Dylan Heuer, Iowa Cubs
As a caveat before these rankings proceed, a player must have appeared in at least three games at any one level to earn consideration. Sample sizes, especially for relievers, over a one-month span are never large, but there needs to be some established data to properly analyze a player. Also, a player does not need to be considered a "prospect" to actually show up here; as long as he pitches for a Cubs' affiliate and appeared in at least three games in August, that player has met the full criteria for consideration. 
With the logistics out of the way, let's take a deep dive into the top five relievers from the Cubs' minor league teams in the month of August. 
Honorable Mention: Frankie Scalzo Jr. (South Bend, High-A) - 7 Appearances, 10 IP, 1.80 ERA, 15 Ks, 3 BB
Scalzo Jr. has been a true multi-inning weapon for South Bend this year, putting up 66 1/3 innings in just 35 appearances, including eight saves. His stuff has been improving as the year has gone on, and he's taken a gigantic leap forward after a so-so season at Low-A Myrtle Beach in 2022 (4.63 ERA in 23 games). Most importantly, his walk rates and contact quality are improving, as both his batting average against and BB/9 are down significantly from last year. 
Also, Scalzo Jr. was just promoted to Double-A Tennessee at the end of August. Which honor do you think matters more to him: the promotion in his professional life or receiving the honorable mention on this list? I kid, I kid… it's obviously this one. 
#4: Jose Romero (Myrtle Beach, Low-A) - 7 App., 15 1/3 IP, 1.17 ERA, 24 Ks, 1 BB
The strikeout-to-walk ratio alone is gaudy, but when you realize Romero is doing it in more high-leverage situations than ever (he got his first two saves of the year this month), you know you've got a potential stud on your hands. Romero has been tested out in a variety of roles, from the traditional one-inning closer to a multi-inning reliever (in the mold of Keegan Thompson, for example), and the 22-year-old has proven malleable in the bullpen. He should be a candidate for a late-season promotion to High-A South Bend, and all expectations should be placed that he'll start next year there with the potential to rise through the remainder of the system rapidly. 
#3: Zac Leigh (Tennessee, AA) - 8 App., 10 2/3 IP, 0.84 ERA, 16 Ks, 4 BB
It brings me so much joy to put Leigh on this list. Yet, despite my favoritism, when your month-long WHIP is well below 1.00 (Leigh's is 0.94 for August), you've earned your spot.
Leigh's found nothing but success since being a 16th round pick in 2021, and he's generally been great since being promoted to Tennessee earlier this year. In 24 2/3 innings there this year, he has a 2.92 ERA and 34 strikeouts. He's firmly put himself on the radar heading into his age-26 season next year, and he should begin 2024 as a candidate for Iowa's closer gig, while staring down a potential midseason call-up to the big leagues. 
#2: Blake Whitney (Tennessee, AA) - 9 App., 14 1/3 IP, 0.00 ERA, 16 Ks, 1 BB
Now, you're probably looking at the above stat line and wondering how anyone did better this month than Whitney. Spoiler alert: no one did (the next guy on the list is in the number one spot because of his absurd recent hot streak and proximity to the majors). The Smokies' newly-minted closer has been having an excellent season, with his ERA down to 2.15 over 62 2/3 innings pitched (and an impressive 71 strikeouts!). The 24th round pick from 2018 is already 27 years old, so his prospect clock is ticking (if not already expired), but his repeat of Double-A is going swimmingly so far. 
#1: Luke Little (Tennessee, AA and Iowa, AAA) - 7 App., 10 2/3 IP, 1.69 ERA, 21 Ks, 5 BB
As I explained not long ago, Little's time in Chicago is coming. Given that he's Rule 5 eligible this offseason, he needs to be added to the 40-man roster regardless, and his recent performance since coming off the development list earlier in the summer has been jaw-dropping. The towering lefty is simply overpowering hitters with his 6'8" frame and mid-to-high-90s fastball. 
He needs to get his overall walk rate down, but Little's preposterous strikeout and home run rates (he's averaging almost two strikeouts an inning this season and has only given up one home run all year) should make him a viable option for the big league team right now. And with the heater he's been on since being called up to Iowa (he's got 18 strikeouts against just five walks in only 9 2/3 innings there this month), there's no doubt that Little is currently the most tantalizing reliever in the farm system. 
What do you think? How would you rank your top minor league relief pitchers in August? Comment below.