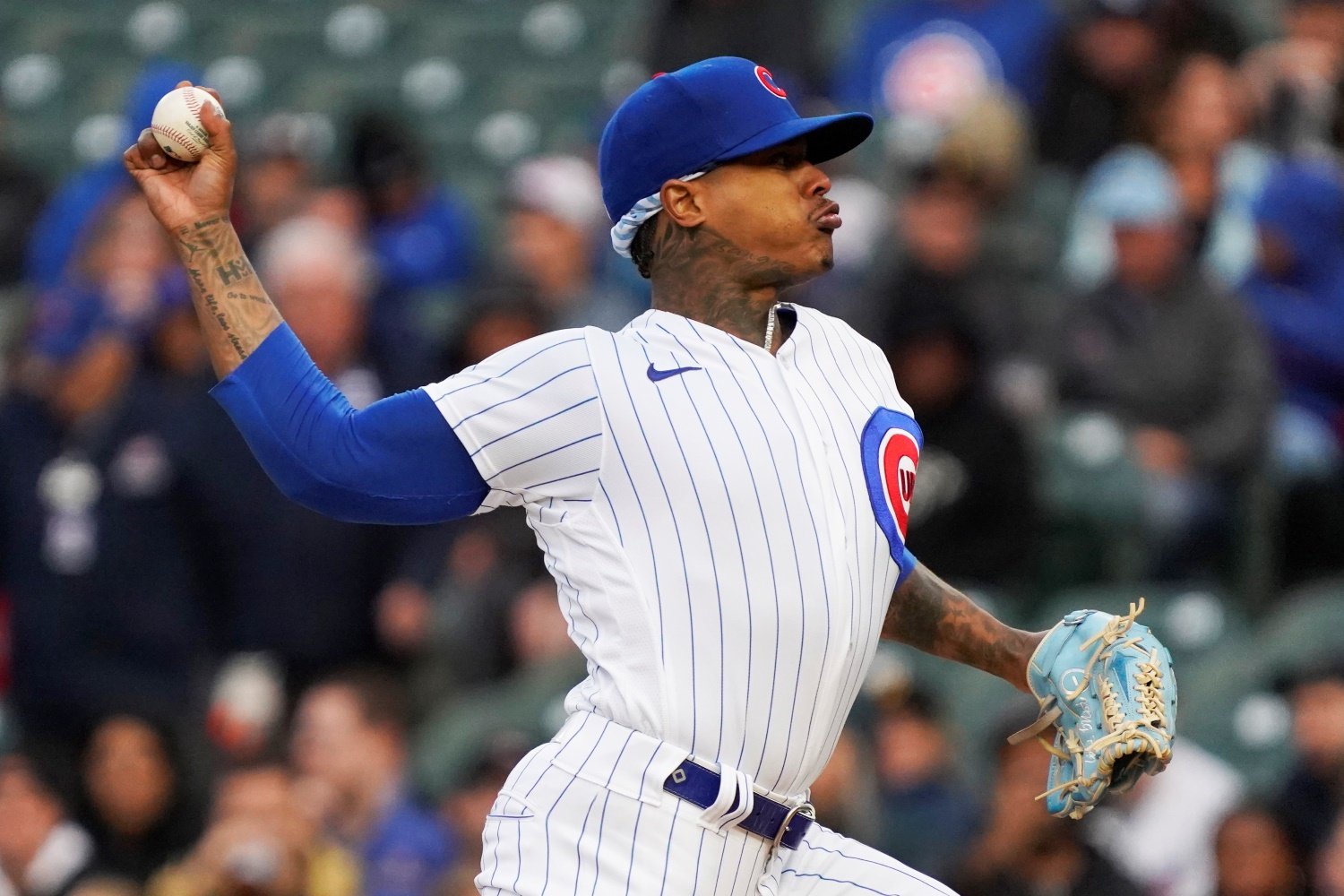 Image courtesy of © David Banks-USA TODAY Sports
According to Baseball Savant, no sinker thrown at least 200 times this year has had as big a differential between its expected, spin-based movement and its actual movement as has Marcus Stroman's. That's notable on its own, but it's only part of the story. The site has spin direction data back to 2020, and in none of those seasons has any pitcher matched the differential on Stroman's heavy sinker.
We're not talking about pure movement, here. There are pitchers (although most of them are side-arm or submarine guys) who generate more drop on their sinker than does Stroman. The wrinkle with him, in addition to the fact that (unlike most sinkers) he has a very high spin rate on his heat, is that much of his movement derives from seam-shifted wake (SSW). In other words, even if a batter with Ted Williams-caliber eyesight picked up the sinker right out of Stroman's hand, they might be fooled by it, because the pitch moves more in a direction not predicted by its spin than that of any other hurler in the game. 
Hitters can often look for the sinker against Stroman. It's the pitch he throws most often against both lefties and righties. They might look foolish if they misidentify his slurve or cutter as the sinker, but often, they'll be right about what it is. In that case, they'll rarely whiff on it, but they're very likely to mishit it, because they'll spot the spin and anticipate one magnitude and shape of movement. Instead, thanks to the orientation of the seams and the way Stroman releases the ball, it'll really move in a different way and to a different extent. 
The problem with that approach, of course, is that whiffs are relatively bulletproof, but managing contact is tricky. It requires excellent command, and that can be hard to sustain. This year, Stroman has done it to an extent rarely seen from any pitcher in recent memory.
Hitting that spot with such consistency, especially when he can command his other offerings just as finely, makes Stroman almost immune to the pitfalls of a contact-oriented pitching approach. Because he throws his sweeping breaking ball so consistently to the other side of the plate, right-handed hitters can't effectively cover that inside sinker.
Lefties have the same problem if they're considering diving out to reach the sinker away, because he bullies them with pinpoint cutters on the inner edge.
Hitters have to take a certain attack angle to square up a sinker with as much seam-shifted wake as Stroman's. They can't do it when they're caught in between that pitch and a ball with movement in the opposite direction, to the other side of home plate. As nuanced and variable as Stroman's approach can be, that much is fairly reliable and simple, and he's executed it with extraordinary deftness in 2023. The fragility of that path to success still lurks, threatening to cause him problems at some stage, but in the meantime, he's been as fun to watch as he has been effective. The Cubs need that to continue, as they plot a charge to the front of the NL Central that will depend mostly on their starters.