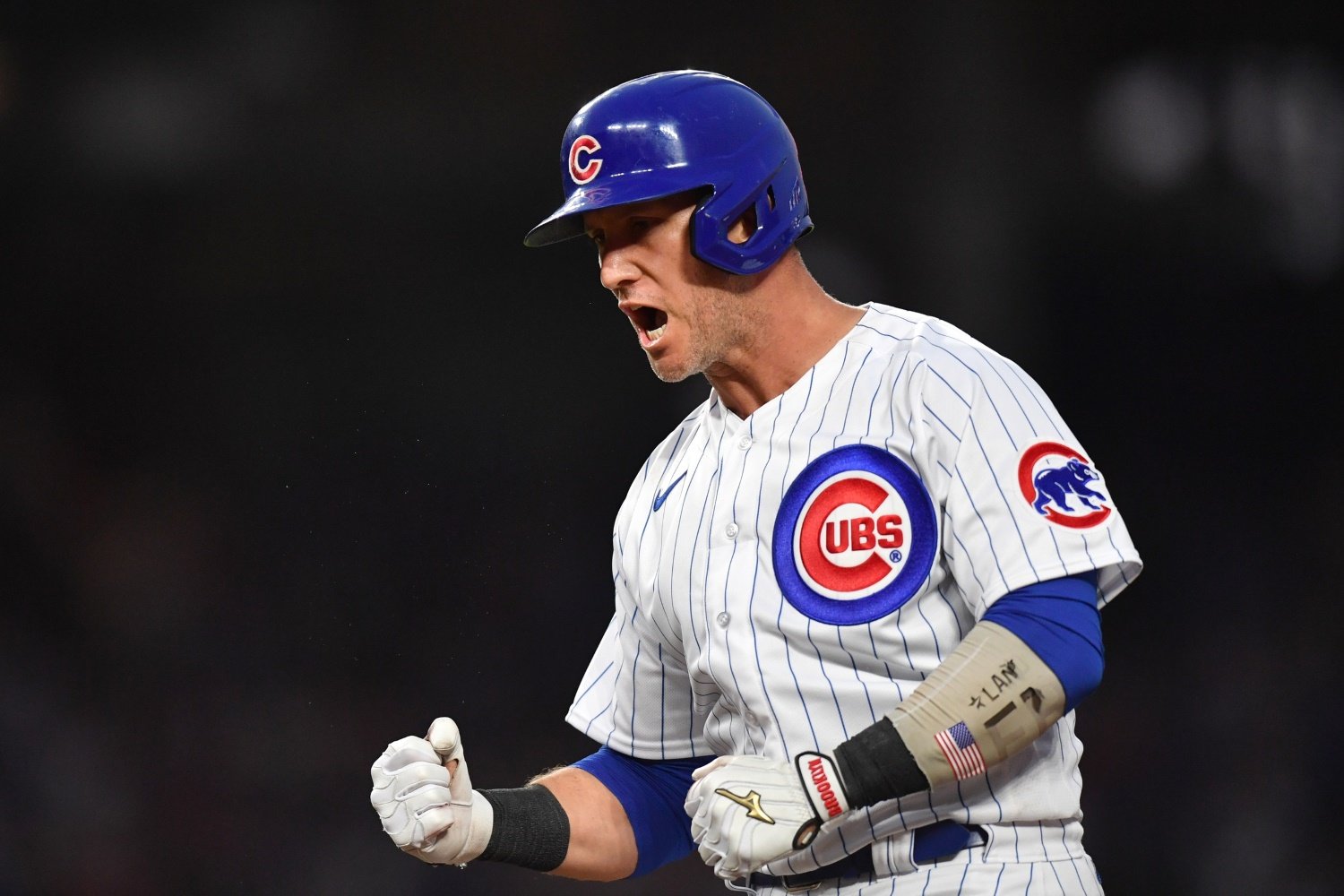 Image courtesy of © Patrick Gorski-USA TODAY Sports
On a first-pitch fastball over the inside edge of the plate, Yan Gomes got his hips through in time and lofted an untouchable line drive down the left field line for a leadoff double. It was the kind of heroic at-bat to which Cubs fans have quickly become accustomed this season, a resurgent and pivotal one for the aging Gomes. In big situations in which the Cubs need a hit, Gomes has been shockingly high on the list of people you want coming to the plate.
His overall hitting has been fine, and his situational hitting has been excellent. If the season ended today, Gomes would have the best Win Probability Added (as a hitter) of his career. For the first time since his younger days (2014, with Cleveland), he's been above-average in runs and wins added based on the base-out state in each of his plate appearances. On the year, he's hitting .270/.312/.433, a sturdy line for a catcher and an excellent one for a player who occupies one of the bottom three spots in the batting order. He's come to the plate with a runner on third and fewer than two outs 15 times, and gotten that runner home 12 times. He's come to bat with a runner on second and nobody out 13 times, and at least advanced them to third 10 times. Those success rates are half again the league-average ones.
All of this production partially explains the team's recent decision to cut ties with Tucker Barnhart, whom they had signed not only to back up Gomes in 2023 but as a bridge to 2024. Coming into this year, it was hard to imagine the team wanting to exercise Gomes's club option for next season, but now, it's impossible to imagine them not doing so. Miguel Amaya's emergence as another, longer-term option at the position also contributed to Barnhart's redundancy, but it's Gomes who has changed the team's thinking. He's just as likely to take a step back next year as he was unlikely to take this step forward, because the quality of his contact has only marginally improved from his disastrous 2022, but given his leadership and the goodwill he's earned with his clutch hitting, it's a no-brainer to bring him back as Amaya's mentor.
In the meantime, Amaya should get more playing time, now that Barnhart is gone. Gomes will still be in there often, though, because the Cubs clearly trust him more as a receiver and game caller than they trust Amaya. Interestingly, Amaya rates better as a pitch framer, and thus better defensively overall, but he's had a hard time with some of the pitchers one might expect him to help most. No Cubs pitcher uses the edges of the strike zone more than Kyle Hendricks and Jameson Taillon do (they're 36th and 40th, respectively, in Edge%, of the 274 pitchers who have faced at least 200 batters), but while Amaya and Hendricks have been a very good match, Taillon has a 6.28 ERA with Amaya catching.
Both Hendricks and Taillon rely heavily on called strikes, since neither induces many whiffs. Notably, Hendricks calls his own game now, thanks to PitchCom. Maybe there's still more for Amaya to learn about calling a game and reading opponents than has been generally understood. Gomes seems to do a masterful job of working with pitchers to get their arsenal in line with the approach required for each opposing hitter. It might be that, at least between these two at their particular career stages, Gomes's edge in game calling is wider and more valuable than Amaya's in pitch framing.
Down the stretch, then, expect to continue to see Gomes as the regular catcher, with Amaya slotted in based on matchups and the need to rest Gomes but not gaining greater purchase than that. Gomes has had an awesome season, and even if his clutchness is not a skill, it's produced huge value for this team as they vie for the playoffs.