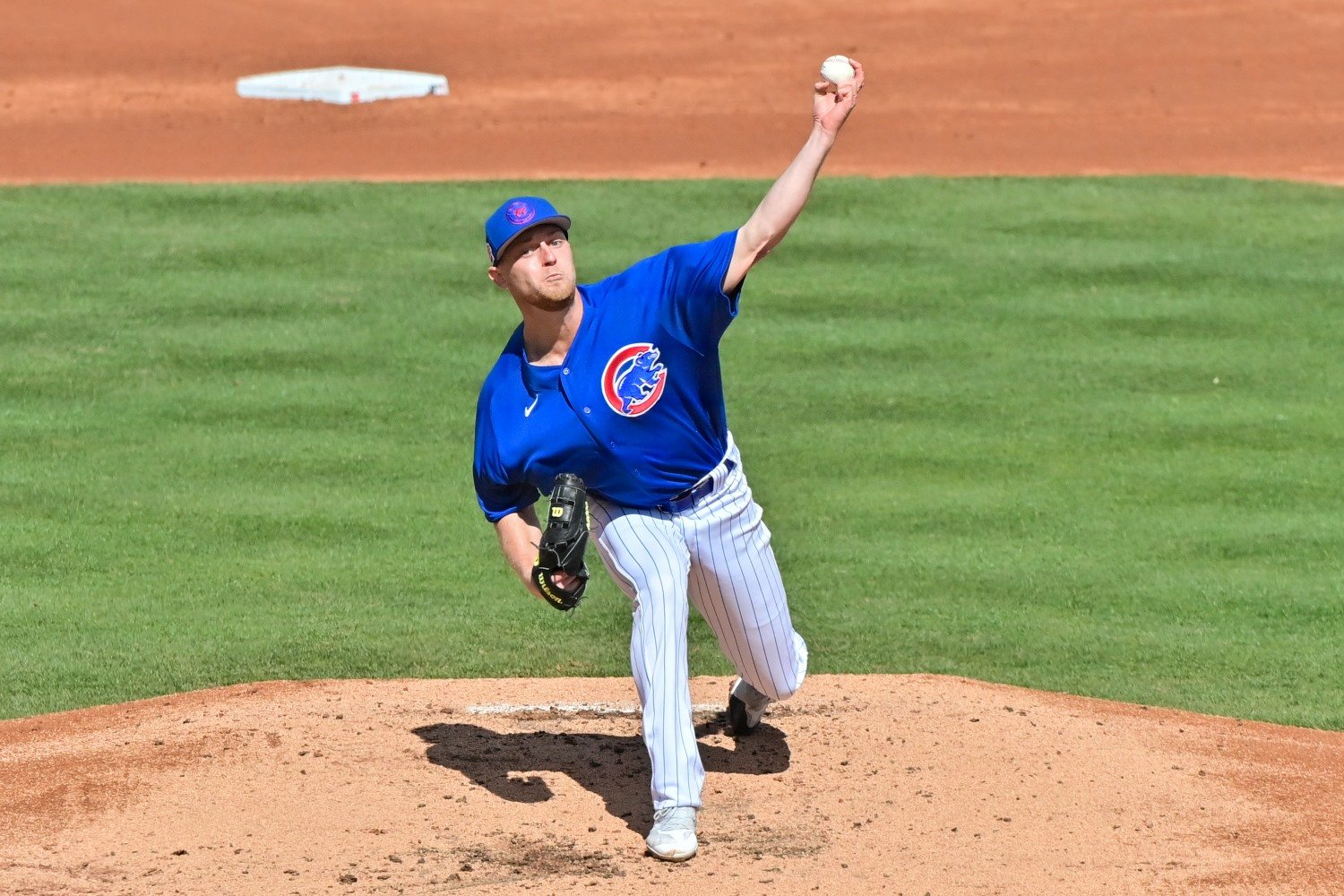 Image courtesy of © Matt Kartozian-USA TODAY Sports
It's no secret that the Cubs' relief corps is a mess. They not only lack effective pitchers, but don't seem to have any idea how to deploy the guys they do have. David Ross looks lost. Cornered by a long outing Friday that made Javier Assad unavailable Saturday night, Ross turned to Jeremiah Estrada, Brandon Hughes, and Mark Leiter, Jr. to finish out a game in which the Cubs trailed by multiple runs by the middle innings.
This farrago of penmen has been so uneven and inscrutable this year that it's impossible to pin down the ones Ross is supposed to trust and utilize for high-leverage situations, but by any reasonable reckoning, all three of those guys are on the list. That Ross used them to chase a victory the team simply didn't have in it, after letting Michael Fulmer enter in a medium-leverage situation on the back of yet another ineffective Jameson Taillon start, illustrates his bewilderment about who can help him and how to get the most out of any of them.
If this team is going to turn things around (a prospect that looks increasingly far-fetched, but one on which no one should yet be willing to entirely give up), they need to radically remake the bullpen. Luckily, they have the arms to do just that, working for the Iowa Cubs. This week needs to see the front office perform one more shakeup, in the hopes of waking up their somnambulant roster.
The easiest call-up will be Codi Heuer, who pitched a clean inning for the I-Cubs Saturday, striking out two and issuing no walks. Heuer is eligible to come off the 60-day injured list on Tuesday, and although his numbers during his rehab stint have evinced some of the erraticism endemic to returnees from Tommy John surgery, he's honed in on the strike zone better as the time has passed. He's frequently reaching 98 miles per hour with his fastball. His changeup and slider are right in line with their previous forms. He should be with the big-league team as soon as he's allowed to be, and could quickly earn back the closer's role he briefly held near the end of 2021. 
The Cubs big league pen has given fans angst the past few weeks, but there are reinforcements here and more on the way. One of those is Codi Heuer. He's feeling it averaging 97+ mph with the fastball and his slider (like the one below) is over 90 with good break. pic.twitter.com/dv4daupCdT

— Greg Zumach (@IvyFutures) May 17, 2023
Whereas Heuer was always likely to be a key cog in this team's bullpen, few would have guessed in July 2021 that fellow former White Sox farmhand Bailey Horn would be in a similar position. He is. Horn has a 1.96 ERA in time split between Tennessee and Iowa this year. In just over 18 innings of work, he's fanned 29, while allowing only nine walks and eight hits. He's throwing 95 miles per hour from the left side, with near-elite carry. He has two distinct flavors of breaking ball: a big, slow curveball that changes eye level and speed against righties; and a slider that is firmer and hades away from the neat vertical line of movement implied by his delivery and shown by his fastball and curve, against lefties. The curve might not play as nicely in MLB as it has in the minors, but he has enough funk in his fast-paced delivery and enough command of that rising fastball to have a good chance at being a solid complement to Hughes.
Heuer was part of the Craig Kimbrel deal. Horn was the return for Ryan Tepera. To fully bring the trio of relievers the Cubs traded in 2021 back in their new skins to help the 2023 club, then, we need only account for Andrew Chafin. Hello, Daniel Palencia. After a brief detour to the development list (while the team wisely aborted any effort to make it work for him as a starter), he's gotten the bump from Tennessee to Iowa, and he's been converted to relief. 
I said it on this week's edition of the unofficial podcast of North Side Baseball, This is Not a Rebuild: I still think Palencia could lead the Chicago Cubs in saves--not down the road, but in 2023. Certainly, it helps that no Cub currently has more than two of those (they only have six as a team, thanks to being so lousy and losing nearly all their close games), but I would be willing to be that bold even if Fulmer or Leiter had four or five of them right now. 
Palencia reminds me (not physically, but in terms of stuff and career arc) of Edwin Diaz and Jhoan Duran. Díaz was a starter in the Mariners system until May 6, 2016. One month after his move to the bullpen, he debuted in the majors on June 6. By the start of August, he was the team's closer. Durán, with his fastball often touching and even exceeding 100 miles per hour but unable to stay healthy as a starter in 2021, made the move to the bullpen in the middle of spring training in 2022. He made the Opening Day roster for the Twins and has been their relief ace basically since Day One. 
He might not be quite as ready as Heuer or Horn, but Palencia showed even in his first taste of Triple-A competition that he has the stuff to move smoothly into an MLB bullpen. Like Durán has continued to do, he still throws four pitches in relief, but unlike Durán or Díaz, he might not have a truly devastating secondary offering right away. Even so, his fastball and the ability to utilize multiple offerings should make him immediately effective. By the by, he made his last start in Double A on May 6, too.
If we assume that Leiter, Hughes, and Adbert Alzolay are more or less locked into the bullpen mix for now, there will need to be some bloodletting whenever the team calls up Heuer, Horn, and Palencia. Fulmer should be the first to go, but Julian Merryweather can be right behind him. Though both were solid offseason pick-ups, it's pretty clear that neither is going to even have significant value at the trade deadline--let alone help the Cubs avoid needing to think that way. 
There will be some challenging juggling ahead. Thanks to the front office's failure to formulate or stick to a clear plan for the usage of Assad, they're running out of times they can option him during the season. That will force Estrada to stay on the Chicago-Des Moines shuttle a bit longer, even if the team doesn't elect to rapidly activate these three young hurlers. Michael Rucker still has options, so he figures to start riding some buses soon, but merely keeping fresh arms out there isn't going to solve the Cubs' problem.
They need to get a couple of dominant pitchers with bat-missing stuff slotted in for late-inning use, so Ross can stop guessing and put his relievers in a better position to succeed. Heuer, Horn, and Palencia give them the best chance to achieve that turnaround in the minuscule amount of time they have left to do so.