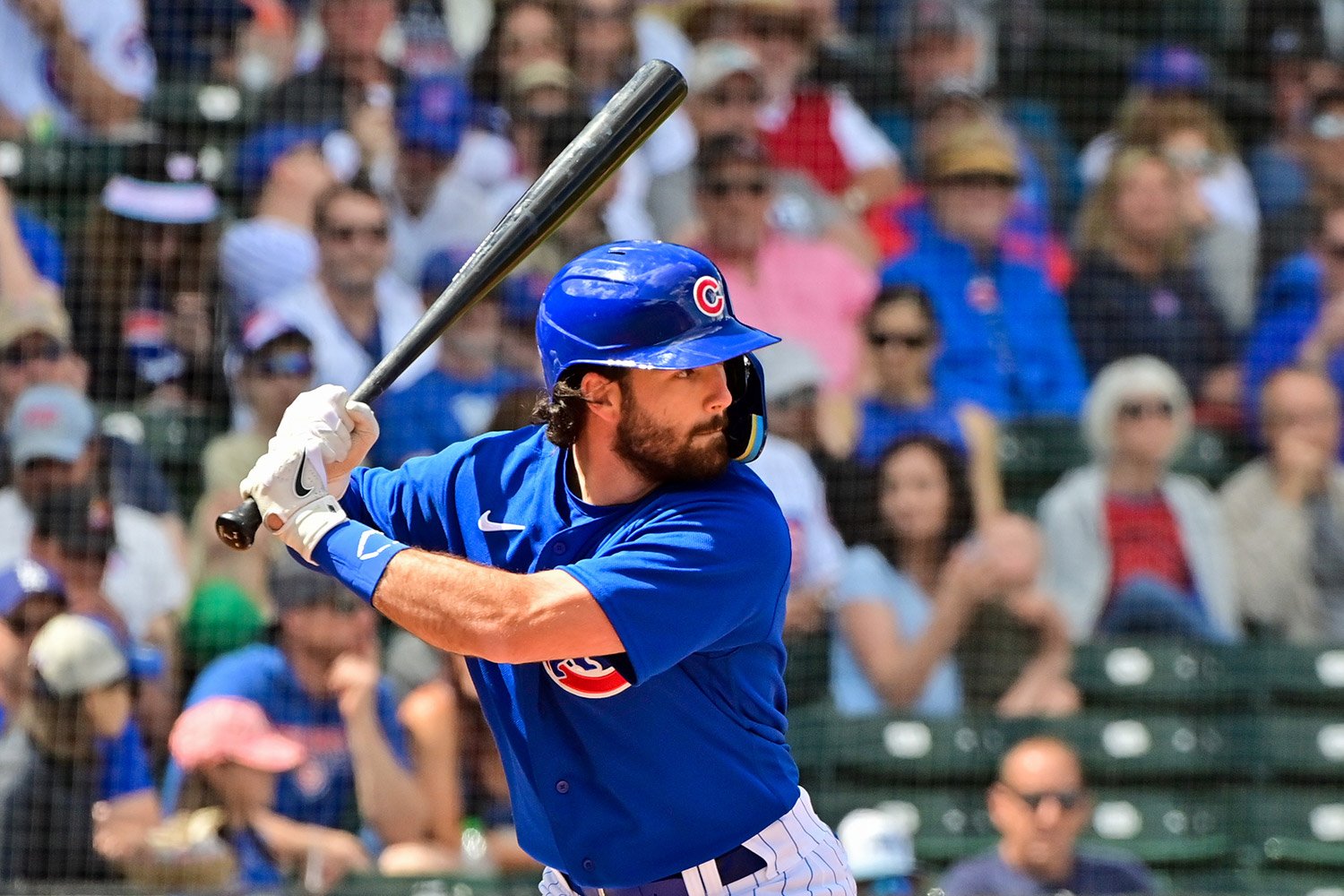 Image courtesy of © Matt Kartozian-USA TODAY Sports
In one sense, the answer is easy: no. Don't ever put too much stock in outcomes in Arizona (or in Florida, for that matter), and always remember that the fundamental reasons for which the Cubs wanted Swanson and paid him so handsomely remain valid. That Swanson didn't hit for average or even generate power this spring shouldn't concern anyone overmuch.
Several years ago, a study by analyst Dan Rosenheck found that a player's spring stats do matter to some extent, and especially that their strikeout and walk rates can lend us some insight. After all, those are the numbers that tend to stabilize most quickly during regular-season play. That might prompt one to fret over Swanson's 14 strikeouts in 46 spring plate appearances. It needn't, though, because Swanson's good offensive performance over the last three years of his Atlanta tenure came despite a 26-percent strikeout rate. In such a small sample, a bump from there to 30 percent is not statistically meaningful. 
Just as importantly, Swanson has drawn nine walks against those 14 strikeouts. That implies that he's taken an especially patient approach at the plate this spring, focusing on good swing decisions, which is also what Swanson himself has articulated recently. Being more patient than usual, whether as a strategy or just in the name of seeing a few more pitches and training one's eyes before the stakes are dramatically raised, can easily lead to more strikeouts, because it tends to mean deeper counts and more two-strike situations. That kind of thing can be modulated and ameliorated fairly easily.
That's two reasons not to sweat Swanson's strikeout-swamped spring. We should take a moment, though, to admit that there remain some bad vibes about it, and to grasp why. There have been repeated allusions, since the Cubs and Swanson agreed to a deal in January, to the team's belief that there is another offensive level Swanson can reach with just a few tweaks. That makes me nervous.
For one thing, it's an uneasy echo of what the team said when they signed Jason Heyward prior to the 2016 season. Heyward had had an excellent career to that point, but there were some well-documented shortcomings in his game at the plate, and the Cubs set about trying to fix them all, to turn him from a mere All-Star into a Hall of Famer. Instead, they helped create a major problem, because the adjustments didn't work, and Heyward went backward. Whenever a team acquires a talented player with a strong track record, it's a risk to try to change what they did to achieve that level of success. The Cubs' hitting development infrastructure wasn't up to the challenge of doing that with Heyward seven years ago. Are they better now by a wide enough margin to ensure that the same thing won't happen?
Secondly, though, and more broadly, it's a mistake to envision the glorious upside of every big-league free agent a team acquires–especially ones who sign for big money. That's an indication that they've already had considerable success, and it might not be the case that that success was merely a preview of greater things to come. Instead, it might well be that their success has been the result of maximizing their talent through hard, smart work. If an executive or an organization gets in the habit of seeing significant upside in high-profile free agents, they're probably succumbing to overexuberance, and the likelihood of costly failure is substantial.
On balance, I expect great things from Swanson this year, and throughout his contract. I don't view the poor spring numbers as a red flag. I just think it's important to notice and name the danger in wanting a $177-million investment to return the same production as a $300-million one. If the Cubs wanted Trea Turner, Xander Bogaerts, or Carlos Correa, they needed to sign them. As long as they're ok with what Dansby Swanson actually does well, though, everything should be fine, Cactus League batting average be damned.