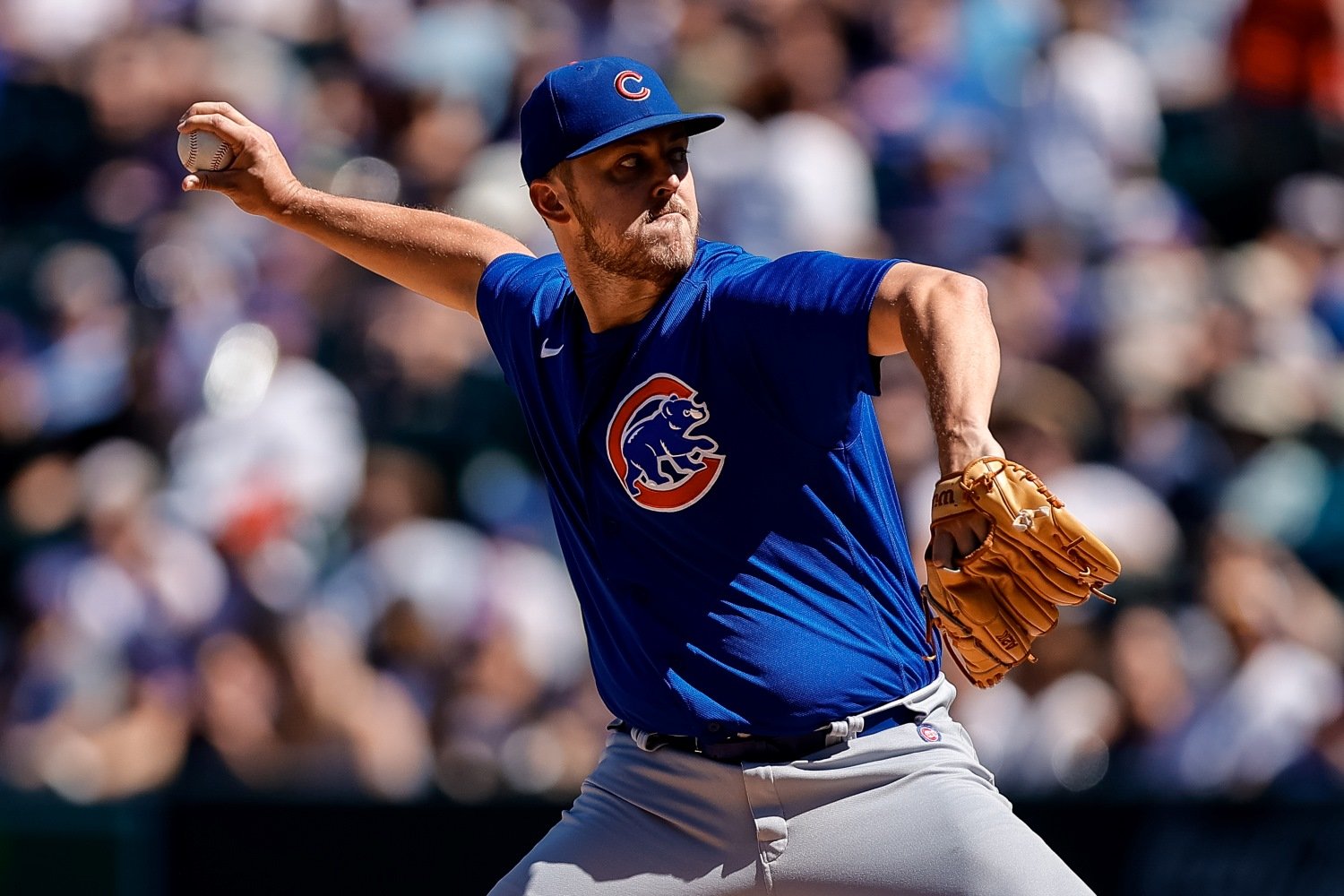 Image courtesy of © Isaiah J. Downing-USA TODAY Sports
As everyone expected, Justin Steele will start Tuesday night in Atlanta, to open the Cubs' series against the top team in the National League. Once we saw him make a moderately surprising return to the starting rotation Saturday, it also seemed clear that we would get a Marcus Stroman start on Thursday or Friday, so it's no shock that he'll pitch in the finale of the series.
Sandwiched between those two, though, was Kyle Hendricks's typical place in the rotation. Instead of him, Jameson Taillon will take the ball on Wednesday. Hendricks is pushed back to the season-ending series in Milwaukee, after the club's southern sojourn. That was an unexpected move.
Yet, it makes plenty of sense, in a couple of ways. Firstly, Taillon might be a somewhat better matchup for the Braves than Hendricks is, and a somewhat worse matchup for the Brewers. Hendricks has faced Atlanta four times since the start of 2021. In those games, he's pitched 16 innings, allowed 27 runs, and watched 11 balls sail over the fence. Fans who remember any of these encounters know that few of those homers were wall-scrapers.
By the numbers, the Braves actually aren't exceptional against changeups or low-velocity fastballs from right-handed pitchers. They are, by contrast, the very best team in baseball against right-handed fastballs at 93 miles per hour or harder, whereas the Brewers are dead last against such pitches. The Cubs know these numbers, too, but have chosen to make Taillon unavailable for the Milwaukee series in order to bring him forward for this series and avoid another matchup of Hendricks against that lineup. It's hard to blame David Ross for getting queasy at the thought of watching one of those implosive starts happen again with the Cubs' season on the line.
Besides, Taillon probably won't be throwing Atlanta many fastballs. Increasingly, over his last several starts, he's become a cutter-slider guy against right-handed batters.
It's the formula he felt for in vain for much of the season, but he's locked it in of late and had better starts than the team got from him throughout the first half. In his last seven outings, Taillon has pitched over 40 innings, with a strikeout rate north of 25 percent, a walk rate south of 5 percent, and a 3.35 ERA. This is the pitcher for whom the front office paid $68 million over the winter. Belatedly, he has earned this chance to pitch with the stakes as high as they can go. 
Still, Ross will need to be ready to pull the plug quickly on Taillon if things just aren't working. Against lefty batters, he's highly dependent on feel for his curveball, and if he doesn't have it, he and (hopefully) Yan Gomes will need to recognize that and pitch around the likes of Ozzie Albies and Matt Olson. In that event, though, Taillon should be on a short leash.
That brings us to the central truth that underlies all these decisions, and the interest they provoke: the Cubs' pitching staff is thinning and tired. That goes double in the bullpen, relative to the rotation, so Ross will face a real challenge in trying to get to the end of one or two of these games if the Cubs grab a lead. One part of the logic in starting Taillon instead of Hendricks is the fact that Taillon is much more likely to give the team five or six innings. If things don't turn out that way, however, Ross will have to figure out who can give him length out of the bullpen, without leaving him shorthanded for what could be another truncated start by Stroman (still stretching back out, and not yet at full effectiveness again himself) the following day.
Facing Atlanta and Milwaukee on the road to end this hard grind of a season, still needing at least two or three wins to give themselves any hope of making the playoffs, is a harsh demand. Ross and the front office are thinking more along the lines of triage than of triumph. Yet, with a one-game cushion on the also-depleted Marlins and Reds, the Cubs are in reasonably good position. They have done most of a very difficult job. They just have to finish it.