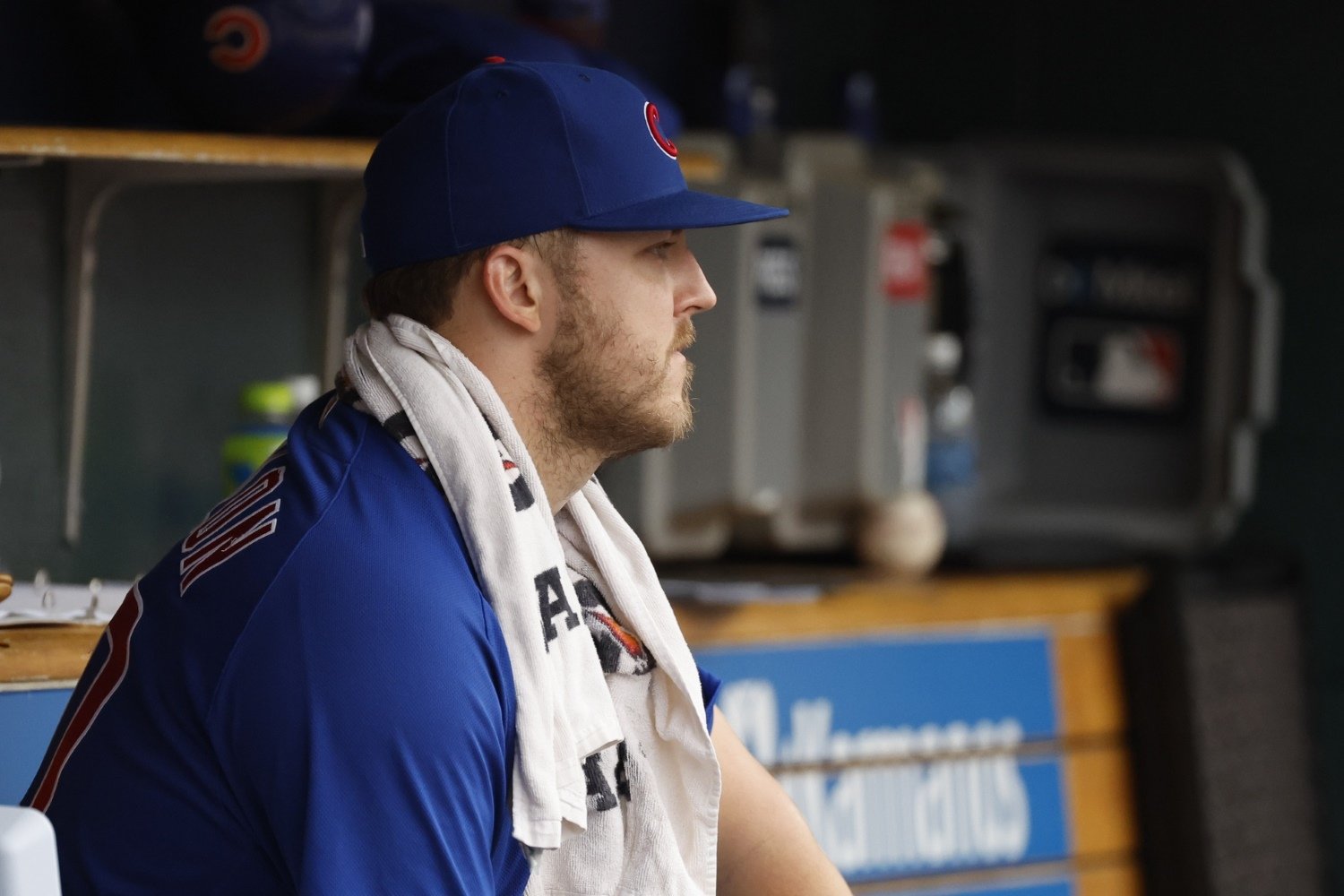 Image courtesy of © Rick Osentoski-USA TODAY Sports
The off day Monday was the team's second in five days, and it made it possible for them to shorten their starting rotation to four for a turn without burning anyone out. To no one's shock, Justin Steele and Kyle Hendricks will start Wednesday and Thursday, setting them up to start next Tuesday and Wednesday, respectively, and keeping Steele available to take the ball on the final day of the season against the Brewers, if the Cubs' postseason hopes ride on that game.
Much more surprising, though, was the identity of Tuesday's starter. That will be Javier Assad, which means that the guy being passed over is Jameson Taillon. Presumably, Taillon will still be available to pitch Saturday against the Rockies, when the Cubs next need their fifth starter, but the way things have been going, even that doesn't feel certain.
If Taillon is dealing with an injury of some kind, the team will really have to go into scramble mode to make it to the end of this grind of a season. A bullpen day featuring Marcus Stroman, Drew Smyly, and Hayden Wesneski could cover the open start, but it would thin out the bullpen for the game surrounding it on the calendar. We could see one more stint for untrusted utility reliever Michael Rucker, in that event. 
Instead, let's assume (for the moment) that Taillon is healthy, and that this choice is based on the team's concept of the best way to win enough down the stretch to claim a Wild Card spot. In that case, Taillon should be available in relief for part of this Pirates series--which would mean four-fifths of the Opening Day starting rotation being thus assigned during that time. That's wild, and it's a nice way to widen the lens and be reminded how improbable it is that they got this far.
More importantly, though, it's an odd statement about the team's estimation of the talent levels of either Assad and Taillon or their supporting cast. Over the last two starts, Assad has been battered fairly brutally. He weaved in and out of traffic against the Diamondbacks on September 7, and finished with a respectable three runs in 5 1/3 innings, but the ball was screaming off the Arizona bats that day. Assad didn't register a strikeout. He was extraordinarily lucky not to give up more damage or be knocked out sooner. Five days later, against the Rockies, he walked four batters and gave up more solid contact, and didn't make it out of the fourth inning.
Meanwhile, Taillon is (if anything) heating up. He was awesome in his start against Arizona on September 8, and although he cracked and let the game slide away from him in the fifth inning at Coors, he made it through five frames and continued to show comfort with a pitch mix that is becoming his new norm. If Taillon is available for it, I'd have much sooner had him start Tuesday than Assad, especially because he'd now line up (instead) to face the Rockies over the weekend, making consecutive starts against the same lineup. 
For that reason, I tend to suspect that there's a lurking injury concern with the man in the first year of a four-year, $68-million contract. That would be on trend for this team, given the last fortnight, and it would be a huge blow to the team's dwindling chances of postseason glory. If Taillon is healthy, that's wonderful news--but it also makes this decision questionable. That, too, would be unhappily in line with the way things have gone downhill lately, and it would invite a lot of second-guessing if Assad doesn't pitch well Tuesday night.
There's one more potential explanation, too. It might be that, given the recent struggles of their offense and even the creeping concern with their defense, the team thinks Assad (who's a bit more likely to stay off the barrels of opponents' bats and give you six or seven innings of one-run ball, if you think you've fixed what's happened over the last few starts) just reflects a better balance of risk and reward than Taillon. That calculus has to take into account environment and externalities, rather than just present true talent, so it's a more defensible position.
Again, though, that wouldn't speak well of the team's hopes to recover from this stretch of miserable play. One way or another, this decision seems to augur ill. Hopefully, that's just the fatalism that seizes all of us when a team slumps like this right as the days get shorter fastest. The pregame gaggle with David Ross and the huge game tonight will tell us.